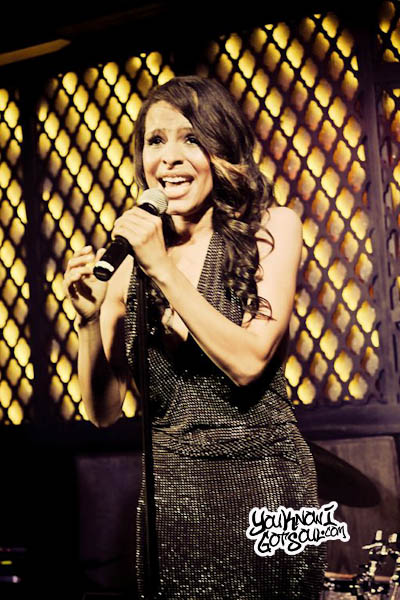 Although Antonique Smith has built up a name for herself through her various acting roles in shows like "Notorious" and "Rent", her first love since she was young has always been singing. After acting came into her life by chance, she's now ready to move her focus back to that first love with the release of her debut album. This isn't like any ordinary debut though; she's shunned labels and decided she wanted to control the direction of the project. Going the unique route of utilizing a Kickstarter campaign, she's allowed her fans the opportunity to contribute to the success of the album. YouKnowIGotSoul caught up with Antonique after her performance at a recent showcase in NYC. We discussed with her what to expect on the debut, the transition from acting to singing, the success of her Kickstarter campaign, working with Dr. Dre, and much more.
YouKnowIGotSoul: You're known for your acting, but now you're doing singing now also. When did you decide to get into singing?
Antonique Smith: Oh my! Since I was three, I always wanted to sing. I always wanted to do both. Whitney Houston was the inspiration to sing when I heard her voice as a kid, I said to myself, "That's what I want to sound like." My whole life since I was three, I was in my grandparents' living room, I had a tape recorder and I'd be making voices. I would do a radio show and I would be the host AND the guest. *Laughs*I would do puppet shows and I would make everyone sit down and watch me. I would literally make people watch me. Then when I started singing in Church at seven years old, I would literally make strangers stop and listen to me. I always wanted to do both and I was doing music first, then acting came to me. An agent came and said "I want to be your agent" and that's how I got "Rent" on Broadway and "Law & Order". I just started getting these acting things and then I was like "Okay, maybe I shouldn't fight it and just do it." Now I'm so ready to do music.
YouKnowIGotSoul: You got this Kickstarter campaign. How did you decide that was the way you wanted to go about with things for your solo career?
Antonique Smith: You know, it's a grassroots "Yes we can" type of thing where your supporters go and they can pledge to be a part of the creative process. It's them voting for you like how America votes for your favorite, it's them voting for me in a sense that's using their money to vote. They're getting a reward back, it's not just them giving me money. For now, they get singles, EPs, vocal lessons or you get to come with me in my video or sit with me at a movie set. You get things back, you get experiences back and you get the music back in every level. It's their way of saying "We love you Antonique, this is what we want her to be doing and not necessarily what the executive might want to do to change her". This just keeps the people part of it.
YouKnowIGotSoul: How's it been so far in terms of the success?
Antonique Smith: Good! Statistically, it's been a super surge in the beginning and then there's a super surge at the end. It's kind of the procrastination thing where people go "Oh my god! This is cool, I'm going to come back to this next week." That's how everybody works so I'm in that moment where everybody is going "I almost forgot, let me do it!" I'm really excited. We're almost there, we're almost done and I'm happy. The music is going to come out and it's going to what I've always dreamed it to be and I'm really proud of it. I think you guys are going to like it because you see me as an actor, but musically, you get to see me, you get to see Antonique.
YouKnowIGotSoul: How important was it not to have an executive to tell you what to do and just doing it on your own?
Antonique Smith: So important because sometimes you get with that right executive who shares your vision and they don't change it, but it's really rare. A lot of times they have their own thing that they want to do. Us as people, we all have our own visions for things and because they're spending millions of dollars on you, they want to make you do this or that. That's why I decided to go with Kickstarter because it's my supporters helping fund it and leaves it up to me to what I sound like and how I feel. I think it's good for me.
YouKnowIGotSoul: Talk about your album and the sound we can expect on it.
Antonique Smith: I like to call it Pop/Soul with a Hip Hop feel to it. It's like a fusion, it's my own sound. I don't think it sounds like anybody else. I grew up singing to Whitney Houston, Mariah Carey, Aretha Franklin and Celine Dion. Those are my vocal influences, but I grew up listening to Mary J Blige. She's one of my big influences, I was a kid running through the park listening to this song. I'm a Hip Hop fan as well, so all of these other influences add to the fusion of my music. Plus I'm from East Orange, New Jersey so you got to have a little edge in there!
YouKnowIGotSoul: Of course you have the single "Speechless". Talk about that.
Antonique Smith: "Speechless" is a song I wrote. I wrote it with TC and Jukebox produced the song. It's a song about a person who just leaves you speechless, you don't even know what to say. It's like "You just take the words out of your mouth, that's how much I love you!" I love that song.
YouKnowIGotSoul: I was reading you were working with Dr. Dre on the album?
Antonique Smith: Dre gave me the track that I think really changed my direction, it gave me that thing. He gave me something that I didn't know I was missing. He heard "Speechless", "Remembering" and a couple of other songs. He loved them so he played me the track to "Higher" and it was incredible. He said "Take it, do something with it!" Me and my friend wrote it and it was incredible to me, the song is called "Higher". I can't wait for you guys to hear that. Thank you so much Dr. Dre and I look forward to working with him again and hearing Detox. I worked on that a little bit, but he has like a million amazing songs on Detox, so there's no telling what's going to happen with that.
YouKnowIGotSoul: Talk about the comparison of putting your heart and soul into a music album and acting.
Antonique Smith: It's partly the same because even in my roles, I might infuse a little bit of myself. I figure out where I identify with the character. I mean if you're playing something super crazy and it's so apart from you, there's still humanity. We're all human and we still share some of the same experiences. I try to find those things as an actor. With my music, it's all me. They're different in that in acting, I have to go outside for the other parts that aren't like me and still understanding humans. So yeah, they're similar.
YouKnowIGotSoul: Anything you'd like to add?
Antonique Smith: I just want to thank everybody so much. All my supporters, you guys have been great. I am giving 100% my best to give you guys pure, amazing things like music and my movies. I'm putting 100% of myself into it because I really want you guys to feel things, to be touched and to be blessed. I'm just grateful!