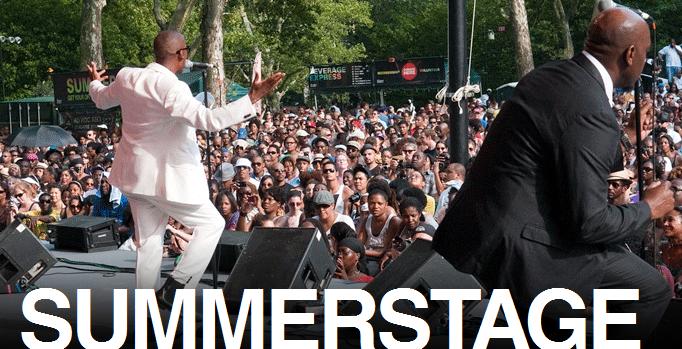 YouKnowIGotSoul: When you first took the position as the Artistic Director of City Parks Foundation's Summer Stage, what did you set out to accomplish?
Erika Elliott: I didn't have a set goal/agenda other than doing a great job curating this remarkable world class festival. I was excited about the opportunity to book a non-ticketed – free event, and honored to be choosing artists to perform in Central Park.
YouKnowIGotSoul: Under your leadership, the festival has grown exponentially over the years. How were you able to achieve this?
Erika Elliott: Thanks for the compliment, I think because I approach booking with a background in the commercial music business, plus my taste is more in-line with commercial music festivals than performing arts centers, the growth you see is because I am programming for a broader audience, and have partnered with organizations and radio to reach more people than we ever could on our own. I am most interested in contemporary music from around the world – so a show from Alabama Shakes is as important to me as one from Amadou & Mariam, or Mala Rodriguez. The other major thing I did when I joined SummerStage is to book hip-hop artists into SummerStage in parks all around the city's five boroughs, and bigger "names" into non-Central Park shows, these are the parks we've seen major growth since I joined.
YouKnowIGotSoul: Talk about this year's series and some of the major acts you have lined up.
Erika Elliott: It's so hard to give highlights when literally every show is worth seeing, and so much of it is personal taste! Super excited about Orchestre Poly Rythmo, SMOD, Bibi Tanga – that's going to be a funky dance party. Honored to be hosting, Guthrie Family Reunion Celebrating Woody's 100th, Arlo Guthrie doing songs from his father's songbook which he rarely does.
Gary Clark Jr. and the Givers
Ozomatli with the New York Pops
Deer Tick at Red Hook Park
DJ Premier and Pete Rock at East River Park doing an old school battle on the wheels of steel
I could go on and on …
YouKnowIGotSoul: We know that you've generated much excitement with music fans who get to attend free concerts, but talk about the excitement of the artists to perform these shows.
Erika Elliott: Central Park, and New York City are iconic to folks outside (and in) the US. It's a destination that acts from around the world want to play. There are a ton of great stories and bottom line is that all the acts playing for us are doing it because they want to be in the space. A fave story is The XX a couple years ago, had a conversation with their label as they were just starting to gig in the US, playing small club venues, and paraphrasing here but … maybe if they did things right, by next year they'd be playing SummerStage in Central Park – and a year later they had exploded and played the venue in one of our biggest shows that summer.
YouKnowIGotSoul: Especially with the tough economy over the past few years, how important is it to host these free concerts in NYC in many of the parks across the city?
Erika Elliott: Music is always important, and access to music and arts and culture is even more so. I firmly believe this. Tough economy or not – The arts bring people together in a way that nothing else can. Parks are the same, and the marriage of both, especially in an urban setting like NYC are essential.
YouKnowIGotSoul: Talk about the work you've done at SOBs and how you helped turn it into one of the premier venues for soul/r&b acts in NYC today.
Erika Elliott: Here's what I can say about SOBs, I feel so lucky to have had that opportunity at a time when the music I am most passionate about was a major creative force in NYC and the industry. I am not certain there is AS obvious a momentum as what I had going at SOBs.
In part because of what was happening in NYC – so many amazing bands living and working here independently and then labels being interested in signing independent acts. It was being at the right place, right time and building a steady space for talent to be seen and also develop.
It's hard for me to believe even then, that I did Kanye's first NYC show (when he was trying to get signed and establish himself as not just a producer), Anthony Hamilton showcased before he was signed, John Legend (Then John Stephens) was a regular, and many many others, all of whom I remain a fan of to this day.
YouKnowIGotSoul: Talk about what you remember the most about working Big Pun's debut album "Capital Punishment."
Erika Elliott: I remember how hilarious it was that he wanted to be on a moped in the video for "Still Not a Player". I remember Big Pun's great sense of humor, and smile. He was a big guy – but really his personality was larger than life.
Click here for more information on Summerstage and a complete schedule