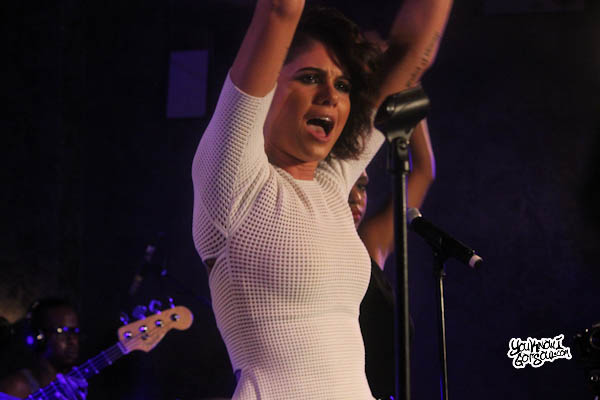 When you've got Pharrell following your career for years and reaching out to work with you, and bringing Jermaine Dupri on board to help, there's no doubt you've got a great thing going. That was the reality for Leah LaBelle, a former finalist on American Idol who sustained her career by making YouTube covers that eventually caught the eye of Pharrell. Now signed with L.A. Reid and Epic Records, and with Pharrell and Jermaine Dupri working together to craft the fresh sound on her debut album, Leah LaBelle is poised to blow up if she hasn't already by the time you read this. YouKnowIGotSoul caught up with her on a recent promotional run in New York City and talked to her about originally linking up with Pharrell, the sound we can expect on her debut album, her lead single "Sexify", the contrast between working with Jermaine Dupri and Pharrell, and much more.
YouKnowIGotSoul: I want to start at the beginning of your career as an artist. You got some attention when you were on American Idol and got attention from being in the "Final 12" years ago. What was that experience like and what did you take from it as an artist?
Leah LaBelle: Being on American Idol at the age that I was, I was young but I learned a lot from that experience as a person and as an artist; I grew a lot. I kind of looked at it like a miniature boot camp for the music industry. I was thrown in there, I was young, I didn't really know much about how it worked or anything. I learned a lot about the business and the sleepless nights, learning songs overnight, getting prepared, getting thrown in front of a camera and interviews. It was a lot at one time, but I looked at it like a boot camp and it actually did prepare me for a lot of what I do now. So it was a great experience, it helped me grow a lot.
YouKnowIGotSoul: Years later you started recording YouTube covers to continue getting exposure. One of my writers actually pointed out he discovered Frank Ocean because of one of your covers. What was your goal with putting those cover songs on YouTube?
Leah LaBelle: I actually started doing my YouTube videos because at the time, MySpace was huge, and because I was on [American] Idol, a lot of my fans from Idol kept writing me on MySpace asking me "Are you still doing music? Are you still singing?" The only way at that time that I could think of to let them know was to start doing YouTube videos and just sing songs. I was recording and just trying on my own to start putting music out, but in the midst of that there was silence from me. So I wanted my fans and the people who supported me from that time to know that I was still alive and I was still singing. So that's where the YouTube videos kinda came from, it was just an outlet for me to sing and let people know I was still doing music.
YouKnowIGotSoul: I was reading that eventually you hooked up with Keri Hilson at some point and went on tour with her as a background singer. How did that whole situation come about and what's your relationship like with her?
Leah LaBelle: A lot of my relationships that I have formed in the industry as far as background singing have come from doing YouTube videos. My first being Keri Hilson's "Energy" which was her first single. She saw me sing that and actually reached out to me through YouTube and asked if I wanted to sing with her. I got my first real gig doing that which was awesome and I grew a lot being around her for her first process of her first album. I got to learn a lot being around her and being in the studio and just learning the process of a new artist. I actually look back on that now and it's pretty awesome to be able to do that for myself now.
YouKnowIGotSoul: Recently you've come on the scene as the protégé of Pharrell and Jermaine Dupri. How did you originally link up with them?
Leah LaBelle: Once again, YouTube is the ultimate everything. Pharrell actually saw my YouTube videos that I made and he had been watching for about two years he says. Sometimes he says three, so we don't know! A long time he was watching me make these YouTube videos and one song finally made him feel like "She's ready now for me to reach out, this is the right time". Before he did that, he wanted to bring somebody else on board, he wanted to do sort of a special thing that he'd never really done before but he thought of collaborating with a different producer. He called Jermaine Dupri and told him to watch my videos and asked "What do you think of this girl?" So JD watched and he called him back the next day was like "Let's go, let's do this". JD actually reached out to me on Twitter and that's how it all happened. Although, they reached out to me on YouTube a few days before, but I didn't see those. YouTube and Twitter and social media and internet are amazing these days, the things that you can do with that.
YouKnowIGotSoul: What do you think it is about you that caught their attention and made them want to work with you, since there are so many artists out there just trying to make it?
Leah LaBelle: I can't specifically say myself what it is that I think they saw in me on the YouTube videos, but what Pharrell and JD have explained to me, they just said that it was something about the way that I looked in the camera and the way that I sang to the camera and the eyes that I gave. Just the whole vibe was almost like I was performing to people instead of just a camera and that intrigued them a lot. They also really liked my voice. They always tell me there are a lot of people that do this but it was something about the way that I interacted with the camera that made them feel like I was ready. That's what it was. I had just sang and performed and did what I felt in my heart, so I can't specifically say what they saw, but that's what I've been told.
YouKnowIGotSoul: What's the contrast of working with both of them since they both have different styles and techniques?
Leah LaBelle: Working with Pharrell and JD was so much fun. It's a blast. They are two very different people and two very different producers but they are both very hands on. Whether I was in with Pharrell or I was in with JD, it was always a conversation being had about what I'm going through or what are we doing today or how did we come about this idea and this concept or what do we feel like talking about today. Everything was hands on, nothing was ever thrown me, it was no egos involved. As different as they are musically, they're very hands on, they are very similar in that way. They also work well together, bouncing ideas off of each other. So whether we worked separately or together, it was a lot of communication and a lot of love involved and passion involved in the project. They still have their own specific things about them that make them Pharrell and JD.
YouKnowIGotSoul: Of course you've got out the single "Sexify", love that song and the groove on that song. Talk about the creation of it.
Leah LaBelle: "Sexify" is my first single off of my debut album. It was produced by Pharrell. It was actually the first song that me and Pharrell ever did together, the first song that I ever recorded on the album. We didn't even know where it was going to go, but we were in the studio talking about the Cosmopolitan women of today and we came up with cover titles that the magazine had had over issues and issues. We wrote them on a board and kinda picked and chose the ones that made the most sense together and what it means to "Sexify". That's how we made the record, just kinda that anthem for women, girls how to "Sexify" yourself and make yourself feel comfortable and confident and happy and proud, or how to "Sexify" your man and make him feel good as well. That's kinda how it came about.
YouKnowIGotSoul: Talk more about your debut album that you're working on now. What can we expect on there?
Leah LaBelle: My debut album is half and half Pharrell and JD. It is set to release early Fall. It's just a really, really feel good album. It's an r&b/pop album, kind of retro/throwback feel, but meets today. It's just think "Sexify" and that sets the tone for the whole album. It just has the "everybody get up and dance" feel good about yourself, have fun vibe. Everything still lyrically has a meaning and has a lot of depth to it. So it's a feel good, real album.
YouKnowIGotSoul: You mentioned it's half Pharrell and half JD. Will it still have a flow to it, or are there two distinct sounds to the album?
Leah LaBelle: The album even though it's half Pharrell and half JD still flows because it wasn't like they shut each other off and went off and recorded. They came back together and every time we would do a record it would get sent to the other person and they'd listen and bounce ideas and throw a little bit of that into this. Everything still flows, obviously we worked as a unit and as a team, but it's still when you hear each record, you're going to know who produced it because they still added their own flavor and their own piece of themselves into the record that make it Pharrell and make it JD. It still flows very smoothly.
YouKnowIGotSoul: I was reading in your bio that you were born in Canada but grew up and went to school in Seattle, Washington. What was the whole music scene like there and how did it influence you?
Leah LaBelle: The music scene is Seattle is actually really cool. It's a lot of underground artists and underground hip hop artists. It's a lot of Jazz, there's this place called "Jazz Alley" that my mom used to take me to all of the time, it's really cool. A lot of bands and artists would come through there and perform and they serve dinner. I went there a lot. A lot of very talented musicians and artists there and I also sang in a gospel choir growing up for a lot of my life. I just experienced going around the city doing different events with them and growing up in that culture and that life was really awesome. I really did a lot in Seattle musically. It's not just known for Grunge and Rock like you would think, it's a lot of cool music, it's a good scene.
YouKnowIGotSoul: I was on your site today and saw a video you had talking about the Seattle Supersonics and how since they moved to Oklahoma City, it's just not the same. Can you support Oklahoma City?
Leah LaBelle: It's really hard for me to root for the Thunder, I can't be mad at them, the players or the team necessarily. It is a heart wrenching topic for me because Seattle really has no more NBA team. I'm really not rooting for anyone right now, I love basketball so I still watch, but there's no more Sonics.
YouKnowIGotSoul: Anything you'd like to add?
Leah LaBelle: Just wanted to say my single "Sexify" is out now on iTunes, download that, purchase that if you can. I'm so excited for that to finally be here and available. You can follow me on Twitter, @LeahLaBelle. My Instagram is the same and so is my Facebook.