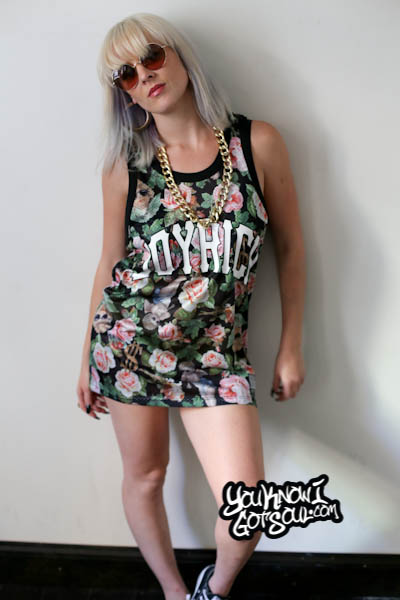 Puff Daddy is known for making history, and he did just that when he signed pop girl group Dream to his Bad Boy label in the late 90's. Despite being known for r&b/hip-hop, he'd successfully lead the group to multi-platinum status on their debut, a huge smash single, and multiple tours with some of pop's biggest artists. Ashley Poole was one of the original members of the group and is now looking to achieve success as a solo artist. Even though the group disbanded years ago, her dream to have a career as an artist never did, and she continues to carve out her own lane. With new music, a fresh new sound and clear perspective, she's ready to make her mark in today's pop world. YouKnowIGotSoul sat down with her in NYC and discussed her history with Dream, Puff Daddy's impact on the group, her growing solo career, what's next, and more.
YouKnowIGotSoul: Talk about your history with Dream and how the group formed.
Ashley Poole: Dream was amazing. I called this number called "1-800-Be-A-Star". I'm from this very small town in California and I was extremely naive. But it worked. I got a girl group audition from the number which was a talent placement agency. It was overnight, the girl group happened overnight. In about a year we met all the right people; Puff, our manager Kenny Burns, Vincent Herbert, and formed Dream. We had this pop/r&b thing and were on Bad Boy and had the most amazing single "He Loves U Not" and just took off.
YouKnowIGotSoul: How did Puff Daddy discover you guys initially, since he's known for hip/hop and r&b, what made him take interest?
Ashley Poole: Our manager Kenny Burns at the time had a good relationship with him and took us to meet him. We went and shopped around a lot but we were young girls, so a lot of people didn't want to sign minors. Puff is a risk taker and he saw something special. We met him in the Beverly Hills Hotel and I'll never forget it because he was eating his eggs and listening to us sing and seemed so uninterested. But when he left, we were signed on the spot. He sent the paperwork over at that very moment. That's how we got connected.
YouKnowIGotSoul: How involved was he in your guys debut album? Did he try and push you towards r&b?
Ashley Poole: I mean Puff is a boss. So he's not going to be involved in every meticulous aspect, but he definitely would oversee things and redirect sometimes or correct things. His involvement was he was the boss. He wasn't in there everyday in the studio, but he would tell us if it was the vibe or wasn't the vibe.
YouKnowIGotSoul: Talk about where things went after the debut album. "He Loves U Not" was a huge single and you were working towards the next album "Reality".
Ashley Poole: The first album we released we sold about 2 million records. We created an amazing second album, we were definitely going to be the female N'Sync. We were going to be really amazing, but we released a really urban record and it didn't work as well. The rest of our album was extremely pop. But we were really, really young and I'm the kind of person who always knew what I wanted to do and singing is just it for me. The other girls wanted to explore other things like the real life, marriage, family, school. So they quit.
YouKnowIGotSoul: You mentioned that you guys were on the way to being the female N'Sync. Pop was dominating at the time with boy bands and girl groups and TRL. What was it like making music during that time?
Ashley Poole: I feel lucky to have made music during that time when pop was just amazing. I feel like we're actually back to that right now with all of the bands getting back together. It was amazing especially because we did three different tours with N'Sync and were up close and personal and learned a lot from them. We did a tour with Britney Spears as well. It was one of the most amazing experiences in my life.
YouKnowIGotSoul: Talk about the direction you chose to go in once things didn't work out with the group and you decided to pursue a solo career.
Ashley Poole: I was young and when the group disbanded I was 19. I really needed to figure out who I was outside of the group. I tried all types of music like Rock, Pop, Christian, Country, R&B. I literally have like 18,000 albums! *Laughs* Through that process I really found out who I was, what I wanted to be and say to the world. Now is the perfect time for me to come out because I have so much to say. I have a lot that I want to prove to people but I also have a lot of fans that I feel need the type of music that I'm making. Something that's going to set people free. I've been writing. My girl group also got back together in some of those years so we weren't finished yet.
YouKnowIGotSoul: Did you always have a dream of being a solo artist one day?
Ashley Poole: That's my dream, singing is my dream. To be in a girl group is also another dream of mine that happened. I have multiple dreams; I wanted to travel the world and do lots of things. With the group, to be honest with you, I would have been happy had we continued because it's something very special having a bond with girls and sharing the stage, mic and interviews. Being solo, I don't have anyone to tell me what I can and cannot do. I don't have to stay in a lane or be a homeboy. If I want to be sexy one day I can, if I want to be hip hop one day I can, tom boy country girl or whatever. I don't have anyone directing me but me, which is awesome, because I'm a boss! *Laughs*
YouKnowIGotSoul: Talk about what's coming next from you.
Ashley Poole: My new single "If it Feels Right" is doing really well in the U.S. and the U.K. and people are loving it. It's extremely pop. I just really wanted to introduce myself first in a fun way and say hi, this is what I look like, let's have some fun. The other music that I have is a little bit deeper and more edgy. I write everything. There's all of these pieces of me that are in my record, and I can't wait to share more of it. The first song is the dating song, we're just going on our first date, and then the more the audience gets to know me, you're going to get more pieces of me. We're going to fall in love, get married, and then have fights! It's going to be amazing.
YouKnowIGotSoul: Do you feel that fans of Dream have kept up with you or are you creating new fans?
Ashley Poole: I'm lucky, especially here in New York. There's not really a day that goes by when someone doesn't recognize me. It makes my heart melt and makes me so happy. People remember me from that. I've also got people who underestimate me and are not sure if I can separate from the girl group after all of these years. That's cool too because once they see me in action, they're just "Alright, ok, I got you!" I've got new fans too and people who don't know, some maybe were too young for Dream.
YouKnowIGotSoul: How do you plan to release your upcoming project, independently or through a label deal?
Ashley Poole: Independently at the moment. I've been signed to a label and this is not my first round in this game. I know what I deserve and I'm worth and we're going to fight to get that. Until that point, I think we're going to keep doing it independently. Right now I really want to experience my fans. I want to go on stage and hear what they think and see what they want. I think that's the most important thing for me right now is build my fan base and be connected with my fans. At that point I think then we can have bigger discussions about which label I want. *Laughs*
YouKnowIGotSoul: What do you think is the biggest challenge in getting back to the heights you were at with Dream?
Ashley Poole: I think there's a lot of people in this business who may have had success and then compare where they are at to try and come back up. I don't want the same thing. I don't look at my past success like I've got to surpass that or get to that again. I'm going to a new place. I was in a girl group and I did something with one of the most amazing people in the world, Puff Daddy. That's great and wonderful, but this journey is completely different. Everything is in my hands now, before I was a little bit of a puppet. I was too young and didn't know the business and that's just what it was. Now it's completely me. If I fail, it's on me, if I succeed it's on me. Which so far the success is going good. I don't really look at it as a challenge. I look at it as an exciting new journey.
YouKnowIGotSoul: Anything you'd like to add?
Ashley Poole: Keep your eye out for me. I love to hear anything anyone has to say; opinions good and bad. I want to vibe with my audience and fans and make new fans. I want you to fall in love with me because I'm already in love with you. Look out for me because I'm coming. You can find me on Twitter, Instagram and my website at @IAmAshleyPoole. Go check me out, follow me, and let's meet each other!