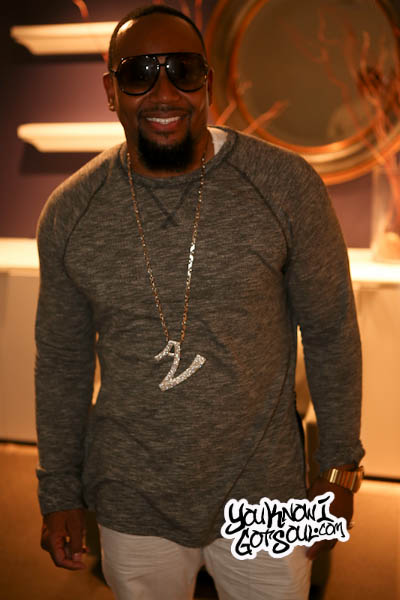 Over the past 15 years, there have been few r&b artists who have been more consistent as Avant. With each of his seven albums so far, he's been able to release a solid r&b album led by a couple of timeless singles. The formula has proven very successful, and he's already lined up to do the same with his upcoming album "The VIII". The lead single "Special' is in the same mold of the r&b jams that he's made a career off of, and when you listen to him speak on the rest of the album, it's clear he keeps making his fans happy in mind. YouKnowIGotSoul sat down with Avant after a recent performance in NYC and discussed the creation of the new album, continuing to find inspiration, defining success, looking back at his debut album, and much more.
YouKnowIGotSoul: The new album "The VIII" is coming out September 25th. Take us through the recording process of the album.
Avant: I locked myself in the studio with this guy named Travis. We really just wanted to give people real music. At the end of the day, I look at it and say "I think what's happening in R&B is that we're not catering to the people with what we're talking about". I'm not the one to be talking about the diamonds. I got all that stuff too, but on record I want to talk about what you're going through as an audience. That's what resonates with me when it comes to being an artist out here.
YouKnowIGotSoul: Talk about what you were trying to do sonically with this project.
Avant: Sonically what I try to do is, I've got a great producer and we just went in and we were like "We want to use fresh sounds. We want to make sure we've got great stories". To me, R&B is about great stories and great musicianship. That was my main focus. We wanted fresh sounds, but real sounds. We just wanted to give great stories. That's one thing about me, I can give you great stories and that's what I focus on.
YouKnowIGotSoul: Talk about the lead single "Special".
Avant: I've been in the game for 15 years and with me being in the game so much, I do a lot of touring. On the tours, I see a lot of people that don't look happy. It's like "You're beautiful, but that don't make you feel special". I want women to feel special again. I'm not trying to work against the grain, I'm trying roll with what R&B is truly about and that's making people feel good. That's my whole vibe. It's about just getting in the studio and when you hear the record "Special", that makes you feel good about yourself. When you pick up the album, you know I'm making it for you and not anything personal for myself.
YouKnowIGotSoul: It's been 15 years since your debut album. At this point in your career, where do you draw your inspirations from?
Avant: The people. I'm a writer, so at the end of the day, I write from what I've heard, seen and experienced. With me being a writer, I always keep it fresh because we're in a 35 and up crowd. I try to write it in a grown-state. On the album, I have a song called "Come and Get it". It's a grown way of saying "We're going to cheat" but it doesn't make you feel disrespected as a woman. It's a way we have to do it in R&B that's not disrespectful and women can say "I feel what you're saying".
YouKnowIGotSoul: A lot of your peers who you came up with, they're still trying to go for that Hip Hop lane. What makes you comfortable with you sticking with your fan base?
Avant: I've sold over a million copies. There are a million people that want to hear Avant. I just have to find out where they are. I have to make it interesting enough for them to say "We love music again!" I think what the problem is that for one, our generation doesn't like to push the button. And what I mean by that is, we don't like to download and deal with that digital situation. There are a lot of us that do and a lot of us that don't. I know for a fact that I've sold a million copies and I know there are a million people and more that want to hear Avant. I just have to get them to push that button.
YouKnowIGotSoul: You've had platinum records, so how do you define success at this point in your career?
Avant: Just giving back to the people and giving them the music they know and love. When they pick up an Avant album, they know they're going to be attached to it in a certain spiritual or mental way. That's what I do music for. I don't do it for the flash. That's what rappers do. I love that about them, but for us we must do it in a matter about the people. When you put the record on, you can say "This is about us, so let's have a good time with good music". That's what I'm about and I think that's what R&B should be about. It's simple.
YouKnowIGotSoul: One of our readers said one of those most special things about you is the emotion they feel in your rifts and runs. Where does that come from?
Avant: I had an uncle that passed away with cancer. He was my idol honestly. He was my idol because they used to being a singing group. He never made it, but he used to perform in my mom's basement and she used to send me down there to clean up after the performance. I used to smell the sweat and that's the whole emotion I get from R&B. It's a passionate thing and I hope that's what I hope to bring you guys September 25th with my new album.
YouKnowIGotSoul: Talk about your debut album "My Thoughts". How do you view that album now that you look back at it?
Avant: It was just a good time for me. I get so much love for all of the earlier albums. All of it is about periods. I was personally hurt with "Separated". This girl was older than me and she broke my heart, so I write it as a poem. It wasn't even supposed to be an R&B song, but my manager at the time was like "You have to put some melody to that". I didn't know people wanted to hear about my growing pains, but I thank God that girl hurt me. That's the best that happened to me in my life. I turned tragedy into triumph. That's life!
YouKnowIGotSoul: Anything you'd like to add?
Avant: If you want real music, go out there and get the album. This music is about you. Trust me, you're going to love it. It's real R&B.