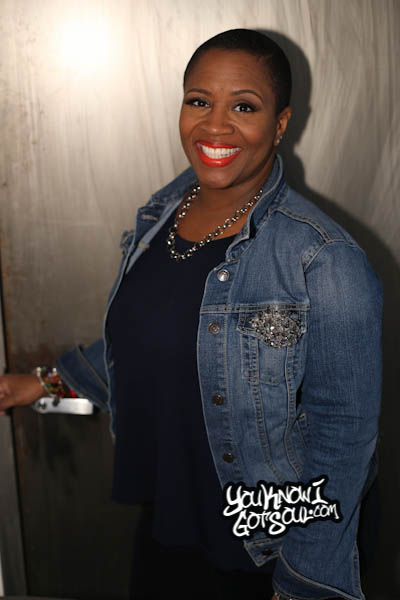 Avery*Sunshine has not been an overnight success by any means, but regardless, there's no doubt she has arrived. Her recent signing to Shanachie proved that her years of touring and building have been a success; and now this is just the beginning. After releasing her self titled album in 2010, Avery*Sunshine has toured relentlessly with business partner Dana Johnson (who also plays guitar at her shows) and built a fan base from the ground up. When she releases her new album "The Sun Room" this month, her career will reach even greater heights. We can't help to draw the parallel to another female r&b powerhouse who we witnessed have a similar rise: Ledisi. Yes, Avery is that type of special talent. YouKnowIGotSoul sat down with Avery*Sunshine and Dana Johnson while they were on a recent promo run in NYC and discussed the movement she's been gradually building, what to expect on "The Sun Room", her extremely engaging personality, her journey to getting to this point, and much more.
YouKnowIGotSoul: Want to start with congratulating you on the recent signing with Shanachie. It's huge since you've been building these past few years. What does it mean for you?
Avery*Sunshine: It means that we have the support. You know people say "I do my music and I don't have to get a Grammy and I don't have to get acknowledged." Deep down, you do want a Grammy, you do want an Oscar. You do want people to acknowledge what you've done, and this is like an acknowledgement that we've been working and done a great job. It means a lot to us, it means a great deal.
YouKnowIGotSoul: After the album came out in 2010, you've been touring extensively to support project and building your fan base through all these shows. How's the process been building up your profile?
Avery*Sunshine: It has been a journey filled with surprises. I didn't know how much I liked to perform. I didn't know how much at home I felt until I really started doing this thing. I never imagined that I would be doing it. Four years went by and we didn't even realize that much time had gone by. We had talked about doing another record but we never had the time when we sat down and got it done. Our manager was like "You're going to do a record right? I need some work to do."
YouKnowIGotSoul: What has it taken for you to get to this point? It's so rare these days for new artists to build and take it to this next level.
Avery*Sunshine: I'll say this, a huge part of that is social media. As a matter of that, Billboard did a piece on Dana a few years ago about his work with our company. Getting the word out there. I remember one of the first things he told me to do "You gotta get on Twitter!" The first couple of times people were retweeting me, I was like "I'm not doing this, this is too much, I don't like it!"
Dana: I think you're right, social networking has been huge, but at the same time, just we've been very blessed and lucky. I wish I could say there was some magic thing we did, but we tried to just do the best that we could with what we had. Also, just try to be as consistent as possible. Not shoot out of the gate too fast, just try to work it at a pace that was sustainable for us. I think that has something to do with it. Moreover, I think it's just a combination of some of the things we talked about; just being consistent.
YouKnowIGotSoul: The new album "The Sun Room" is coming. Introduce us to it.
Avery*Sunshine: "The Sun Room" is a collection of songs that hopefully remind you of an emotional space where you talk about whatever you want to talk about. It is a snapshot in time for us and it is also a declaration that we can sing about what we want to sing about, talk about what we want to talk about, make the kind of music we want to make. That's really what the album is, whatever we felt like making, whatever songs that we got, that's what we recorded. We didn't say "Well that doesn't quite go with this one", we did some songs and said "Let's put them together."
Dana: The studio space that we were in before the one we were in now, we had a good friend of ours that is an interior designer and kind of spruce the space up a little bit. In the midst of doing that, he said "You gotta name the space" and we threw around some names and The Sun Room came up. I don't remember who said it, but he said "Yea, that should be the name for the album!" The idea of that with the sun room in your house being the place that you go to just be, it's nothing specific that you do in there except reflect and talk to your friends or have some wine. It's kind of a safe place to expressed whatever it is that's going on with you.
Avery*Sunshine: The songs are just that. Tell him about "I Do Love You".
Dana: Again, without getting too deep into the songs.
Avery*Sunshine: Well he said introduce everybody to "The Sun Room"! *Laughs*
Dana: Ok, so that particular song is a song about how the trials and tribulations of parenting. The song actually sounds like it's about a male/female relationship, but in this particular case, it was actually more about being a parent and loving your child even though they do stuff sometimes to piss you off. That's kinda where that song birthed from.
Avery*Sunshine: We got "Time to Shine" which is more of an anthem. It's like "I'm so proud of me, I'm going to shine." Then we have the single "Call my Name" which is a song to encourage those folks that are in love, if you found yourself just live in these parallel universes, stop and talk about how you guys got off track. There are meditations on the album. There's a meditation to God or the person you're in love with. Just whatever we felt like we wanted to talk about, we did that. That's what "The Sun Room" is. Whatever that place is for everybody else, if you don't have one, find one. Find that place where you can unapologetically be you and say what you want to say; the no judgment zone.
YouKnowIGotSoul: Since the last album in 2010, what type of growth will we hear in your music, since you've done so much and been through so much?
Avery*Sunshine: I experimented more with different textures and colors in the sounds. I like to just to just deal with the Rhodes and keyboards, but Dana encouraged me to do different stuff. Fortunately, I was able to kind do some different things. Vocally, I tried to experiment with my voice a little more. This album, I feel like I was much more intentional about making an album. The first album was "Let's do some songs and see what happens." This time, it's like "Look, we're going to do an album, I'm going to sing on this, I'm going to cut my vocals and play keys on this one!" It was much more thought on this album than the last one. Dana always thinks like a producer and engineer and all.
Dana: It's interesting. From a process and musical standpoint, I think we used the same approach and just tried to organically make songs that we liked. That was pretty much it. The difference from the first album to this one, is it's a different snapshot in time. It just reflects where we are now relative to where it was then. I feel like it has evolved and matured some. For the most part, it's more of the same stuff hopefully that people like from the first record.
YouKnowIGotSoul: A huge part about what you do is the live shows. You have this rare quality thing about you with your shows. You're one of the very few that can turn people who are seeing you for the very first time into fans of you. That's how engaging you are as a live performer. Another person who has that quality is Eric Roberson. What is the work you put into your live shows? I can tell that you work at it and have improved.
Avery Sunshine: Thank you and it means a lot to be compared to Eric Roberson. He's a hero of mine and you're right, there's something about his performances that's very magical and it's an interesting thing. I know you didn't ask me all this, but I remember when he introduced me at SOBs and he ad-libbed my introduction and bio. It was so amazing, I almost didn't want to go on after. I was like "What am I supposed to do after that?" He's a very special artist. I make sure that I'm paying attention to things like that and being sensitive to the things that do entertain. The stage is not for me to practice because a lot of artists get there and that moment where we're getting into ourselves. I'm not that artist. You practice at home and when you get on stage, it's time for a conversation. I'll say something and the audience will respond with whatever. I need to feel that. I talk about it and it's something that I learned from church. It's a very interactive experience. It's not hard to do. It's what I'm supposed to do. It's strange to not do that. Overseas, language barriers keep me from doing a lot of talking and some of the jokes that I think are funny and they're like crickets. I have to sharpen up on that. I feel very much at home being that way. For me to entertain that way, it keeps me from being monogamous. We're all in it together. Listen, if you hear something that you don't like, don't say anything. If you like something, make some noise.
YouKnowIGotSoul: I was reading that you graduated from college back in the late 90's and you have a family now.
Avery Sunshine: Back in the late 90's…wow! It just dawned on me.
YouKnowIGotSoul: We just wanted some perspective on your journey because it didn't happen overnight for you. Was there ever a point where you wanted to give up?
Avery Sunshine: You know what? No. There was never a point where I wanted to give up because I never thought I would be doing this. I thought I would be teaching or anything that had to do with music other than this. There was never a time where I was like "Oh my, will they return my call?" It never was like that. Every time something happens for us, I'm like "This is bonkers! This is nuts. Are you kidding me? We're being interviewed by who?"
Dana Johnson: I mean, I always felt like something about this project was very special and that it would take time, but it would be worth it. It wasn't a thing where the music was hot right now. It's going to be hot two years from now. I never felt like giving up on it, but there's always other thoughts.
Avery Sunshine: Yeah, like going to Wal-mart and getting a job. That part yeah, but never giving up.
Dana Johnson: I think music is so much a part of who Avery is and myself as well. It was never really an option for us, it was something we had to do.
YouKnowIGotSoul: I love the hashtags that you use on Twitter. I love that you have that personality in your everyday life. What is it about you that you can lighten up the room when you walk in?
Avery Sunshine: I don't know. *Laugh* I'm grateful for it though. My parents were not entertainers, but they were always doing this to anybody and everybody. This is what felt right to me. I guess I got it from them. I feel weird saying "Yeah, I am a light!" but I hope that people do feel good when they see me. I hope I encourage somebody and I hope to be transparent. I hope to shine through my transparency and just let people know that we are all the same. I want children to look at things different like "You're shining too! You just shine in a different way."
YouKnowIGotSoul: I remember one of our readers commented on your new single with "This brightened up my whole day!". That's what it's all about.
Avery Sunshine: That's a blessing. I feel like it's so out of our control. IF we just allow ourselves to be, we can all be that for everybody.
Dana Johnson: I think that just doing what you do naturally, it just works.
Avery Sunshine: We were in a meeting and a lot of people are surprised by the information that he knows and his spirit.
Dana Johnson: Certainly. Just do what you actually do, it'll work out.
YouKnowIGotSoul: Anything you'd like to add?
Avery Sunshine: Go buy the album May 27th. We hope that everybody is encouraged to shine. We want to get our testimony out through our music. We just want to encourage people to shine and do everything that's put into for you to do. Don't let the voice on the outside hover the voice on the inside.