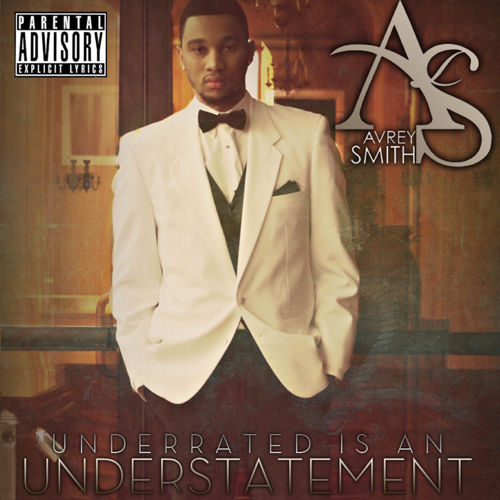 Let me introduce you to Avrey Smith, an up and coming r&b singer signed to Willie Taylor from Day 26's Noivak Music record label. We had a chance to catch up with Avrey while he was out here in NYC doing promo and a performance on BET's 106 & Park. During this interview, we discuss how he was originally discovered by Will, how competitive it is for up and coming artists with all of the technology that creates overnight sensations, how being a trained musician helps him musically, what he's learned while studying the music business in college, his new single "Inked Up", and much more.
YouKnowIGotSoul: For those who aren't familiar with you as an artist, introduce yourself.
Avrey Smith: I'm r&b sensation Avrey Smith representing Chicago and I'm out here in New York right now just preparing. Check me out, I was just the spotlight artist on BET 106 & Park last week.
YKIGS: Tell me the story about how you originally met Willie from Day 26 and how he eventually signed you to his label.
AS: I met Will about four years ago when his brother, who is now my manager, was throwing a talent show back in Chicago. I did the talent show and we kept in contact afterwards and he just continued to push me and started managing me. So when Will came up with the idea for Noivak as his label, he saw something in me as an artist that he wanted to take it to the next level so he signed me. They've been working hard for me and I've been working hard for them and we've combined forces. It's just been a blessing to be able to have somebody who is my CEO in an executive position but is also an artist so he understands the trials and tribulations that I go through as an artist. He helps push me and puts me in great position to succeed, so shout out to Will from Day 26.
YKIGS: How would you describe your sound of music and your style of music?
AS: The first thing you're going to notice about my music is that I'm really honest and to the point and that's the one thing I want people to take away from my music. I'm kind of known as an r&b cat that will tell you everything direct, I won't beat around the bush. There's a lot of high energy stuff but I can also slow it down and take it to the bedroom. It's real relatable music because everything I say is real and honest. I'm also a party guy though and I love to party, so you'll definitely get high energy stuff from me.
YKIGS: Give me some background on your song "Inked Up" and how it came together.
AS: "Inked Up" is my new single and it's available on iTunes and Amazon so everybody go check that out on there. The song came into play because I've got a lot of tattoos, and I've heard a lot of people walking around claiming to be tatted up but didn't have nearly as much as I did, I stopped counting mine and I looked at myself as just having ink all over my body. I actually put the line "If you know my name, then you know I'm inked up" in a mixtape song, and a lot of people tweeted it to my daily so I just went and ran with that concept and made a song about tattoos. I just wanted to make a really fun, party record for the clubs and for everybody out there who has tattoos.
YKIGS: We featured another song of yours on the site last week, "You Got it". Talk about that song.
AS: I really did that for the ladies simply because I am an r&b cat and we cater towards women a lot. Since "Inked Up" is such a party record, I wanted the ladies to know that I've got something for them to. "You Got It" talks about the perfect woman and I just talk about all of the qualities that I would seek in the absolute perfect woman. So it's just talking to my ladies and for all of my perfect women out there.
YKIGS: I read that in your bio that you dance as well and you grew up on Michael Jackson. Do you feel that as an upcoming r&b singer in this generation that being an all around entertainer is something you need to be successful?
AS: With me singing and dancing as well as well as being a trained instrumentalist, I feel that it's important that you're not only just a singer or a dancer, that's you're an artist. Being an artist, you have to be an entertainer. We have artists in the game right now such as Chris Brown and Omarion, these people have such great quality talent and give great performances, people like Usher too who's still doing it. So for an up and coming cat that's new to the game, I really have to make sure I'm on top of it and bringing my A game; dancing, singing, and giving everybody the best show possible.
YKIGS: Talk about how competitive it is as an up and coming artist trying to make it. You're already signed, but with the technology these days like YouTube and people being discovered online, it makes it extra competitive. What's it like out there?
AS: It's really hard for an up and coming artist. Coming where I'm from in Chicago, we're the third largest city in the United States, but there are no major labels there and there's a lot of great talent in Chicago. I feel that as an up and coming artist, you've just got to keep in mind who you are as an artist and that you are unique, there's only one of you, continue to do what you do as an artist and eventually that will find its way to the right people. Even though there is a lot of competition out there right now, I've been fortunate to have other artists that are in the game collaborate with me and not be in competition like Will from Day 26. So that's helped take my career to the next level and it's been a blessing.
YKIGS: I know that some fans of the older generation of r&b look at the new generation of r&b and claim a lot of the artists can't sing and the music isn't the same. Do you feel that the new generation gets a bad rap?
AS: Actually I do and I'm really glad you asked me that question. I am a part of the new generation of r&b and I do feel it gets a bad rap. I just think that the people who are used to how r&b was need to understand that all music has evolved and music is one constant evolution. What is hot today may not be hot tomorrow and that's the biggest thing is that people need to understand. It's still r&b music and the artists that are performing it are still talented and can still sing and can still dance, but r&b has made an evolution. It's all about consumers and the type of music that people want to hear, it changes every day, so we're just catering to that audience.
YKIGS: I read in your bio that you went to college and were a business major. Talk about how what you learned in college kinda helped you in your career as a musician.
AS: Like you said I went to college, I actually have one year left and I'm studying music and business. Going to school and having a career at the same time actually benefited me because I was studying music business so I was learning so much more about the business aspect of turning this passion I have for music into a career. So it was a blessing to be able to know what it is I was getting myself into, to know what to do and what not to do, how to market and brand myself, and to know when I'm being swindled and what's a great opportunity. So that's why education was so important to me simply because I was able to learn so much about what I'm currently pursuing.
YKIGS: What's some advice that Willie has given you for your career that's been able to point you in the right direction?
AS: The biggest thing with Will is that he's just always instilled in me is a great work ethic. He's been doing it for years now, even before Day 26, he was grinding really, really hard as far as pursuing his career in music and he reached the plateau of a platinum recording artist. Another thing he's taught me is to continue to make good music and an abundance of it. Don't get too complacent over one hot song or two hot songs, you've got to continue to make great music and bang out as many records as you can. Try to make every single song a single and that way if you have the product necessary, when it ends up in the right hands, you'll be put in the right position.
YKIGS: I also read that from a young age you learned how to play several instruments. How has that helped you further your career as a musician?
AS: Me being a trained instrumentalist has really just given me a whole nother level of creativity. When I hear an instrumental, I can get a vibe with it because I'm an instrumentalist who knows how to play the instrumental and compose the record. It's helped me a lot with my creativity and my ability to hear certain things within music and certain instrumentals that I feel that I could take that record to the next level. I've been playing the piano since I was seven, I've been playing brass instruments since I was 11 or 12 years old, and percussion soon after. It's just a blessing to be able to know what it is that I hear and take it to the next level because I know exactly what it is.
YKIGS: What's next for you?
AS: Right now I'm actually currently working on an album, it's untitled and there's no specific date just date. Before I release that album I'm going to release a mixtape called "The Second Language" and it's going to be all original songs. The reason it's called the "Second Language" is because it's my second major project, my first mixtape is available now on my website, and this one is foreign to my first project. My first project was all cover songs and this is one going to be all original songs and it's going to be a lot more classic r&b. We're still going to have the party records, but it's really going to be a lot more r&b. We're going to get a release date for that soon and you can keep up to date with all of my information at my official site www.AvreySmithMusic.com. I'm just trying to make sure I release the best and most quality music I can.
YKIGS: Who are some artists you'd like to work with in the future if you had the chance?
AS: Man there are so many artists, I can go down the line for days! Even artists right now that are in the game I'd like the opportunity to work with are Wiz Khalifa, Big Sean, Chris Brown. Then some soulful artists like John Legend and Ryan Leslie who are also trained instrumentalists. I'd also like to work with veterans in the game like R. Kelly. There's a lot of people from r&b to hip-hop that I'd like to collaborate with and hopefully I'll get the opportunity to.
YKIGS: Anything you'd like to add?
AS: The new single "Inked Up" is out right now on Amazon and iTunes or anywhere music is available electronically so you can all go check that out. Stay up and stay with me at AvreySmithMusic.com and you can follow me on Twitter @AvreySmithMusic. I also appreciate you guys having me!