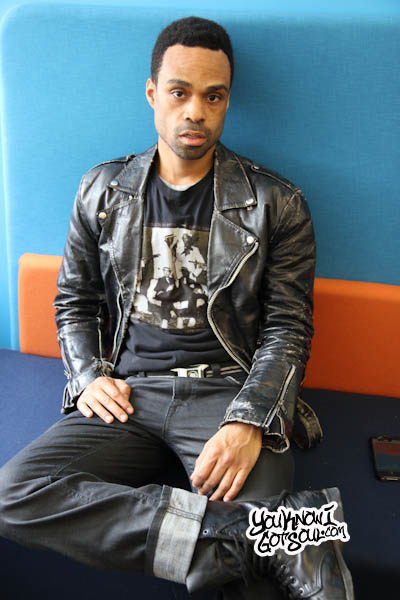 Through his time in the industry, Bilal has always been an enigma. After releasing his critically acclaimed debut "1st Born Second" and then not having an official release for almost a decade, his reputation as an artist inexplicably seemed to become stronger. This was witnessed by the cult following to his shelved sophomore album as well as the many big name collaborations he managed to be a part of over the years. The ironic thing is, despite all of the mystique that has surrounded him and helped keep fan interest alive, he's one of the most artistic and talented artistic artists you'll find in r&b/soul music. He made a solid impact with the release of "Airtight's Revenge" in 2010, but now takes another huge step in his musical evolution with the release of "A Love Surreal". YouKnowIGotSoul sat down with him and discussed the expectations for this album, being more sexy on "A Love Surreal" than his previous projects, sketching out the madness in his brain, interesting influences in his career, and much more.
YouKnowIGotSoul: Your new album "Love Surreal" is out now. I read it's the whole process of falling in love, meeting someone, breaking up and getting back together. Talk about the concepts on the album.
Bilal: Yeah the songs on the album are a combination of break up songs and finding love again. It's a love analogy, but I'm really speaking about my career and the journey I've been through. I'm just finding the love for music again, the drive and the reason for doing it.
YouKnowIGotSoul: I read you did the album without any expectations and let go. Did that make the process a lot more free for you?
Bilal: Yeah because I wasn't expecting on doing a whole album. I just went in the studio only expecting to do five songs. Before I knew it, I had a whole album worth of new material. In that way, I wasn't really expecting this album to happen.
YouKnowIGotSoul: I know this album is a little more sensual than "Airtight's Revenge" is which was a little more dark and moody. Is that what you were going for?
Bilal: I guess so. Like I said, it just happened. I'll say towards the middle of it, I was like "This is kind of sexy now."
YouKnowIGotSoul: I saw in another interview you did you mentioned that your preparation for an album is like sketching out the madness in your head. Talk about your process for making music.
Bilal: It's different every time. I walk around with a lot of ideas in my head all the time. The more mature they get, they come out. That's pretty much what happens. I go into the studio and I'll maybe an idea in my head. If something happens in the studio that will make more sense or I'll have a little shape in my laptop and then it'll happen from there. It happens a lot of different ways. I also have work with my band and they sometimes bring me melodic shapes or tracks as well.
YouKnowIGotSoul: This is your third official album now and you've been in music over a decade. Talk about the maturity people will hear from you on this album.
Bilal: I don't know. I'm a big kid so I can't really say I'm maturing or not. *Laughs* I understand music and what I want to do. I guess you can call that maturity. I have a certain concept as far as the sound is concerned from a production level that I was trying to achieve and I think I got a lot closer on this album.
YouKnowIGotSoul: The interesting thing about you as an artist is your music seems to cross many different genres of music including r&b, rock, jazz and hip hop. Looking back, who were some of the artists that influenced you in your career, regardless of genre?
Bilal: I would say Steely Dan of course. Their album "Aja". Weather Report, their album where they had "Black Farm". RadioHead as well. All of their records, I love all of theirs. Definitely Jazz, Sun Ra was a big influence on me this time around. A good friend of mine gave me Sun Ra's whole catalog and I listened to him pretty much throughout this whole process. I'm still trying to process all of the music I've been given.
YouKnowIGotSoul: You've had a certain mystique about you throughout the years, even after your debut album came out. Your sophomore project leaked and eventually got shelved, but you were still able to get big name collaborations. Do you feel there's a certain mystique about you in the industry?
Bilal: I don't know. *Laughs* I don't really keep tabs on that. I know when I first started, I was like "It would really cool if people saw me as this weird dude. I'll just wear glasses all the time." But really, I don't give a shit. *Laughs* I'm not really trying to be mysterious or weird. It's just I guess I've kind of talked myself into this situation or being this way. I'm really a down-home guy. *Laughs*
YouKnowIGotSoul: Are there any artists you'll want to collaborate with?
Bilal: There are tons. I'd love to get in the studio with Tom York or A Flying Lotus or Danger Mouse.
YouKnowIGotSoul: Is there advice you'd give to a younger artist trying to break into the music industry?
Bilal: I'd say to collect all the things that are you and hone it in so what you have is special. Keep working at that and you'll be fine. The more you are strong with what you want to do, the less that will be chipped away. In this business you have to have thick skin.