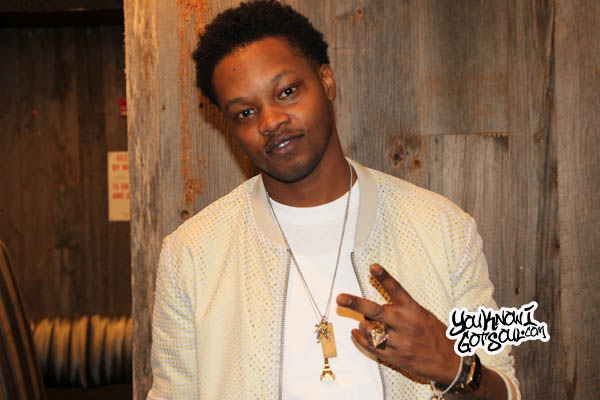 Things didn't happen overnight for BJ the Chicago Kid, but when his big opportunity came about, he was more than prepared to meet the challenge. Handpicked as one of Motown's new generation of artists tapped to lead the label revival, he had been preparing for this his whole life. His music is reminiscent of the classic Motown soul artists for the fact it will captivate you and give you something you can feel. While many in his generation are concerned with radio trends, BJ is more interested in singing his heart out and leaving you with a timeless lasting impression. Coming off of his successful independent album "Pineapple Now-Laters", he'll have a chance to make that impression with his upcoming Motown debut. YouKnowIGotSoul sat down with him after a recent performance in NYC and discussed his signing to Motown, how he originally got opportunities to write and sing backgrounds for other artists, his writing process, what to expect on his Motown debut and more.
YouKnowIGotSoul: Last year you released the successful "Pineapple Now-Laters" album. What were you looking to accomplish with that album?
BJ the Chicago Kid: Basically I was just trying to create an album where whether five people bought it or five million people bought it, it was something I was satisfied with and I released it as a statement. I feel like that's what I accomplished.
YouKnowIGotSoul: Now you're signed with Motown. How much impact do you feel the album had on your signing?
BJ the Chicago Kid: Definitively a big part. My last album was two years before that, so I've just been taking my time to create a different quality of music.
YouKnowIGotSoul: Prior to the signing, you were writing for other artists and doing background vocals. How did you originally get those opportunities?
BJ the Chicago Kid: I've just been around the right people. It's just actually doing your job and being good at what you do and it puts you in the right situations. Because of that, I ended up doing Coachella with Dr. Dre and Snoop with the 2Pac hologram. There have been so many incredible, timeless opportunities that I've had. Even with the James Brown tribute with Usher at the Grammy's. Just incredible historic moments. I've just been blessed.
YouKnowIGotSoul: How's your debut on Motown coming along?
BJ the Chicago Kid: Whoooooo! This album is about to be incredible man. I feel like I've always had far more than enough songs, but now I feel like I'm finally getting to where I need to be. It's a certain feeling I've been trying to tap into. I would love to let the music speak for it. Just prepare for it, it's coming.
YouKnowIGotSoul: Did you approach this album any differently than the "Pineapple Now-Laters" album?
BJ the Chicago Kid: Yea, in a more mature way. It's some records that I've always had in my stash that I feel like were always for a bigger project. I had been working on them way before Motown came, so now I'm really just trying to pull the tricks out of the bag. I've prepared for this time, I knew this time was coming my whole life. I kinda handpicked some friends and teammates that are going to help me win. With their expertise, we're going to make this thing work.
YouKnowIGotSoul: As a very talented songwriter, what's your process like for putting a song together?
BJ the Chicago Kid: Man songs come in many different ways. The process of making songs is sometimes I get the melody first, sometimes I get the background vocals first. Sometimes I start at the first verse. It's so many different things and ways to start a record. Some of them start in the craziest ways. Like "Aiight" for example from "Pineapple Now-Laters" project, that song started from the background vocals. Then the lyrics came. It comes in many different ways, you just gotta be vulnerable to what's going on.
YouKnowIGotSoul: Talk about being a part of the new Motown with the whole revival they've got going on.
BJ the Chicago Kid: Oh man, it's an honor. I love where I'm at. Chrisette [Michele], Stacy [Barthe]; if you just go back to the history, it's Stevie [Wonder] to Marvin [Gaye] to the Jackson 5. It's an honor. That's why I feel like I can do shows like I do tonight and just sing. Let me give them that for a chance because they don't get that. I understand sometimes even if the people don't clap all of the time, they're listening. Sometimes that's not a bad thing because I'm giving them something they've never heard before so takes a bit longer to digest. Someone may not clap, but they're gonna say "That guy has got it!" I feel like I understand that. Because of that, I salute people that rock with me. I thank everybody that supported my career whether it's a new supporter or old supporter. I just appreciate everyone for the support. Good music to myself is only to myself. It has to spread.
YouKnowIGotSoul: You've been featured on songs and written for others early in your career. Was it ever hard to break the perception that you were just behind the scenes and not a solo artist yourself?
BJ the Chicago Kid: Absolutely. It took some people awhile to get it, but I stayed focused on what I had to do. I totally understood what I was here to do even when I got on the plane from Chicago.
YouKnowIGotSoul: Coming out of Chicago, what's the music scene you've noticed that exists there?
BJ the Chicago Kid: It's incredible. Chicago has an incredible music scene right now, I'm excited for them. We've never been known for a consistent sound. Everybody thinks we just rap fast! Due to Kanye or Common, it gave us two other lanes but it's so many other voices. In the next two or three years we'll be having a lot of other names to mention when we mention Chicago's great artists.
YouKnowIGotSoul: Anything you'd like to add?
BJ the Chicago Kid: It's BJ the Chicago Kid, stay tuned, I'm not going anywhere.