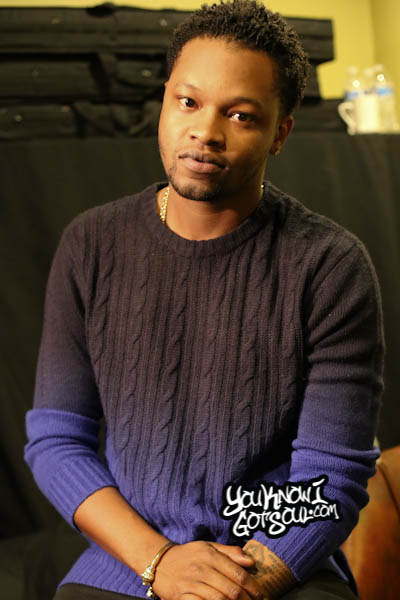 BJ the Chicago Kid is a very rare breed; a soulful dude who has just enough edge to appeal to the hip hop audience as well. The proof of that is his feature on Schoolboy Q's recent #1 hip hop single studio where BJ lends his crooning to the chorus. One of Motown's new generation, this was another piece of the puzzle as his buzz continuess to grow since the release of "Pineapple-Now-Laters" in 2012.If you listen to him though, you'll probably reminisce more about the old Motown as his sound is directly influenced from that era. However you classify his lane, the talent is undeniable and is starting to get the exposure it deserves. YouKnowIGotSoul sat down with BJ prior to a recent performance in NYC and discussed the success of "Studio", carving out his lane, his upcoming EP, and much more.

YouKnowIGotSoul: Talk about your feature on the SchoolBoy Q song "Studio" and the success of the record. Did you expect it to happen?
BJ the Chicago Kid: It was totally unexpected. I don't listen to the radio honestly, so knowing about the hype, the song and where it has gone, it's been through other people and word of mouth. It was just amazing. I've been in the studio and making 1000 hours. All the big brothers have done it consistently, so I'm trying to be consistent with it.
YouKnowIGotSoul: What do you feel like your feature has done for you as far as opportunity?
BJ the Chicago Kid: It has brought a lot of people to pay attention to what I do musically. "Pineapple Now-Laters" is still selling units and it's amazing how good music has no expiration date. Even through that and us releasing music on http://www.bjtck.com like "Perfect", "Go Girl", "Real Love Never Dies" and "Wednesday Weekend". We're giving you guys free music and letting you guys know that we want everyone to wait for the big boom, so everyone is affected when it happens. No one will be sleeping on it.
YouKnowIGotSoul: You released your debut "Pineapple Now-Laters" back in 2012. Has it been tough getting your next project out?
BJ the Chicago Kid: The time that has past has simply been because of myself. We want to give everybody a new sound. We want to give something else that's another level of what we've been doing and what we've been inspired by. At the end of the day, that takes time. It's a process when you want to do it right. We plan on doing things right everytime and I feel like quality is always better than quantity. Once you have a lot of quality, you're able to give people a littie. That's why I've been away. I've just been giving every Monday because I could go a few more months if I want to and you'd still get a classic to sit to.
YouKnowIGotSoul: Where do you feel like is your lane musically? You're a soulful dude but you can reach the Hip Hop fans like with "Studio".
BJ the Chicago Kid: Ever since the "Taste of Chicago" mixtape, I've been craving up my lane. That's the first thing I ever released. From that to "Pineapple Now-Laters" and the album, I feel like it's all carving up my lane. This is just to show you everything that I can do. I feel like I can get on a D'Angelo tour, R. Kelly tour, Usher tour or a rap tour. I'm every rapper's very cousin and I want to be everyone's favorite R&B singer at the same time. I want to give good music that you can rock with and I'm inspired from so much, so I have to take you on a journey. That's my responsibility and I can't keep you on that lane. That's why I threw "The Resume" and even me titling "The Resume" after a song on that project, you'll understand I'm pushing the bar and I'm rolling the dice.
YouKnowIGotSoul: Talk about the upcoming EP and the difference between that and the album.
BJ the Chicago Kid: Yeah the EP is "The Resume". "Pineapple Now-Laters" was a very soulful project and it had a very young element to it, but it had a very comfortable and mature element to it as well. "The Resume" is straight young. It has a few reminiscent feelings of "Pineapple Now-Laters" but the rest of it is targeted towards a younger audience to pretty much make everybody sit in the same room no matter what color you are or how old you are. You'll have to save room for the album because that's when you'll have to meet me at Madison Square Garden. It's a big sounding thing, but it's about my life. It's my story. It's the movie.
YouKnowIGotSoul: When can we expect the EP to come?
BJ the Chicago Kid: October, it'll be soon.
YouKnowIGotSoul: Will you be continuing to release songs on your website?
BJ the Chicago Kid: Yeah, soon you're going to see merchandise to old mixtape links. It's going to be a one stop shop, so I want everyone to understand that you have to go there to get it.
YouKnowIGotSoul: Talk about some of thee producers you've been working with.
BJ the Chicago Kid: Jairus 'J-Mo' Mozee, David 'Dae-Dae' Haddon and my brother Aaron Sledge. I do music because of him, no question. I rock with The Futuristics and 1500. I'm always working and I have ideas myself. Sometimes I just do intros and we have incredible records. Just expect a lot of dope features. I hate that I can't talk about them, but I'm so excited for them. Soon you'll see.
YouKnowIGotSoul: Talk about what it means to be part of this new Motown label.
BJ the Chicago Kid: Let's talk about the old Motown. *Laughs* That's what I listen to when I'm at home. I always have before I even got signed to Motown. I rocked with Motown before I could even sing Motown. My uncle rocked with Smokey Robinson for years. He married one of Smokey's cousins at the time. Music is in my blood man. I'm not a guy who saw a video or saw a chain and thought music would be my ticket. I sing from a different place. I wonder if there are people who know that place exists or not. I'm a different breed and I'm not sounding like that, but I'm just taking it one day at a time.