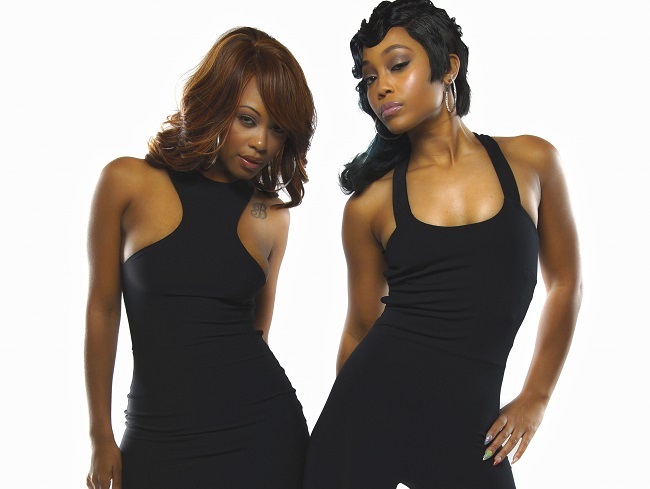 Success and tragedy are two words that have been associated the group Blaque for almost their entire career. The group, consisting of Brandi, Shamari and Natina, made a huge splash in 1998 with their debut single "808" which ended up peaking at #8 on the Billboard Hot 100 chart. The R. Kelly produced single was followed up with "Bring It All To Me" which ended up being an even bigger smash for the group. It appeared Blaque was destined for greatness after their debut album, but shortly after their mentor Lisa "Left Eye" Lopes passed away and the group ended up calling it quits after their next two albums were shelved due to label issues. Blaque looked like they were going to be another group that would disappear from the music industry, but the ladies decided to give it another try with aspirations of reaching the success that they had earlier in their careers. Unfortunately tragedy struck once again as group member Natina Reed was killed in a car accident in 2012. Luckily for music listeners, Brandi and Shamari have decided to continue with this new project which will be dedicated to Natina. YouKnowIGotSoul had an opportunity to speak with the group about their comeback, the impact of Natina Reed and we also had a chance to speak with the girls about possibly releasing their unreleased "Torch" album.
YouKnowIGotSoul: Blaque is set to come out with some new music. Talk about this comeback and how it all came together because I know this was already in the works before Natina passed away.
Brandi: It definitely was in the works before Natina died. We had got together just a few days before she passed to really talk about the direction of the project and we listened to some music that we were going to record and get our feet wet again. Unfortunately a couple of days after that she passed away. But Shamari and I, through all the tragedies, we've been trying to keep it moving and trying to have a good and upbeat spirit about things and hopefully the music will reflect that. We just want to let people know that there's definitely life after death and we have really experienced a lot of that in our careers and in our personal lives. We just want to let people know that we're still here, we're strong, we're sisters and we want to keep it moving in honor of Natina and Lisa as well.
Shamari: We're doing it for Left Eye and we're doing it for Natina. We just want to let the fans know that we did not let them down because I know there are a lot of fans out there like "Where's Blaque?" Oh no, we ain't going nowhere. We're not replacing Natina, but we're going to continue to lift Natina up through our music.
YouKnowIGotSoul: Prior to this, I know Shamari was doing some stuff outside of music such as going to school and Brandi was working on a solo project. Did you guys hesitate about doing this project because you all have different career paths now?
Shamari: No, not at all. I graduated from Georgia Tech University in May 2013. That's right! *Laughs* I've always wanted to do Blaque because during the time that I was just finishing my last credit, we were in the studio working with Natina while she was still here. Besides just going to school, my heart is always going to be in music. My husband, who some say is a legend, Ronnie DeVoe of New Edition, always encourages me to use my voice because this is a gift that God has given me. That's something I wanted to always pursue regardless of things I've done outside of the music industry.
Brandi: Blaque has always been a part of me and who I am. It was only natural for me to say "Okay, let's do it again." We were all dedicated, our spirits were up and we really felt like we were ready to embark on this project again. It was exciting and once we all had that conversation, it was like "Let's do it again." We were ready to go.
YouKnowIGotSoul: Of course losing Natina affected both of you personally, but as far as the project, what was the decision process like to decide whether to continue recording or just leaving it?
Brandi: I feel like we didn't have a choice. There was no choice in just leaving it.
Shamari: Natina had laid the foundation.
Brandi: This is what we have to do. She put it down for us to continue moving. We have some upcoming TV opportunities that's coming our way and we have a lot of footage that will explain what we're talking about when we say that she laid the footprint and blueprint for us. The fans and everyone will be able to see that, but yeah, we really didn't have a choice. Once we got through the funeral and all of that, Shamari and I looked at each other like "Let's do this." We had no choice and we had to keep it moving.
Shamari: It was almost like Natina believed in Blaque more than we believed in Blaque. She laid the foundation and she put all the key players in play. She got the producers, writers and management. She made sure everything was put together. Natina was so driven that she flew out to New York to Elektra Records, went and had a Sylvia Rhone and got us a record deal.
Brandi: We didn't even know her! *Laughs*
Shamari: She came back to Atlanta and she was like "Alright I got you a deal!" We didn't meet with her. That's how driven she was, so we have no choice but to continue to uplift her and make sure her legacy continues to stay alive. We have no choice, she would have it no other way.
YouKnowIGotSoul: Talk about the music you guys are recording now and the direction of the material.
Brandi: Right now we're really early in our recording. We have a few records done which is great and we're excited about it. I feel like the direction is still being laid and kind of molded, but we definitely are grown woman now and we want to exude that in the music. We're sexy, grown, fun and we've been a lot of love and loss, so we want all of that to come through in this new project and as well as let people know that even in spite of all the tragedies that we have experienced that God is good and we have life and we're going to continue to live and enjoy each other everyday. We want that to come through in our music.
Shamari: The fans will get that and they will see that we have this sisterhood that can never be broken and we just want everyone to feel empowered by the movement that Blaque is about to partake in and hopefully they'll like it and joy in. It'll be the best movement ever. *Laughs* It'll be the Blaque sisterhood movement.
Brandi: That's right, come join us!
Shamari: We've been through some stuff from Lisa's passing to Natina's passing to Natina's sister's passing so it's been a lot, so we continue to keep it moving. Like Whitney Houston said, "We don't even know our own strength" so we just have to keep it moving and we'll figure it out along the way.
YouKnowIGotSoul: With Natina being the rapper the group, I think that brought a different element to the group. Did you guys try to fill that void or is it even possible to do that?
Brandi: We're definitely never going to fill her void because she was definitely the blueprint in this Blaque thing. Blaque is made up of three people and once you lose one, of course it's going to be different, but I think Shamari and I are doing a great job of holding it down. That's our mission. We're going to hold it down for her and we'll hold it down for her fans. Our voices are bigger and better than before, so hopefully it won't feel like something that is missing. Of course it might feel different, but different is good. We're never going to replace her.
YouKnowIGotSoul: Talk about the sound of the project because Blaque's music was R&B/Pop which doesn't really exist anymore. How do you make sure it connects to all audiences?
Brandi: I think that the beauty of today's music is that you can kind of do what you want to do and what you feel. It's not about a genre or a lane. We're making music that feels good and people can relate to. That's what Blaque has always done. We were never like "Oh we're going to a strict R&B group or we're going to be this Pop group" because we love people like No Doubt when we first came out. And we love people in the R&B world as well. We loved the Spice Girls which is the type of music we listened to when Blaque's first album came out. It's never like we wanted to fit in one type of mold, we just want to make music for people that love good music. I think that's where we still are. We just want to make great music. It's not about a lane or a genre, we just want to make great music.
YouKnowIGotSoul: Who have you worked with for this project?
Shamari: Matty P and Lewis Rocc. We're going to be going in with some huge key players real soon, but we can't reveal that information right now.
Brandi: We're keeping it under wraps, but we've definitely been working with the great team of Matty and Lewis. They kind of just got in there with us and started cranking it out. We just wanted to figure it out and we love it. We actually had a listening gathering last night and it turned out really nice. We played about five records and we got a good response from them, so we're on the right track.
Shamari: Another person on the album is Kurupt. He did a guest appearance rap on one of our records.
YouKnowIGotSoul: Talk about "Summer Time Ridin" and the creation of that one.
Brandi: That's definitely a Lewis Rocc and Matty P record. When we first recorded "Summertime Ridin", it was one of my favorites because of how catchy it was as far as the hook and all of that. I know this summer has passed and we're going into the fall, but it's still summer wherever we are. We always just want to show that it's sunshine, it's bright, it's happy time and it's all of that when you see Blaque. I just think it's that type of song. It's a feel good record, so hopefully the fans will love it.
YouKnowIGotSoul: Blaque has recorded a lot of music throughout the years, but strangely enough only one album has been officially released. How important is it for Blaque's legacy to put out another album officially?
Shamari: Man, that's like the number one thing that we're focused on. Like you said, we've recorded three albums and only one came out, so we're definitely pushing for it. With Natina not being here, that's given us more of a driving force to make sure this one will come out and it will come out. We're not going to just record this record and it not come out because this is top priority and something that we believe in. We know the fans miss and want to hear us, they want to feel the fun side of music. Not the boring stuff that you might be hearing. We have to let her light shine. Even though our name is Blaque, we have a lot of light and a lot of people want to see and hear that. This project is definitely a top priority.
YouKnowIGotSoul: Blaque has always had a loyal fanbase. Have you noticed that the fans are anxious and waiting for new Blaque music?
Brandi: Oh my goodness, they are going crazy right now.
Shamari: They're discovering different things that I didn't even know existed. I have people hitting me up saying "Did you know that the fans are going crazy? They're listening to this!" and I'm just like "Where is this coming from?" They're really digging for anything Blaque, but they're trying to see what we're doing. They're so excited and they're ready. We have loyal fans who have been there since day one and never left our side, so we're just thankful.
Brandi: Our fans are amazing.
YouKnowIGotSoul: I know you guys didn't like the direction of your last album "Torch" which ended up being unreleased. Have you considered putting out that album because that was the last project with Natina's vocals on it?
Brandi: Yeah, the fans love that album. *Laughs*
Shamari: They really want it!
Brandi: We're going to find out a way. They've been asking us personally for it, so we know they want it. Hopefully we can put something together because for some reason, they love it. You never know what the public wants or what a hit is going to be. Obviously, they love those songs on that album. Hopefully we can get it out there to them.
YouKnowIGotSoul: Now you're reintroducing yourself to the music industry. After being gone for so long, do you look at this as another debut
Shamari: It's not like a debut. It's just being reintroduced as Blaque again as a group minus Natina, but it's the same music. We're just grown and sexy now.
Brandi: I think it's a reintroduction which I think people would appreciate versus something like "Oh we're a whole new thing" because we're not. We've been here and we've experienced a lot in our first go around. We experienced a lot of success, so we don't want to downplay that. We've had loyal fans that have been with us from the beginning, so it's not like this is a brand new thing. This is Blaque and the group that you fell in love with, but we're reintroducing you to the grown and sexy Blaque. I think they're so ready for it!
YouKnowIGotSoul: Anything you'd like to add:
Brandi: Follow me on Twitter @TheBrandiD
Shamari: Follow me on Twitter @ShamariDevoe
Follow Blaque on Twitter @OfficialBlaque.