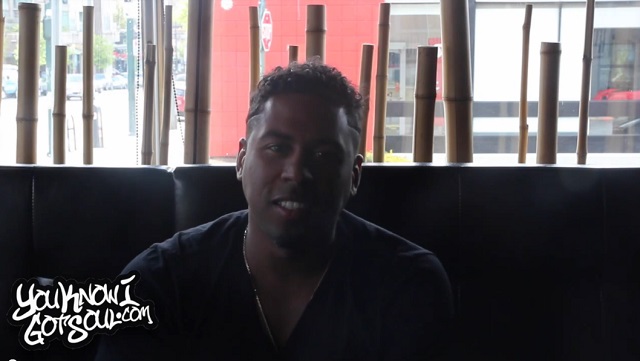 The grind doesn't stop for Bobby V. He's been independent since 2008 and it doesn't seem like he's losing any steam when it comes to momentum. He's continually progresssed musically which can be seen in his latest "Peach Moon" EP where we heard new sounds in Bobby V's music. Though he was happy with the material from that project, he had fans who were confused by it. Bobby V has decided to move on from that project to work on his upcoming album which will feature a futuristic sound. YouKnowIGotSoul had a chance to talk to Bobby V about his new sound as well as his colloabration plans with other R&B singers like Pleasure P and Ray J.
YouKnowIGotSoul: Your last project "Peach Moon" saw you go in a different direction. It was a lot more grown and musical. What was the reception of that project?
Bobby V: I think I had mixed reviews with it. A lot of the real Bobby V fans definitely appreciated where I was trying to go and what I was trying to do musically. There were people that were straddling the fence. They were feeling like "What are you doing? This is not the Bobby V I know". I got mixed reviews, but people who actually heard the album like real music lovers, they loved the project. I got a lot of respect from people like Jill Scott, Lyfe Jennings, Musiq Soulchild and Chrisette Michele. A lot of people that love real music really respected the project. It was a great project for me because I got a chance to challenge myself musically. I really love that project just because I was able to channel a different side of my music.
YouKnowIGotSoul: Is that the direction that you're going to continue to go in?
Bobby V: Moving forward, I'm going towards futuristic R&B. My new single "Unbelievable" is out and I'm about to drop anther single called "Versace Sheets" with Snootie Wild on there. I'm going back to my roots of Bobby V, but I'm also going a little more futuristic with it. I'm trying to set the tone of the new age R&B.
YouKnowIGotSoul: Of course you dropped "#PBJ" and "Unbelievable" and they have a contrast in sounds. Talk about both songs.
Bobby V: "#PBJ" was more of a party song. I love to perform that song because it's about having an awesome time. People dance and jam to it. "Unbelievable" is more the sound that I'm going for which is what I call futuristic R&B. I'm working with a producer out of Toronto by the name of Emerson Brooks. We went in and recorded at my house and we recorded about 10 songs and they're all on another level. I'm excited about where this new project is going and where this new sound is going.
YouKnowIGotSoul: I know you have a song with Pleasure P and Ray J coming out. Talk about that collaboration.
Bobby V: We were in California a few months back and we probably recorded 4-5 songs together. I'm just trying to find the different chemistries and I really want to combine the different R&B singers and put everybody together and make different kinds of music. We've got 5 bangers right now and I'm really excited to go back in the studio and start shooting videos for the records.
YouKnowIGotSoul: As far as R&B singers, no one really collaborates anymore as that's considered more of a Hip Hop thing. What made you want to collaborate with artists?
Bobby V: As R&B artists, we're not collaborating and that's the downfall of R&B to me. Rappers feature each other on every song and they're still reaching out to each other whereas in R&B, we just reach out to rappers. I want to reach out to all the R&B singers and collaborate with them. I'll collaborate with soul singers like Dwele. I've collaborated with Ray J, Pleasure P and Mishon. I'm just trying to collaborate even more with people like Trey Songz, The Weeknd, Chris Brown and Jeremih. Me and Lloyd have collaborated as well. I'm just trying to collaborate with as many R&B artists as I can.
YouKnowIGotSoul: Introduce us to do the new project you're working on.
Bobby V: Right now it's untitled. I have a tentative title of "Party Favors". We're releasing a 10 year anniversary mixtape of all my favorite songs and collaborations I've done with people like K. Michelle, Ludacris and Lil Wayne. I'm just trying to reach out to everybody and this CD I'm putting out is a 10 year anniversary CD and it'll have all my contemporary hits and a few of my features. This new CD I'm working on is very futuristic. I'm excited to put this new music out. The reception that I got for "Unbelievable" showed me how big this new project can be. "Unbelievable" was just released by myself and my crew and we're getting spins on XM Radio and we're getting a lot of love. We're just trying to put out this futuristic R&B sound and show people that R&B is not dead.
YouKnowIGotSoul: Does a new sound mean new expectations for you?
Bobby V: I always set high expectations for myself. I definitely have high expectations.
YouKnowIGotSoul: You've collaborated with Tim & Bob a lot in your career, so now that you're working on a new sound, will they still be involved with the project?
Bobby V: Yes, I've recorded 3-4 records with them. They are my favorite producers to work with and we have this chemistry that's unbreakable.
YouKnowIGotSoul: You've mentioned in the past being frustrated with having to release radio friendly lead singles when the rest of your album was traditional R&B. When you go on tours and perform at different shows, what do your fans want to hear from you?
Bobby V: Unless it's my real fanbase, the people want to hear the hit records. Recently I was in the UK and everybody wanted to hear the new music. I like to do those types of shows so they can hear what I have going on. I love to do new songs and I love for people to what to hear those new songs. A lot of people just want to hear the hit records and party, but I want to do the new music. Those are the people that are really into Bobby V.
YouKnowIGotSoul: You've been independent for a minute now. Is the grind easier than when you were on a major?
Bobby V: I think the grind is harder. The grind is harder in the industry even with a record deal. It's so competitive, so you have to constantly work hard. The grind of independent is definitely harder, but I'm always up for the challenge.
YouKnowIGotSoul: Would you say it's easier than it was 5 years ago?
Bobby V: I think it's harder now being independent now but it's harder to be an artist now. It's so competitive, so you have to let your music speak for itself. Your real fans will follow you and thy will uplift you. I have real fans that follow me and keep me going because it gets hard. You get down and out, but my real fans always give me words of encouragement. I have good family and friends and that really pushes me and makes me want to work that much harder.
YouKnowIGotSoul: It's been 10 years since your debut album. What do you remember about that album?
Bobby V: I just remember being broke and being out in California recording the album. I was staying at the Extended Stay and tried hitching a ride everywhere. It was a totally a blessing and a gift from God. People are always like "Why don't you make another song like Slow Down?". It's not that easy. The grind was hard and as far as recording the album, Kanye West was recording across the hall from me. This was before he was Kanye West and before I was Bobby V. We recorded in a big studio called "Record Plant" in LA. I just remember the grind and struggle. The grind was awesome though, so I did have a good time putting that whole project together.
YouKnowIGotSoul: How did that struggle lead to Tim & Bob coming into the picture for that project?
Bobby V: I was in a group prior to being Bobby V and we had recorded with Tim & Bob. That was my first time meeting them and recording with them. Those records never came out and to this day, a lot of those records are still hot. I said to myself that I ever go solo, I would want to work with Tim & Bob. When I went solo, my manager at the time found Tim & Bob and we recorded the project.
YouKnowIGotSoul: Your second album "Special Occasion" had a lot of big producers such as Timbaland, Darkchild and Bryan-Michael Cox. What were your expectations for that project?
Bobby V: My expectations were very high which they are everytime I release a project. If people don't know about the project, you can't really be mad about that. But the word of mouth spread over for that project and it ended up going Gold. The first album was Platinum and then after that second album, that's when I went totally independent. My third album was almost Gold independently. I had a couple of features on there like Fabolous and Ludacris. My most featured album was my "Dusk Till Dawn" project which had Future, K. Michelle and Gucci Mane. I had a lot of people on there. My expectations are always high and I don't get mad. I just continue to work and grind. That's why I'm still here. A lot of the people I came in the game with, they're nowhere to be found. A lot of people may say I'm nowhere to be found, but I'm still touring the world and I'm still working hard and getting ready to release another project.
YouKnowIGotSoul: How have you been able to collaborate with so many of the mainstream artists as an independent artist?
Bobby V: I think when people respect your craft, they'll respect you as an individual and businessman. I'm a real singer and at the same time, I'm a businessman so I think people respect that.