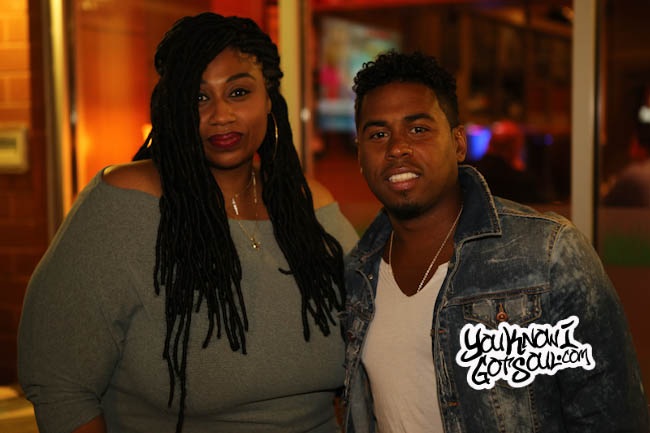 In a time when independent r&b artists are having to find creative outlets to get exposure for their music, turning to TV has been a common trend. Bobby V. is the latest r&b artist to take his talents to acting and will make his debut in the upcoming "Hollywood Hearts" movie on BET which he helped create. He linked up with Tangie B. Moore of Tier 2 Films and together they conceptualized this new movie which will help serve to help spread the word about Bobby's new album. YouKnowIGotSoul sat down with Bobby V. and Tangie B. Moore and discussed the creation of the film and much more.
YouKnowIGotSoul: Talk about where the concept of "Hollywood Hearts" originated.
Tangie B. Moore: Well it was initially Bobby's concept and a mutual friend of ours came up with the concept. He wanted to do something special to go along with this album. They had started working on a short, and then they came to my and my company Tier 2 Films to see if they thought the short film had legs to be a full length feature. I checked out what they had and I thought it was dope. I basically got behind it and I went back and turned the short into a feature. So I wrote the script and we started the production on the film.
YouKnowIGotSoul: Talk about how this vision was all conceptualized from when Bobby originally had the idea to how it turned out.
Tangie B. Moore: First of all, I didn't know Bobby before the project. When they called me, I was interested in meeting him because I had heard a lot about him. When we met, I actually adored him, he was so charismatic, he was so funny, we just hit it off instantly. Basically, after leaving him and sitting down and concepting and figuring things out, we basically went full throttle into the film. What I did was went away for a second, wrote the script in about a week, and then we started actually doing table reads, because he had some peers that he wanted to participate in the project. Lyfe Jennings, Benzino and DC Young Fly. We sat down and discussed the cast and started basically going into it immediately. It really evolved to become a really dope project.
YouKnowIGotSoul: Bobby, with this being your acting debut, how was the whole experience?
Bobby V.: Actually even before shooting the film I was in acting classes. I really took it very seriously especially once Tangie came on board because I saw how serious she was about her work. It really raised my bar to another level. It being my first feature film, it was very exciting but challenging at the same time. Even though I'm playing Bobby V in the film, a lot of it is not who I am as an individual, so I had to get into character. She had to coach me on different things that I had to do. How to say it with your chest! *Laughs*
Watch the video to hear the rest of what Bobby V. and Tangie B. Moore had to say. "Hollywood Hearts" airs October 8th, 2016 on BET.