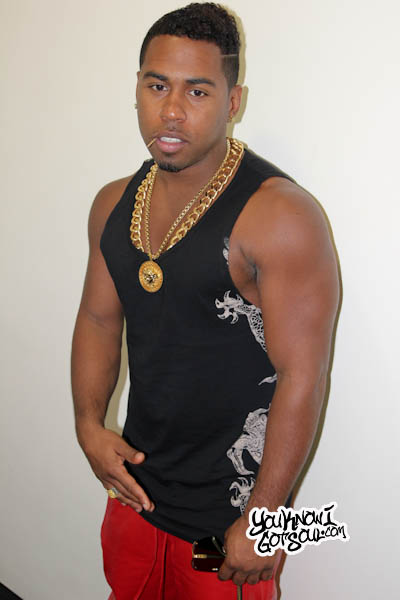 If you pay attention to Bobby V.'s albums and single selection, as well as to our interviews with him in the past, you'll certainly have noticed he's had a tendency to release more commercial singles but then fill the album with classic r&b. This is not a knock on him, it's actually a smart move and one that is necessary for artists these days who hope to have any type of mainstream success. For Bobby V. though, that's about to change. Already having built up a core fan base, he seems more interested now with creating timeless music and not worrying about the mainstream and chasing radio singles. Although he might not get the love he's used to from radio, he most certainly will from his fans and true lovers of r&b. Later this month he'll release his "Peach Moon" EP, classic songs filled with live instrumentation and the start of a new era of Bobby V. music. YouKnowIGotSoul caught up with him prior to a recent show in NYC and discussed what lead him towards this style of music, no longer chasing radio hits, his history with DTP and much more.
YouKnowIGotSoul: You're releasing this "Peach Moon EP" soon. It's a different sound for you with live instrumentation. What drove you towards wanting to do that sound?
Bobby V.: By me playing piano and really performing a lot with my band, it made me want to do this "Peach Moon" project and one with real music. I've given five albums of contemporary R&B and I think it was time for me switch the game up a bit. I listen to radio and I listen to a lot of music and I'm always like "I wish they would do this kind of music because they really have the listeners and their attention. I wish I would hear this kind of music." I just got tired of wishing and I wanted to do it myself and at the end of the day, "Peach Moon" is a project with real live instrumentation and I'm really excited about it. It's something different for me and something I really had to go deep in the thought process to make the lyrics and the music for.
YouKnowIGotSoul: I read where you said you wanted to make music that will last forever, timeless music. Is that your goal for the rest of your career?
Bobby V.: Yea definitely. I've always wanted to make timeless music, and even before a lot of my records are timeless. I think this kind of music with this "Peach Moon" project, I look at the Earth Wind & Fire's, the Joe's, the D'Angelo's, the Eric Roberson and Dwele's, the Musiq Soulchild's. All of these people that really make soul music. A lot of their music is classic and you'll hear it maybe not on mainstream radio but a station that continues to play good music. I wanted to be a part of that instead of trying to chase a mainstream, trendy, hit record. Just to make good quality classic music.
YouKnowIGotSoul: You mentioned previously chasing hit records. Would you say this is the point in your career where you have the most creative control and freedom to express yourself?
Bobby V.: Definitely. Now is the time to just really back up for a second. After my last album, I got kinda washed out with the music and got tired of making the same kind of songs and stuff. I was just like "I want to make something timeless and classic" and that's what this music is. This is definitely the next level for me and where I want to go musically for the rest of my career.
YouKnowIGotSoul: How has your fan base been reacting? Is this what they've been looking for from you?
Bobby V.: A lot of people are reacting well to it. I really haven't seen many negative comments about it. I think people are very interested in seeing what the rest of the project is going to sound like because "Back to Love" is so different than what you've heard from me before. I'm excited for people to hear it. "Back to Love" is really just a sample; the rest of the album is really soulful, jazz, r&b. Just a mixture of a lot of soul music with a little Bobby V. twist on it. It's going to be hot.
YouKnowIGotSoul: As an independent artist sometimes it's hard to get that mainstream success. Is that something you're even concerned about now or are you just looking to make the best music?
Bobby V.: I just want to make the best music. I've always chased mainstream success and I've been successful at doing it. Right now I really just want to chase quality, really good music. I think that once you really chase the good music and do something quality, the people will gravitate to it and love it.
YouKnowIGotSoul: This album is all live instrumentation, you're on the piano. Do you feel like mainstream r&b has gotten away from that?
Bobby V.: Mainstream r&b is kind of away from the live feel because rap is so big so everybody is really chasing r&b/soul that sounds like a rap record. It's definitely has gotten away from it. You've got artists like Miguel and other people that are pushing the envelope to do something different. I think it's opening the light for a different type of r&b, that real type of r&b music.
YouKnowIGotSoul: So you've got the EP schedule for later this July. What are you looking to do after?
Bobby V.: We're looking to do a full length "Peach Moon" album. Right now we're putting the EP out which is 6 songs just to give people a taste of what's to come from Bobby V. We're doing a lot of tour dates and performing and showing people the new Bobby V. with the live band.
YouKnowIGotSoul: We love to get the history behind the artist, so tell us, after you were with Mista in the late 90's and then left the group, where did your career go from there? How did you link up with DTP?
Bobby V.: Just running into the right people. Poon Daddy was a close friend of Ludacris and he just kinda put us together. After Mista I was always working on solo music and I had so much material to play for them. They loved it. I signed and it was history from there.
YouKnowIGotSoul: Do you think if the DTP situation had not happened you would have been able to link somewhere else?
Bobby V.: Definitely. I would have linked with somebody eventually. I've always seen myself being an artist and I know what the future holds for me, it's even bigger than people would expect. I already see things, I already know what's coming. I knew that was just a stepping stone for me to get to the next level. It was a great learning experience and those are still my brothers. For advice, I still talk to them and they're still family.
YouKnowIGotSoul: Anything you want to add?
Bobby V.: "Peach Moon". Make sure you follow me on Twitter @BobbyV, Instagram.com/BobbyV1. You will see more of the life of Bobby V. through my Instagram so make sure you follow me.