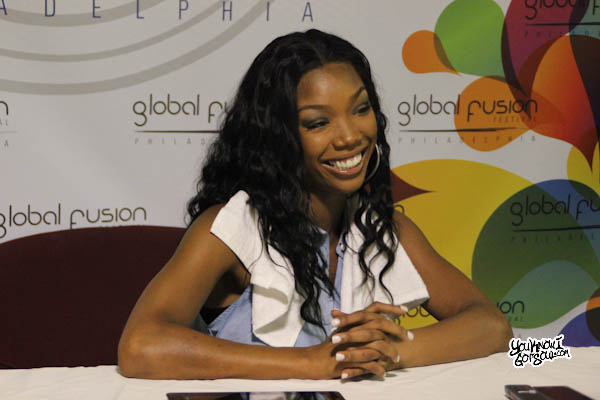 While we were in Philadelphia covering the Rhapsody Global Fusion Music Festival, we had a chance to speak with Brandy about the work that she did with hit producer Sean Garrett for her upcoming album 2/11. Currently, they have the single "Put It Down" featuring Chris Brown which has started to make some serious noise on the radio.
YouKnowIGotSoul: On each of your albums, it seems like you've had one major collaborator. It was Darkchild a couple of times and Timbaland once. This one it seems like it's going to be Sean Garrett, so what has it been like working with him and how did you know he was the one to carry you through this album?
Brandy: Yeah it has been Sean Garrett. He's an incredible writer. He really took the time to give me something special and I wasn't afraid to work with him. Sean Garrett has had 17 number ones so that can make someone a little nervous, but I got right in and it just seemed like we really connected and we had a great chemistry. Breyon Prescott, the guy who signed me to Chameleon Entertainment, he hooked it all up. He made it all possible for us to all work together with Sean Garrett, Bangladesh and all of us. It was a great experience and I would do it again in a heartbeat. I can't wait to do the next album and this one hasn't even come out yet!
If you remember, YouKnowIGotSoul had an opportunity to interview Sean Garrett late last year to talk about working with Brandy in the studio and this is what he had to say: "I'm a huge Brandy fan, so it's a lot of different things involved in this because I have an extreme strong love and passion for her as an artist. We grew up on Brandy. I felt she has just one of the most amazing voices in music, ever. To be working with her is a humungous blessing and great opportunity. I'm both a fan and a producer, and we have a great bond. It's just a whole lot of different great things going on in the studio. I'm just so magnificently happy about this opportunity."
Stay tuned next week for our full interview with Brandy!