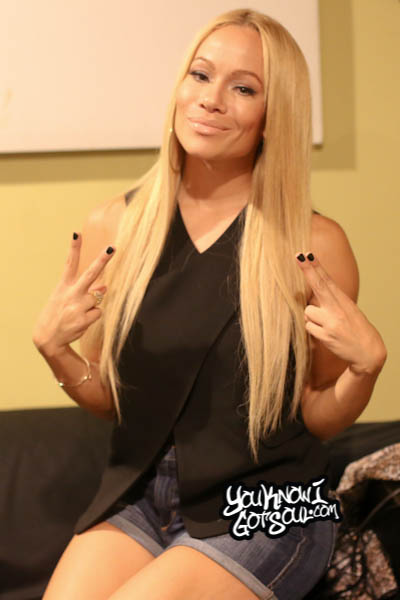 The transition from being in a group to being a solo artist is not easy. When we interviewed Brave Williams more than two years ago, she was in the early stages of figuring out where she wanted to go musically as a solo artist after being in the R&B group RichGirl for many years. It took some time, but Brave has finally figured out her sound. Her current single "Ooh (Luv Ya)" brings back that R&B sound with a splash of Hip Hop and that seems to just be the beginning of her emergence as a solo act. YouKnowIGotSoul had a chance to talk to Brave about her upcoming EP "Fearless", her journey after RichGirl broke up and she also shares some memories being in the studio with Sevyn Streeter and Kristal Lyndriette.
YouKnowIGotSoul: Talk about your new single "Ooh (Luv Ya)".
Brave Williams: The single "Ooh (Luv Ya)" is off of my EP called "Fearless" which will be gearing up to release really soon. This is the first single we went with. We just released the video for it, we did the video in LA. The response has been great.
YouKnowIGotSoul: The sound of "Ooh (Luv Ya)" is a contrast in sound to the single "Break Me Down" that you put out two years ago. Why did you decide to go in another direction?
Brave Williams: With "Break Me Down", I was just in another point in my life. That song was perfect for that moment. That was about two and a half years ago, so since then I've just developed into more of an artist as to what I wanted to showcase for the world. "Break Me Down" was still very much a piece of me, but I'm ready to have fun and make people smile with good music.
YouKnowIGotSoul: What's been going on since "Break Me Down"?
Brave Williams: Well two years ago, that was when my group RichGirl disbanded and then my Dad passed away and then my manager passed away. It was a lot of emotional things that were happening at one time. Since then, I've been blessed to find an awesome team and just a unique set of people that really believe in me and we've just been in the studio and working really hard. We've been creating good music or at least trying to.
YouKnowIGotSoul: When you put out "Break Me Down", were you ready to be a solo artist or were you just putting out material?
Brave Williams: I was testing the waters. It wasn't an intentional thing like "I want to go solo right now". It came from an honest place and I needed to get it off my chest. This was my only means of inspiration to do that and to do something safe. *Laughs* I was like, "Why not? Let's get it out musically". That's what that song really represents.
YouKnowIGotSoul: During that time period, we've seen your former groupmate Sevyn come out and have a lot of success. We've also seen Lyndriette who signed with Tyrese not too long ago. What kind of things did you learn from them to help you along your path?
Brave Williams: Those are my girls. Everything I learned from them, a bulk of that learning came from when I was in a group with them. They're awesome vocalists and they taught me so much about my own voice. Lyndriette and I would just go through runs and Sevyn would help me in the studio. I learned a lot of from them, but I would say a lot of it came from just being so close with them in the group. It's awesome to see them blossom into great vocalists.
YouKnowIGotSoul: Now that they're starting to have some success, did that help you believe that you could do this as a solo artist as well?
Brave Williams: Absolutely, it's always motivation. Just to see that we all started together and then see everyone's path and how well everyone is being received. It's definitely inspiration.
YouKnowIGotSoul: Talk about your upcoming EP "Fearless".
Brave Williams: The EP "Fearless" is just an honest of rendition of who I am musically. There are some ballads and midtempos on there. There's a lot of Hip Hop meets R&B. "Ooh (Luv Ya)" was a great example of that. There are some records in that same family. I'm rapping and singing. It's kind of like a plethora of Brave.
YouKnowIGotSoul: Who have you had a chance to work with?
Brave Williams: I'm working with Ivan Barias. He's worked with Musiq and Jill Scott. I've worked with Milk & Sizz and L-Roc.
YouKnowIGotSoul: I noticed with RichGirl, you guys were able to build up a huge fanbase despite not having an album out. How were you able to do that?
Brave Williams: Honestly, I was able to take a lot of things I learned from that group to apply it now doing my solo thing. I just think we just got out there and it's still the same passion that allows my two sisters to succeed. You just want it and you're willing to go out there and you're willing to touch the fans. You're willing to do shows and do whatever to get your music heard. Applying that same feeling into this process, you can only hope that you gain the same results.
YouKnowIGotSoul: Anything you'd like to add?
Brave Williams: I'd like to say thank you to everyone who is supporting the record and supporting me as a solo artist. Follow me at @bmorebrave