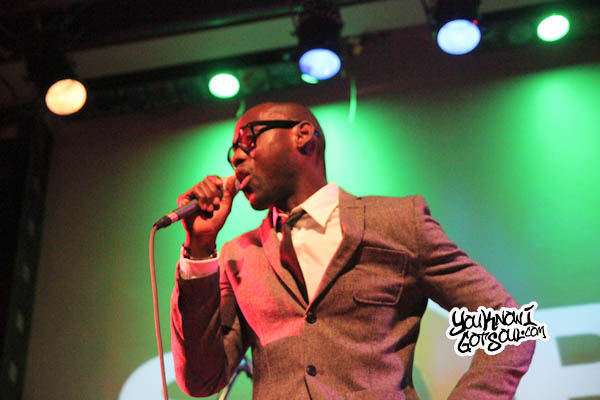 Although his career as a musician is just beginning in the mainstream, perhaps the highlight has already occurred for Brian Owens. As a member of the Air Force and a part of the military band Sidewinder, playing for the troops was an experience that shaped and molded him not only as a person but as an artist. Everything that followed, national attention in mainstream media and online, is just a huge bonus for him. Here is Brian's story from working on a record deal prior to serving in the Air Force to now finally getting the chance to follow through on that dream.
YouKnowIGotSoul: Talk about the group you were a part of while you were in the Air Force called Sidewinder. Give us some history as to how you guys got together and got a start.
Brian Owens: The military band had actually been going on for a very long time. I actually joined that unit back in 2004 when I went to active duty. The unit I'm currently in is a National Guard unit. I sang with Sidewinder off and on, I really was with the concert band, but in February of 2011, they needed a male vocalist to deploy because something happened with a guy from our unit who was originally supposed to. I was just at a place where it made sense for me to do it. I had the skill set to do it. That group was put together with myself and Angie as the lead vocalists and we knew it was special just because in an International Guard unit, it's rare that you have two lead vocalists who are both civilian professional singer/songwriters and who do it for a living. We were pretty excited about going over and playing for the troops and just taking a really high quality product over to them. Once we got over there, we really knew we had something special. All of the other stuff that happened, that was totally beyond anything any of us thought would happen. It was fun, it was one of the best experiences in my life, not just with all of the fan fair, just playing for the troops was a highlight of my musical career.
YouKnowIGotSoul: Talk about some of the attention that came with it. You got over two million hits on YouTube and a lot of people were discovering you. What was the key to being discovered?
Brian Owens: When it comes to the viral thing these days, I don't know that there is a key. I think it was the right song at the right time. When people saw it, it was one of those things that just blew up really fast.
YouKnowIGotSoul: How did you take it from your success in Sidewinder to now a solo artist? Talk about the transition.
Brian Owens: Well I was actually a solo artist before I came to the group. I was actually working on a record deal before I deployed. The transition has kinda been like continue on as planned. While I was in the desert, I was actually working on music for this album in terms of the concept of the album, the lyrics, and the content. I think that it has prepared me in a lot of ways and I feel like I have gone to places that I would inevitably go back to. Also, it prepared me in the sense of just teaching me a great lesson of humility in that I'm not the focal point of all of the attention, Angie is. It was really exciting for me but difficult at times, but exciting for me to see her get the attention and acclaim.
YouKnowIGotSoul: Let's talk about this album you've been working on "Moods and Messages". What can we expect to hear on there?
Brian Owens: I'm really proud of this work for a debut album. It's soul, it's American old school soul and it covers a lot of the aesthetics from the Al Green vibe to the Curtis Mayfield vibe to the Otis Redding vibe. The album is definitely message driven. I feel like 50% musician, 50% messenger. In this album, I really feel like I began to capture conversation that I wanted to have with fans and music listeners and music lovers about different areas of life; enjoying life and the different moods that we go through. I'm hoping by the time someone plays through this album and they get to the end, they'll feel more equipped to live life. The hope and the prayer is that at the end it will be more than just entertainment to you but it's something that becomes part of your message in life. That's kinda what I'm hoping for the album.
YouKnowIGotSoul: Talk about your new single "Open (Lovely Day)".
Brian Owens: It's just a feel good song; it has that 60's vibe kinda like a Motown pop kinda song. Really the song is both a general and specific statement. It's general because it's saying because you don't know what's going to happen tomorrow, you might as well be open to it. If you worry about it, when it happens to you, you stress over it, that doesn't help you any, so you might as well be open to what's going to happen tomorrow. The other part of it specifically is how love can help us be open to it. For me, it's love of my state, love of my children and wife. When I go into everyday not knowing what's going to happen, those things ground me and give me a foundation. It's just being open to the endless possibilities, the good and the bad.
YouKnowIGotSoul: You mentioned earlier before the group you were working on a record deal as a solo artist. How did being a part of the Air Force help to shape you as a musician?
Brian Owens: It really gave me a sense of balance. One, I really learned who I was as an artist. I learned a lot about myself. Performing for military audiences when I initially came in, I had to sing everything from country to Broadway to whatever the occasion called for. I learned how to be myself no matter what I was doing. Not to just approach things from an entertainment standpoint but to really put myself into it so it's always unique and genuine.
YouKnowIGotSoul: A few of the artists you mentioned earlier this inspired you were Otis Redding, Curtis Mayfield and Al Green. Are there any current artists out now who you would say inspire you?
Brian Owens: Yea, I found one today who I'm really into and that's Rebecca Ferguson. I really dig Estelle. Raphael Saadiq for sure. Just folks who are singing. I appreciate people who are singing and making real music, who can sit down with an acoustic guitar and not just entertain, but can really take you someplace and make you feel. For a long time I was just listening to a lot of traditional soul music and traditional gospel music. That's the music that tests your heart, that helps you get through the day. In life I'm not looking for a band aid, I'm looking for some healing. Even songs that can help me deal with the hurt, not just mask it and say "Let's have a party until it's over with", some that really say "Accept it, embrace it, and here's something to get you through it." I think a lot of that music came from that kinda mindset of "We've got to go through this anyway, we might as well go through it on our own terms with a smile". Artists who are doing that are the ones that I tend to gravitate to today and I think there are a lot of them doing that.
YouKnowIGotSoul: That's definitely a fresh outlook and a breath of fresh air because I know a lot of music fans are seeking that type of thing and not always getting it today especially in r&b/soul. I'm glad you're taking that approach when creating music.
Brian Owens: Thanks man!
YouKnowIGotSoul: You've performed on national TV, you've performed for Michelle Obama, you've performed at the World Series. What's been the best experience for you so far?
Brian Owens: I would say playing for the troops without a doubt. With all of the television and playing at the White House, I would say the best experience so far has been when we were over there playing for those troops. In the heat, sweating like I've never sweated before, but knowing that there was an appreciation there on a level that I've never seen. It was inspiring to see the power of music. I think that definitely, outside of leading worship, that was the greatest experience I've ever had!
YouKnowIGotSoul: I know you've got some performance dates coming, talk about those.
Brian Owens: The major thing that I'm doing is I'm actually leading worship with a house band down in New Orleans. The leader of the band is Peter Mayer, he's the lead guitarist for Jimmy Buffett. That's going to be at the Superdome down in New Orleans in July. We'll be going to a relief concert for that album August 30th. Other than that, I've got a private concert series that I'm just starting in St. Louis which kicks off on June 15th in St. Louis. A lot of good things going on.
YouKnowIGotSoul: Anything you'd like to add?
Brian Owens: No that's great. I'm really appreciative of you taking the time to get the story.