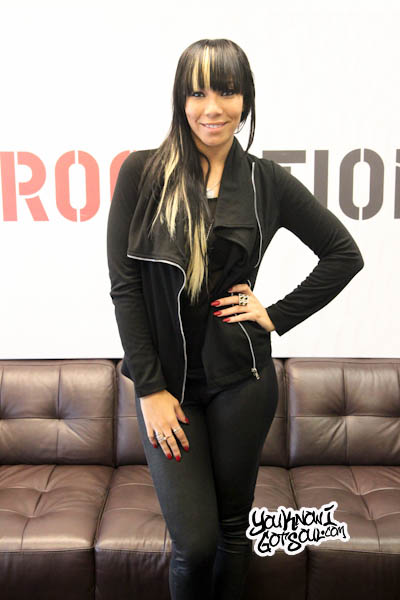 Since bursting onto the scene in 2009 and the years to come touring with Jay-Z and backing him on "Empire State of Mind", music fans have patiently waited for Roc Nation signee Bridget Kelly to shine on her own. Just as hard as it's been for the fans, it's been just as hard for Bridget who will admit patience isn't her best trait. The world finally got a taste of her gift nearly a year ago with the "Every Girl" EP which produced the smash hits "Thinking About Forever" and "Seek and Destroy" and was generally well received. With the release of her latest single "Special Delivery", you can get a great feel for her growth as an artist and taste of what we can expect on her upcoming debut. There's no doubt that when you think of the fresh new faces and sounds of r&b, Bridget Kelly should be one of the first artists you think of. YouKnowIGotSoul caught up with her recently in NYC and discussed the new single, what to expect on her debut, her unique sound, patiently waiting to release her music, Frank Ocean releasing her single "Thinking About Forever" and much more.
YouKnowIGotSoul: You've got out the new single "Special Delivery" and we're loving it. Talk about the creation of the song.
Bridget Kelly: "Special Delivery" was written by the amazing Crystal Nicole and produced by Eric Hudson, they're a dynamic team. The music is classic r&b, I really wanted to keep it consistent with an r&b feel, so I decided that would be the first single because it's something that is dear to me. I feel that it speaks on that emotional disconnect in a relationship and without necessarily tagging it as a cheating record or male bashing record. I really wanted to pinpoint the emotional damage that happens when sometimes life's circumstances just don't allow the relationship to work.
[soundcloud url="http://api.soundcloud.com/tracks/57877901″ iframe="true" /]
YouKnowIGotSoul: You just shot the video for the song. What can we expect to see on there?
Bridget Kelly: It's different. I wanted to just capture emotion and just keep it as simple as possible. We shot it in Brooklyn so it was a raw neighborhood feel. We went to the beach with it and got some shots there as well. I definitely just wanted to keep the message really basic so people didn't get lost in the images. So I'm hoping people will get that.
YouKnowIGotSoul: You mentioned this is the first single, and I know people have been waiting for the album since your EP came out last year and was well received. Talk about the progress on your debut.
Bridget Kelly: The EP came out about a year ago and it was well received. We did a bunch of press, we did a bunch of shows and everybody really loved it. With working the EP and going back in the studio and kinda revamping the sound, things have kinda come full circle so everything is really r&b sounding now. I love that because it's true to how I felt over the course of the last year or so. We're still bringing some of that aggression and edge that I initially wanted to bring which has a rock sound and feel to it. It's soulful and it's coming from a very emotional place. It's been a really good year.
YouKnowIGotSoul: It's actually interesting because the EP had a bunch of different sounds like "Thinking About Forever" was mellow, "White Lies" was kinda dark, "Seek and Destroy" was kinda edgy. With this single "Special Delivery", you kinda brought some smooth r&b. Will the album feature all of these different sounds?
Bridget Kelly: Definitely. A lot of the records are smooth, some of them are dark, but of course I do have a couple more records like "Seek and Destroy" that are kinda more comical and take a more lighthearted take on relationships and love. It's not all heartbroken! *Laughs* It's cool. I think there's going to be something on there for everybody.
YouKnowIGotSoul: Who did you work with on the album?
Bridget Kelly: Shea Taylor was the primary producer; he brought a lot of good energy out of me. He's also a good friend of mine so that helps. Harmony was another producer who worked on it. Pop and Oak, incredibly talented duo. Eric Hudson of course. Jerry Wonda really wrapped everything up for me, he really pulled it together sonically.
YouKnowIGotSoul: I remember that when we interviewed you for the first time a year ago, you stressed that one of the biggest challenges was being patient and having to wait for your project to come out. Have you been able to be patient?
Bridget Kelly: I'm actually really terrible at being patient. *Laughs* I'm very impulsive, I freak out and panic sometimes, but I have the best team in the world. I could not ask for a better group of people at a label and management within my own squad. Makeup, hair, styling, everybody is just so on point at all times and that keeps me from losing my cool and really just going over the deep end with being impatient and wanting things to just be ready now and come out. I think we've prepped for everything up until this point and everything is starting to roll out very smoothly. The single came out and I feel like we're perfectly prepared for it and everything that's coming up, we're still just working to maintain the same level of preparation. So if something really crazy does happen at the last minute, I'll be more excited than freaked out! *Laughs*
YouKnowIGotSoul: As we mentioned, the EP was released last year and got great reception. Do you feel like it helped you accomplish what you set out to do with it?
Bridget Kelly: Absolutely. I think putting out an EP in general is really risky for a new artist. It's sort of an independent move against the label side of things. I put an EP out with support from my label and with support from everybody that I work with. I think it was groundbreaking for me just because when you put out an EP, there's no real incentive for people who don't know you to go after it and I think a lot of people did who didn't know who I was. That was very encouraging for me to bring something new and something alternative sounding to the table and have it be received so well. So I think it definitely did its job.
YouKnowIGotSoul: Of course you had the first single on the EP "Thinking about Forever" written by Frank Ocean. Eventually he released the song as his own single. Did that make you have to do anything differently or change your plans?
Bridget Kelly: No not at all. As I've always said, the song has a life of its own. Whether I sing it or he sings it, it's a beautiful record and it's going to live on radio. It's on his album and it will be on my album as well. So it's both of our songs and I feel happy that it's being heard.
YouKnowIGotSoul: You've had buzz coming for awhile, especially with the success of your EP. What's the biggest challenge of capitalizing on that buzz with your debut?
Bridget Kelly: I think the biggest challenge is making sure my audience knows that I'm not just kicking back and chilling and hiding out. It's hard to keep the crowd satisfied, they want to be saturated with stuff all of the time. I think everybody has been as patient as I've been with the whole process in putting music out and trying to maintain some relevance and still get press and get attention and put yourself in situations where people will know it's you and love you and adore you and love your music. I think everybody with Roc Nation has done an incredible job with making sure the music speaks for itself and it's done really well so far.
YouKnowIGotSoul: Anything you'd like to add?
Bridget Kelly: Thank you guys so much. YouKnowIGotSoul has been so supportive since day one, you guys were one of the first blogs I ever did an interview with, so thank you so much for the support!