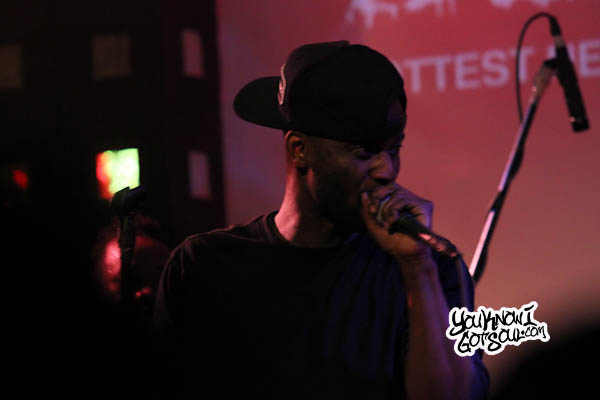 Few producers have had more hits over the past 15 years than Bryan-Michael Cox. It started with Ideal's "Get Gone" and Jagged Edge's "He Can't Love You", "Promise" and "Let's Get Married" in the late 90's and continued with hits for everyone from Usher to Mariah Carey to Mary J. Blige to Monica to Trey Songz. In fact, the Grammy Award Winner has had so much success that when you hear an r&b hit on the radio, there's a good chance it's "Another B. Cox joint". However, as Bryan explains in this interview, success didn't always come by remaining complacent, it also took the courage and savvy to take notice of the sounds of the time and reinvent himself. YouKnowIGotSoul caught up with Bryan-Michael Cox and in Part 1 of this interview and discussed his evolution as a producer as well as touched on his origins in the industry, his technique for production that starts as a conversation with an artist, and the story behind Jagged Edge's song "Remedy".
YouKnowIGotSoul: Take it back to when you were with Noontime Productions and all of that. Talk about where you got your first break and your start as a producer.
Bryan-Michael Cox: As people follow me know, I'm from Houston, I was born and raised in Houston, Texas. I went to high school there and met a guy named Greg Curtis who kind of took me under his wing and mentored me as a songwriter and producer. Of course I went to high school with Beyonce and LeToya, they gave me an opportunity early. Then I moved to Atlanta and went to Clark-Atlanta University and there was a flyer on the floor, it was like "Noontime Producers are looking for banging beats, call this number". I called the number a bunch of times and finally got somebody on the phone and they gave me an opportunity to intern. From there, I was given an opportunity to be on the team. I was given a publishing deal with Noontime early. From there, I met Johnta Austin early, I was 19 and he was 16. I met Brian and Brandon Casey from Jagged Edge and that's kinda where the big break started. Me, Brian and Brandon started writing songs together. They were coming off of their first album "A Jagged Era" and they weren't really happy with Columbia Records at the time, I think they were having issues with promotion and all of that at Columbia. So they were just like "We're going to write songs for Jermaine [Dupri] to submit for artists". We started just writing songs and they set up a meeting with Jermaine, and the idea was to really just play Jermaine songs that we would sell to other artists. We wrote a song for Usher, we wrote a song for Xscape. We were submitting songs to JD because of course they were signed to Jermaine's publishing company, so they were submitting songs to Jermaine on the strength of artists. They demoed all of the songs, so Jermaine I guess looked at them and was like "This sounds like it should be your album". He asked who the guy was that made the records, and they told him "This guy named Bryan Cox from Noontime Records, he's kinda just developing his sound". He wanted to meet me, so I met Jermaine a month later. In the process of this I was still doing work for Noontime, so there was Toni Braxton, there was Aaliyah, all of these projects that I was working on that were bubbling. They hadn't even come out yet but they were bubbling. All of the sudden, I'm thrust into the studio with Jermaine Dupri; he called me and told me he wanted to finish Jagged Edge's album. So at that point, he knew he was going to keep four of the songs that were already written and then two ideas. The four songs were "Heartbreak", "What You Tryna Do", "He Can't Love You" and "Healing" and we had started an idea called "Promise" and me and Jermaine the first day we went into work we did this song called "Keys to the Range". Maybe two days later, we started writing this song called "Let's Get Married". They came and wrote the verses, and by that time, we were pretty much done with the record. At the end of the day, we went back to Noontime and I listened to all of the demos they did and I picked a record that Teddy Bishop did called "Lace You". Then me and Jermaine Dupri did one more record called "Girl is Mine" and another record called "Did She Say" which pretty much rounded out the album. That was my first complete project. At that time, nobody believed that Jermaine would put out a single that he didn't produce. They were at the A&R meetings at So So Def trying to figure out what would be the first single and I guess they were fighting for "He Can't Love You", and Jermaine came up to the meeting and found out, and I think it stunned him a little because I was the sole producer on that record. My first song at So So Def was a record that I produced by myself and it was "He Can't' Love You" and it came out and it became number 1. There was also a group from Houston I grew up with, cats named Ideal. Simultaneously I was working on Ideal's record at the same time on Noontime and me and Johnta wrote a song together, one of the first records we did together, called "Get Gone". That record came out shortly before "He Can't Love You" came out. So it was like all of the sudden this whirlwind of songs coming out. So it was "Get Gone", then it was "He Can't Love You", then it was "Let's Get Married", then it was Toni Braxton. Things just started flowing and it just kinda spiraled all the way, it was like a snowball effect, it was crazy. Now I look up 15 years later and I'm still trying to figure out how I got here.
YouKnowIGotSoul: Great story and I'm glad you touched on Jagged Edge's "J.E. Heartbreak" album because we love the album and the work you did on there, it's a classic. Talk more about your creative process, because we've talked to your production partner Kendrick Dean (Wyldcard), and he mentioned you guys go in with an artist and start things out with a conversation. Talk about that.
Bryan-Michael Cox: I have this theory that songs are conversations. Most of the records that I've been a part of that have been hit records come directly from a conversation. Whether it's a conversation with an artist, whether it's a conversation amongst ourselves, we gotta talk it through. That's in my personal opinion, because I've worked with other writers who are just great with coming up with stuff off of the dome. Sean Garrett and Adonis and Johnta Austin are great with coming off of the dome. For me, I think my process has always been talking it through. In that conversation, you find the music, you find the records, you find the issues that the artist has and ultimately what they want to sing about. With every hit record I've been a part of, there's been a conversation. From "Where the Party At" which was really a song that we did originally with The Dogg Pound, maybe two years before we brought it to Jermaine. So it was for The Dogg Pound, and it was over the "New York, New York" beat initially. Then we thought it was too gangsta at the time for where we were trying to go with Jagged Edge. We were in the middle of making "Jagged Little Thrill" and Jermaine made this track, and we played it for them and they thought "Where the Party At" went with the track, and they put Nelly on it and it exploded. That was a conversation that me and the guys were having at Noontime, just drinking and talking. The same thing with "Bad Habit", which was a conversation I had with Kelly [Rowland] directly. We were watching something and her ex-boyfriend was on the screen and it kinda changed the whole mood of our conversation. She had been broken up with him for awhile but he was still very much so of what she was going through emotionally at the time. So we ended up talking about him, obviously I knew him well too, so we had talked about him for hours. So I said "Give me 30 minutes, I want to write this song" and I wrote "Bad Habit" for her. She sang it down on one take and killed it. It's the same thing with "Burn", it was a conversation that me and Jermaine had, "U Got it Bad" was a conversation that we had with Usher. Songs are thoughts through conversation, so I encourage when we are in the studio working, for us to talk because that's where the vibe comes in at.
YouKnowIGotSoul: Talk about a little bit about the success you had in the early 2000's. You had success with Mariah Carey, Usher and Mary J. Blige. Do you think that type of success can ever be replicated in the current day or was it just the timing was right in the industry for that type of music?
Bryan-Michael Cox: We know that things happen in a cycle. We see it at one point Pop music in the 80's was running the Pop charts, it was running the Hot 100, then it shifted in the 90's to more of a Hip-Hop/R&b based thing. In the late 90's it shifted back to Pop. We know it flips back and forth so you just have to do your best to be a student of the game and understand what's hot and try to be yourself inside of what the sound of the times is. It's followed by reinvention. I don't believe in compromise, I believe you are who you are, creatively, how you were raised, you are who you are. I was raised on R&b music, I was raised on Jazz music, I was raised on Gospel. Those are three things that are all part of my makeup, planted in there. I don't think I could ever compromise that learning. You have to be a student of the game to be realistic of what's happening in today's times. In order to stay ahead of the game, you have to know what's out there and be able to play yourself within what's out there. I think producers that understand that tend to be the ones that be around the longest. To me, I feel like timing is one thing, but I also feel like a great song is a great song is a great song. I think that "Confessions" and "Burn" were not just because of the sound of the time, I think those are just great written songs. I think these are songs that are classics and stand the test of time. I think "Be Without You" is just a great written song, I think it would be a hit in 2012 just like it was a hit in 2006. Proof of that is we did a record from Monica called "Love All Over Me", the approach is the same approach that I used on a regular basis, it's just a great written song. It was a hit and she sold a million copies. To me I think a great song is a great song, it's just a matter of who's producing it or if the producer is really reading the sound of the times and reinventing the art of production or the approach. A great song is a great song in 1970 or 2012.
YouKnowIGotSoul: Talk to me the about the Jagged Edge song you produced called "Remedy". What do you remember about creating that one?
Bryan-Michael Cox: When people ask me what are one of my favorite productions or compositions, I would say "Remedy" all day. I remember that me, Brian and Brandon [Casey] were really in a zone creatively and we were making so many songs at that point. "Remedy" was just at that point what embodied what I had learned from producing "J.E. Heartbreak". At that point I have to say I became a master at the MPC 3000 and manipulating it and propping things inside of my sequencer that I hadn't done before, like the second verse where I do a break where the chorus changes and it comes back. All of the stuff in the MPC I didn't do it back then because we were still using tape and I didn't use Pro Tools, I was doing all of my editing in front of my drum machine. What I loved about that song is the progression, the core progression, it's my favorite. The way the rhythm of the beat, it was kinda like everything fell like a half a beat behind. The melody of the record just felt right. It was one of those records that just feels right and I just feel like I was also growing as a man personally. I started out very young, so at this point when we were making this record, I had started experiencing new things with women in relationships and I think all of that plays a part in your creativity. I think that "Remedy" kinda screams sexuality. I think that it was like the dawning of some of my early sexual encounters. *Laughs* I think that it was one of things that was kinda like you could really feel what I was experiencing through my composition through my music alone, the music was screaming sex, that's really what made them come up with that concept of "Remedy". You have to put all of those things together when you talk about creativity. "Remedy" kinda screams the dawning of my sexual experiences on a grown man level and it encompasses that merged with my experience as a producer. When you first start producing, you feel like "I can't believe I'm doing this!" At that point, my confidence as a producer had just started to blossom in a way where I was like "This is what I do".
Stay Tuned for Part 2 of the interview coming soon