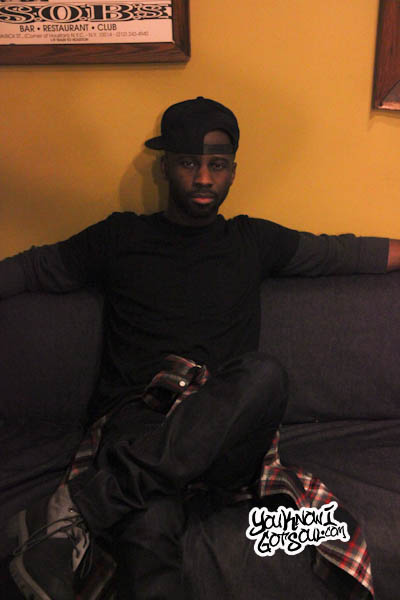 When thinking of an r&b producer to usher in the next generation of r&b talent, is there a more qualified ambassador than Bryan-Michael Cox? Having helped create timeless r&b classics for nearly every big name in the industry over the past decade and a half, Cox intends to do the same with the next crop of talent. He recently started a label with superstar writer J'Que Smith and signed acts like Mylah and Gotham Citi so you'll definitely have to keep an eye out for how that progresses. We sat down with him recently prior to introducing his artists at Sol Village at SOBs in NYC and discussed his new acts, his interest in bringing r&b back to the fore front, established artists he continues to work with, and much more.
YouKnowIGotSoul: Talk about this new label you've formed with J. Que Smith and how that came together.
Bryan-Michael Cox: It's this company that J.Que and I started called SCMG (Smith Cox Media Group). Basically what happened was that we were going to sign an artist who was a dear friend of ours and we were trying to figure out how we were going to do it. We started the company and when we started it, she agreed to sign and then decided not to sign. When that didn't happen, we were like "Okay we have this company now, what are we going to do with it?" We decided we were going to just build up a few artists. I already had Mylah who was an artist I was working with and Gotham Citi was a group that kind of fell in my lap. Me and J.Que were working with Babyface and I got a call and was like "Yo there's this group, you gotta hear them sing!" I heard them sing and I told them to sing again and put them on speakerphone. From there it was like "Cool we want to work with them." Gotham Citi is kind of like the first thing signed to the company and Mylah is like acquired because she was signed to me. We're just building the brand. I'm going to be the face of it and Que is going to definitely be heavily a part of us creating this music. I'm excited about it.
YouKnowIGotSoul: What can we expect from Gotham Citi and Mylah for the people who aren't familiar with their music?
Bryan-Michael Cox: We are on the forefront of what this new frontier of R&B is. I kind of feel like people have pushed R&B to the side so for me, I feel like it's my personal duty to be the R&B ambassador and supply the mainstream of some good R&B artists. I feel like Mylah is a great R&B artist, she kind of puts you in the mind of Faith or Mary, but lyrically she listens to all sorts of music. She's influenced by Avril Lavigne and that type of thing, so lyrically she's channeling stories from an R&B perspective and I think that she's a great performer. She's going to blow your mind from a performance perspective. That's what sold me from the gate. Gotham Citi we wanted to initially compare to Jodeci, but it's not that. I got in the studio and realized that they weren't Jodeci, this is some new shit. It puts you in the mind of a Blackstreet, but with a new type of twist to it. I love the fact that they're four guys from New York. We haven't had a R&B group from New York in a long time that represented correctly. We've heard 718 but they never came out. There's a few groups that were great groups but never had an opportunity to come out from New York. I think that Gotham Citi is one of those groups that's going to be monumental. For me it's like I picked up where I left off because I had a group before them called Dirty Rose and that kind of fell apart. That sent me on a downward spiral in regards to R&B and then Gotham Citi rejuvenated my energy and my creative juices for R&B. I've always wanted to do R&B groups. You know me from Jagged Edge, 112 and doing all of those Making The Bands. You know me from being the key developer in Day26. We have nine records for the album already and we don't even have a deal. I'm really excited about them and I'm extremely excited about Mylah. Mylah is self contained. She's working with Kwame, me and Brandon Alexander Hodge. A lot of producers are working with her, so we're just trying to figure out what works and what doesn't. She has about 60 records finished and it's just a matter of what the EP is going to be and what the album is going to be. I'm also working with Ro James. I'm extremely excited about that. I don't have to oversee that or do anything. He's just going to give me some records and we're going to put them out. I'm really excited about the artists that I have and where it's going. I feel like I have the cream of the crop from an R&B perspective and I think the most talked about new artists in R&B that people don't know anything about yet. None of them are signed to major labels yet but they have incredible buzz, so I'm extremely excited about it.
YouKnowIGotSoul: At this point in your career, is your preference to work with new artists instead of established acts?
Bryan-Michael Cox: I've worked with so many artists. I've been blessed to work with a lot of artists from Usher to Mariah Carey to Mary J. Blige to Jagged Edge to Ideal to Bow Wow to Destiny's Child to Whitney Houston. I've been able to work with everybody outside of Michael Jackson. I've been able to be mentored by Jermaine Dupri, Puff and friends like Johnta Austin, and Adonis Shropshire. I feel like I've touched everybody so the only thing I can do is now get inspired by new artists because you can always go back in with Mariah, Mary and Usher. Those artists are established and legends, they're in the history books already. Even if we make a number one record, they're already in the history books. Mariah has like 15 number one records. At this point we're just adding on to the legacy. Now it's like "How are we going to create the new Mariah, Jagged Edge, Mary or Usher?" I think the Grammy's this year proved that they're looking for some new shit. Miguel got nominated for song of the year for "Adorn" which is incredible for R&B because he made a record that's straight R&B. There's no stutter or dance sounds. I mean I love David Guetta and all of those cats too, I'm not trying to knock that. SWV got nominated for two Grammy's, Robert Glasper got nominated for two Grammy's too. I think the Grammy's is making a bold statement like "Alright we know Pop music is the money making music, but we want to showcase what's going on from an underground R&B perspective." They've spoken and they've spoken loudly this year from Trey Songz, Tamia, Robert Glasper and Miguel. I feel like it's my time to take advantage of that because that's what I do, it's who I am.
YouKnowIGotSoul: I think it's cool that you not only make R&B, you love R&B. You want to see it come back. You're not just trying to make money, you care about the genre.
Bryan-Michael Cox: I mean for me it's easy, I could have easily went the route that a lot of people go as far as "The tides are changing, I'm going to make dance music" and granted I've made some so I'm not trying to say I'm not guilty of it. I've made some and it's cool. If you make money then it's great, but R&B is the music that inspires me the most and it's what I came up on. It's what I came into the business to do and you don't stay around for 16 years without some kind of staying power. Me and Jermaine Dupri made "Burn", that's R&B but it was a number one Pop record. We made "Let's Get Married", I made Lil Mo's "4Ever", I made "Walked Outta Heaven", I made "Shake It Off" and "Be Without You". All of that is R&B, it's soul music. I co-produced Robert Glasper's "Black Radio" record and for me that was a freeing experience because I could do it without being in a box or a record label and being nominated for two Grammy's. I think that it's a testament to say that if you stick with what you're naturally supposed to do, you'll be fine.
YouKnowIGotSoul: I know you still do work with established artists. You had Mariah Carey's single "Triumphant (Get 'Em)". Is there any work that you did with her for the album?
Bryan-Michael Cox: Oh yeah we did like ten songs. I don't know how many songs are going to stick, but Mariah is like our sister. We love her and she calls. She always calls and a lot of artists don't call. Mariah is one that consistently is like "If we've worked before, we can work again." I love Mariah for that because she's a true friend. We did a bunch of songs and I think four or five may stick. We're excited about it. We also put out Johnta Austin's EP and it's straight R&B. We're doing three parts, we're putting out "Love", "Sex" and "Religion". The "Love" EP is incredible. He did stuff with Troy Taylor, me and Jermaine and Stargate. Go to http://www.global14.com and download it because it's incredible. Hopefully we'll have an opportunity to work with Usher again. "Confessions" was the only R&B album to go diamond in the past ten years, we celebrated that earlier in the year. Hopefully we'll have an opportunity to work with him again. That's a revolving door. Usher does his thing, we do our thing and we kind of come back together and it just kind of happens organically again. I'm working with Rico Love heavy on a bunch of stuff. We haven't placed anything yet, but we've written a bunch of songs so I think they're going to fall in some places. Me, Adonis and Kendrick Dean are working together again on this artist that Chris Brown has, his name is Joel James. He's an incredible artist. We had a meeting about and pulled the team together and get some records out of it. I take it as it comes. It's work, I've been here for a long time. Everything kind of happens. I've been talking to PJ Morton who I've known for a long time. Hopefully I'll get to work on his record. The relationships are there, it's just that the tide turns, just grasp it as it happens.
YouKnowIGotSoul: Anything you'd like to add?
Bryan-Michael Cox: Download Gotham Citi's new single "I Want You" and Mylah's new single "Honesty" at and Johnta Austin's "Love" EP on http://www.global14.com. Follow me on Twitter @Bryan_M_Cox. We're putting this music out. Mylah's EP comes out in January, Gotham's comes out in February. I'm telling you, it's going to be crazy. We're going to bring R&B in the forefront again so I'm excited.