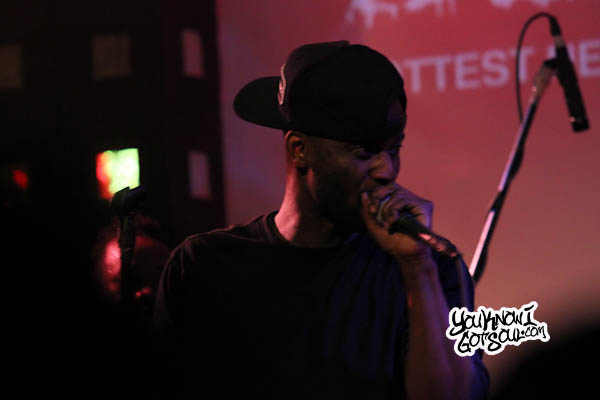 In part 1 of our interview with Bryan-Michael Cox, we talked with him about his origins and how he's managed to reinvent himself over the years to remain successful. Here is part two of our conversation with the legendary producer where we discuss the story behind Static Major's "4 a Long Time", his work with Monica, the creation of Trey Songz "Patron" and Amerie's "Red Eye", his work on Monica's new album, and what he's been working on lately.
YouKnowIGotSoul: We wanted to ask you about the unreleased song by Static Major "4 a Long Time". I know the song originally ended up with Johnny Gill, but we love Static's version, so talk about making that song with him.
http://youtu.be/Rh1L8ThCQ68
Bryan-Michael Cox: I want to tell you, it was very simple. Me and Static had already crossed paths a lot, kickin it with each other in the clubs or in the studios; we just always had good energy. How the whole thing started was I went out to L.A. in the studio. Actually, let me tell you what's even funnier about that particular track. That track originated in Miami. Kendrick, myself and Adonis were working with Jamie Foxx when he was filming "Miami Vice". We go to Miami to work with Jamie and he was filming "Miami Vice" and having a blast so we didn't really get much work done! *Laughs* We were kickin it, he would come to the studio at 1 o'clock in the morning and we were just kickin around and playing piano. I'm a person that at least likes to get something done, so I'm like "Man we've got to get something done, I don't know how we're going to do this, but we've got to do something". So in the daytime, me and Adonis and Kendrick would come to the studio and work on ideas, and at night Jamie would come to the studio and we'd try to make him sing a song. We'd have so much fun that we'd be talking and clowning for five or six hours and it would be six in the morning and we couldn't get him in the studio! This particular day was the last day we were working on this record and I knew we had to do something. So I made the track which ended up being the track for "4 a Long Time" that day and we wrote a song called "That's That Bullshit". We made a record; I called Jamie and told him to come to the studio to cut the song. He came and we basically made him cut this song. It was a joke, the song didn't go anywhere. So fast forward three years later, I'm in the studio at Boom Boom Room and I'd been knowing Static for a minute at this point. Static calls me like "Yo B, I hear you're in L.A., I'm out here, I want to come to the studio and play you my album, I really want you to work on my album" and I was like "Hell yea, come by". He came by the studio, he played me what he had, so I started playing tracks and he wasn't really feeling the tracks that I was playing. So then I said "You know what, I've got some older tracks that I did, let's pull those out and I'll play you those." I played him the track that I did for Jamie Foxx and he went crazy. He was like "Yoooo this is what I'm talking about, I got the idea already, let me get that track." I gave him the track, he went back to his studio and wrote "4 a Long Time". He sent it to me that night and he was like "This is going to be my first single, I'm telling you this is crazy". Initially "4 a Long Time" was a track for Jamie Foxx that was a joke. Three years later I played the track for Static, he goes crazy, he cuts it that day and tells me it's going to be his first single. So I was like "Great!" The album was coming out in a few months or whatever, he had just done "Lollipop" or was getting ready to do it with Wayne. I'm thinking "Cool, everything is gonna be great". We talked a few more times because he was in Atlanta a lot. We were going to get back in the studio because he wanted to do three or four more songs with me. All of the sudden I get a call that Static had passed out of nowhere. I was like "What happened?" and Adonis, who was really close with Static, called me and told me what happened. So Barry Hankerson calls me and told me they wanted to mix "4 a Long Time" and put it out. So I mixed the song and the business never got finished. Apparently when the business never got finished, Static's estate I guess had left Blackground, but I don't know what the business was with that. So that song to me was like a dead issue. I'm working with Ginuwine and some kind of way somebody at J Records cut the song on another artist, I didn't even know about it. I don't even remember the name of the artist [Ahmad Belvin]. I didn't approve it, I know Static's camp didn't approve it, so it didn't go anywhere. Ginuwine was cutting the record and he was like "Yo man, I really want to do that Static record" because Static and Ginuwine were really close, so I was like "Cool, if I'm correct it's available so you can cut it" and I knew Ginuwine was cool with Static's wife so they could work it out. Ginwuine cuts "4 a Long Time" and kills it and leaves Static's vocals on there too. I don't know what happened with that, but apparently Ginuwine didn't want to put it on the album. So that's how it fast forwarded to Johnny getting the record. Ira [Dewitt, Notifi Records CEO) had already had an agreement with Static's wife and she was going to use the record. So Ira just made a decision and put Johnny on the record, so that's really how he got it. It was really unexpected how Static died, I was really looking forward to that being his first single and coming out strong. It was really the luck of the draw for me to be in the studio with Static. We were just kicking it and he called me, and he didn't like anything I played until I played that one, and he was like "I got something for that" and he did it that night. That's how we got "4 a Long Time".
YouKnowIGotSoul: Thank you for sharing that story, we love to keep Static's memory alive, and that was great.
YouKnowIGotSoul: Two songs I wanted to ask you about which involved the same beat were Amerie's "Red Eye" and Trey Songz "Patron". We love both songs and would love to hear the back story behind each.
http://youtu.be/9GvJFREzHC0
Bryan-Michael Cox: The back story goes like this: when Trey was recording "Ready", I did a lot of songs for Trey. Me and Johnta just wrote a bunch of songs for Trey, we were vibing and the vibe was crazy. I don't know why it didn't make the album, but this was when an influx of songs were getting leaked. I don't know if somebody intercepted my e-mail, I don't know how it happened. We did like nine songs and "Patron" was one of them of course. The only way we were sending songs was by e-mail, and of course it was leaking. Of course when the songs got leaked, Trey didn't want them anymore. So "Patron" was one of those songs, and how it came about was me and Craig Love, who is a frequent collaborator of mine musically, we were in the studio and my whole thing is I wanted to do a new type of ballad. If you notice that the drums on "Patron" were a bit different than the drums I would have done on my earlier ballads. They were heavier, they were bigger. That song kinda screams sex also, so when I played the track for Trey and Johnta, they immediately came up with "Patron" which I thought was incredible, I love that song to this day still. What happened was when it got leaked, they weren't really feeling it like that. Then of course Trey changed direction and "Ready" ended up being a whole nother kind of album. So that's how the Trey Songz thing came about. Then what happened was I was in the studio with Amerie maybe a year later, and I just really loved that track. So I thought since they weren't going to use it, I'd play it for Amerie. Me and Adonis came up with a concept called "Red Eye" and that's how that came to be. I really love that track so I didn't want that track to sit. So when I had an opportunity to play it for somebody to use it, I did and she used it. It's still a great song.
YouKnowIGotSoul: Let's talk about your work with Monica. I know you have the song "Amazing" on her new album, but I know you did a lot more work for her previous album. Even though you guys have such a close relationship, do you ever take it personal if she doesn't have you contribute as much to a particular project?
Bryan-Michael Cox: You never take it personal. It's all business. Early in my career, I used to take it personal, but you can never take it personal. Artists have a right to grow and do whatever they want to do. That shouldn't affect your friendship or how you move with them. Monica is my son's godmother. I can never work on another record of hers and she's still going to be one of my best friends. You can't take it personal. Usher's doing his own thing right now, we didn't work Usher's new album at all. I wish Usher the best because he's on a quest to growing into who he is as an artist. You can't take it personal, it's all business. It's all what works at the time; where they are emotionally and creatively at the time.
YouKnowIGotSoul: What artists have you worked with recently that we can expect to hear you on their project in the future?
Bryan-Michael Cox: Of course Monica's album just came out so me and Jermaine have a record called "Amazing". Brandy's new record, me and Sean Garrett did two songs on there, Sean did a lot of the album, I contributed two compositions to the album and Sean wrote on them which was crazy. Jermaine, Pharrell and myself have an artist named Leah LaBelle who's signed to Epic, we just finished mixing her album last week, her album is coming out this summer. Brandon Hines, we got a new single "Yes You Are" that's out right now and his album is in the process of being mixed. I work with a lot of new artists. Bertell's new album should be finished in the next couple of weeks, he kinda moves his own thing and I kinda just come in. Me and Jermaine are going back in with Mariah [Carey] to finish up, we've been doing ideas with her for the past couple of months. Hopefully we'll finish up and we'll know if it's going to make the album or not. We've been writing with her for awhile so I'm confident we're going to make the record. I'm working with K. Michelle, I don't know if you guys know, but me and J.Que Smith from the Clutch started a company and we're working with K. Michelle right now. We're in the process of writing for K. Michelle. She's also on "Love & Hip-Hop Atlanta" so be on the lookout for that too. There's a group that I'm really, really interested in finishing up some work with called Gotham City. They are definitely incredible guys. We cut two records, there's a record called "Official" and there's another record called "I Want You" that are incredible. We are in the processing of finishing up that. I'm hopeful that we'll be able to get in the studio with Trey; I've been talking to him and going back and forth with him. I'm interested in working with new artists now because we have to develop the new Usher's and the new Mariah's and the new Mary's. These artists are legends and their history is already set in stone. Now we have to create the new artists, the new legends, the new stars. That's really where my head is at.
YouKnowIGotSoul: Anything you'd like to add?
Bryan-Michael Cox: You can follow me on Twitter @Bryan_M_Cox. Do what feels good, at the end of the day. Do what feels good, but be honorable, be respectful. You're never too old to learn. I'm going back to school this summer, I'm going to Berkley for composition and arranging. You're never too old to learn, you're never at a point where you peaked. There's always some new learning out there, so challenge yourself.