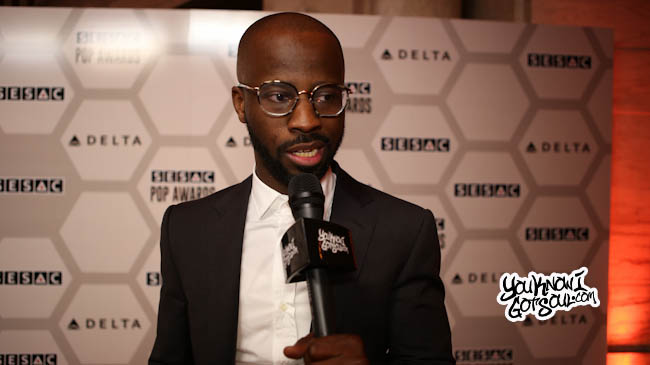 Recently while covering the SESAC Pop Awards Red Carpet here in NYC, we had a chance to catch up with one of our favorite producers, Bryan-Michael Cox, who was being honored that evening. During the brief interview, he told us about helping to create Jagged Edge's successful "JE Heartbreak II" album and how it compared to the original. We also talked about his work with Mariah Carey on her latest album as he helped produced many of the songs. Finally, he gave us the scoop on what he's got coming next.
YouKnowIGotSoul: Talk about the chemistry you have with Jagged Edge and how it has developed since "J.E. Heartbreak".
Bryan-Michael Cox: What's ill is that the original "J.E. Heartbreak" was a crapshoot. They were coming off of "I Gotta Be" and it was still unsure what Columbia was going to do in support of their next record. We were writing songs for other people. People don't understand that our songs on "J.E. Heartbreak" were collections of songs that we were trying to sell. "What You Tryin' To Do" was a song we did for Usher and "Healing" was something we did for Monica. We were a writing a team and they played the songs for Jermaine Dupri and he was like "Yo this is an album!" That's how "J.E. Heartbreak" happened. He was like "Where is this guy you're working with?" and they introduced me to Jermaine. We finished the album afterwards. The album was extremely organic. Brian and Brandon Casey were writing songs for producers at Noontime and we met and connected. We clicked in a real way and Chris Hicks put us together. We started writing songs for other people. Absolute got a song and Toni Braxton got a song. A lot of those songs got out there and we sold them. Then when Jemaine Dupri was like "I love these records. Let's keep them for the album". That's when we got focused. "He Can't Love U" was a focused record for the album. But it was really organic.
YouKnowIGotSoul: You also worked with Mariah Carey on her last project. What's the process like working with her?
Bryan-Michael Cox: It's an easy process with Mariah. I've been working with her and Jermaine since 1999. When we get in the studio, it's an easy process. We all come up with ideas. It's really easy and I wish you guys could see the process. It's a really simple process. Mariah is ultra talented and one of the best we've seen in our era. It's always exciting working with her.
YouKnowIGotSoul: What are you up to?
Bryan-Michael Cox: I'm doing a lot of stuff outside of music like tech and film. Of course inside music, I'm working with Mariah again and I'm working on Monica's new album. I'm also developing artists. I've been here for 20 years, so I'm not going anywhere.