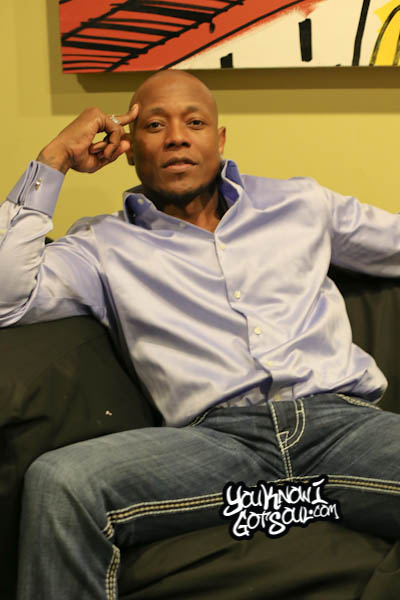 When it was announced that Eric Benet had made Calvin Richardson one of the first two signings to his Jordan House label, it was a huge surprise, but a good one for r&b lovers. After partnering with Primary Wave, Eric has arguably taken his own career to new heights, and now he'll look to do the same with another artist. The Calvin Richardson signing made so much sense; he's had plenty of past success, he's got an amazing voice, and he's able to successfully tour even without an album out. With the release of his new single "We Gon Love Tonite", it's obvious the musical direction of the new album is already on point. All signs are pointing to Calvin following Eric's footsteps and reaching new heights as well. YouKnowIGotSoul sat down with Calvin prior to him performing at our Sol Village showcase and discussed when he first met Eric Benet, how he was pitched signing with his label, the creative process of the new album, and more.
YouKnowIGotSoul: You have a new label situation with Eric Benet and you're signed to his Jordan House label now. Take us back to your first meeting with Eric.
Calvin Richardson: I met Eric last summer in 2013. We were actually on a show together out in Memphis, Tennessee. I remember like it was yesterday. Eric had called me a couple of weeks prior to that and introduced me to his situation. As far as situation, I mean the possibility of me signing to his new label Jordan House Records. We talked briefly on the phone about that and when I met him, I met him at the show after I got done performing, he came backstage and introduced himself formally. After the show, we went out and had dinner and ironed everything out. He was a real cool guy and real down to earth guy. I've been rolling with him ever since.
YouKnowIGotSoul: How did he pitch this situation to you?
Calvin Richardson: He told me he had a new label situation that he was ready to start. He said that the artists he was interested in signing had to be artists he was a fan of prior to this. He said he had been working his whole career to get to this point where he can sign artists that he loved their work and had a respect for their talent. Basically that was his pitch. He was like "I don't know if you're signed to anybody or if you're free to do it, but when I got this situation, the very person that I wanted to approach about it was you." I was like "How cool is that? How can I say no to that?" Plus I was a huge fan of Eric Benet's as well. I always have been. His talent is phenomenal. We just had never met. We never did any shows together and our paths had never crossed. We came together and it was just magic.
YouKnowIGotSoul: The whole Primary Wave/Jordan House situation is sort of unique. You've been on a couple of labels in the past, so what's the biggest difference between them?
Calvin Richardson: It's a major difference. I've been at labels before where I was told that the project was a priority. Well with Primary Wave and Jordan House, I can actually see it and feel it. They're really involved in the project. They're making things happen. They're working way harder than me. I've always been the hardest worker on the team. Now I feel like I have a real team and they're doing all the things like social media and making sure I stay on top of that. I'm not really a social media person to be honest. There's a lot of aspects that they're making sure I pay attention to and focus on. They're giving it the proper attention and they're really behind the record. They didn't get in the way. They let me make the record the way I wanted to. Obviously Eric Benet was involved with the creative process, but he still let me be me and that was the most important.
YouKnowIGotSoul: Talk about the creative process for this album.
Calvin Richardson: It was a real organic thing. It was basically Eric, his long-time production partner Demonté Posey and myself. We created, wrote and Demonté produced basically the whole album except for a couple of songs. This talented guy out of Memphis named John Rich, he produced two songs as well. Basically we got ready to make this album. Eric, myself and Demonté went out and just took a drive. We went to get some food and Eric was like "What kind of album do you want to make?" I told Eric I wanted to make something that was current, that was in my genre, something that was sexy, but it still wasn't too dark or too deep because I love making records of substance. Sometimes substance takes people a little deeper than they want to go. I just wanted to talk about relationships. Eric was like "We're going to come with the music and we're going to let you vibe to it. Wherever you feel like you want to go with this, just do it. Anything you want to say it, just say it. If we have to change it or tweak it, we'll deal with it." Obviously I didn't write any of this by myself. Eric would let me spearhead the direction with the lyrical content and the melodies and then he'll come in, tweak it and write it. It was just easy.
YouKnowIGotSoul: You're getting ready to premiere a new single soon. Talk about that.
Calvin Richardson: Yeah the song is called "We're Gon Love Tonight". That one went through a couple of phases of evolution. It evolved to this point. It started out a little more explicit, so we had to go in and scale it back a little bit. We had to make it a little more radio friendly. It's basically dealing with a relationship and the things that we do on a more intimate setting. It's just a little more detailed out. We brought it out to the point where we're going to love tonight. It's a great song, it's a very sexy song with a great groove.
YouKnowIGotSoul: Your last album was in 2010. Do you look at this as a new start or the next step in your career?
Calvin Richardson: I look at it both ways. It's yet another step to my career, but it's the re-emergence of Calvin Richardson because there's a lot of people out there. I have a very loyal fanbase, but there's a lot of people who don't know who I am. It's another way to re-introduce myself to all of those who never got a chance to meet me. It's just like "This is Calvin Richardson and check me out".
YouKnowIGotSoul: You've mentioned that you have a loyal fanbase and you've been able to tour because of that. What do you think your fans love about you and caused them to follow you throughout the years?
Calvin Richardson: My strongest point is my live performances. Making records, I haven't done that all my life but I've been singing all my life. It's second nature and my first love. I love to do it. The fans, even if they're not fans, they'll see me and they'll get it. Just being on the stage is a love and there's a connection with me. The people that's in the audience, I find a way to connect with them. Even if I'm not looking at them or directing my attention at them, they get it and they're just drawn in by it. From that point on, they see it one time and they want to see it again. I've been blessed to still be able to tour even without a record out. People still want to see me.
YouKnowIGotSoul: Anything you want to add?
Calvin Richardson: I want to thank everybody that's been supporting me thus far. I have a lot of good music coming out, so take the ride with me this time and there's no telling what we can do.