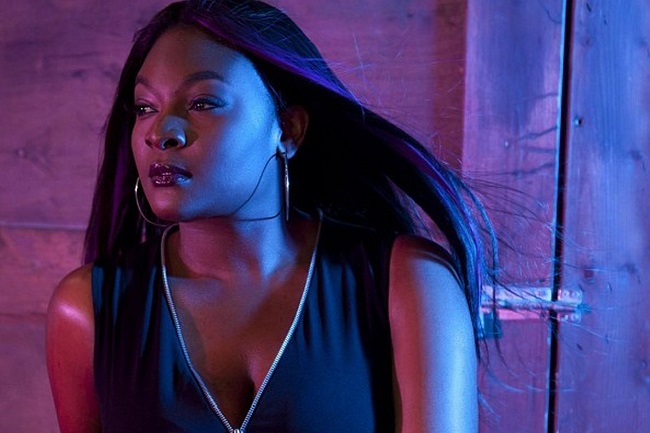 Candice Glover made America fall in love with her voice when she won the 12th season of American Idol. It would be easy to assume that the journey to greatness for Candice would be incredibly easy, but there are many obstacles that come along. Album pushbacks and developing a fanbase that loved her voice on American Idol but didn't know anything about her outside of the show proved especially challenging. Finally after almost a year, Candice Glover was able to let her music speak for her. YouKnowIGotSoul had a chance to speak with Candice about her new album "Music Speaks", her struggles releasing the album and her experience on American Idol.
YouKnowIGotSoul: Your new album "Music Speaks" has been out for a month now. Take me through the process of putting that album together.
Candice Glover: Well it took a really long time. It was originally supposed to come out July 16th, but I felt like to make the best quality album, I just needed a little more time. Then we pushed the album to October and then I still wasn't ready. I'm a really big perfectionist, so I went into studio with some really great people. It was Rock City, Harvey Mason Jr of The Underdogs just to name a few. At the end of it, I'm really excited and proud of the work that I did put out.
YouKnowIGotSoul: The album has a very soulful and throwback type of sound to it. What drew you to that kind of music?
Candice Glover: I grew up in church which is why I started singing, but more than anything, I was influenced by different people like Aretha Franklin and Whitney Houston who were both really soulful. Also Christina Aguilera because she was the one that really inspired me to start singing. I heard her music when I was younger when I was 9 or 10 and I wanted to sing just like her.
YouKnowIGotSoul: You mentioned all these producers that you worked with, so what was the biggest thing you learned while putting this album together?
Candice Glover: I learned that music is definitely essential to anybody's life and it is important for everybody. Also while working in the studio, just using the different words that we would write. The Jackie Boyz or Rock City were writing for me. They basically said whatever I wanted, like they would ask how I felt that day. Even when I was younger and I was really shy, I really didn't know what to say. It would always be music that explained however I felt. That's where the title "Music Speaks" came from. I also learned that music gives you whatever confidence you need and it says whatever you need to say.
YouKnowIGotSoul: You mentioned the album's date was changed a couple of times. You won American Idol and had all that momentum going, so was it frustrating when the album continued to get pushed back?
Candice Glover: At first it was really frustrating because I thought everyone was going to forget about me and nobody would want to hear my music after a couple of months. I actually thought at first it was a good idea to drop the album in July, but I would rather put out a good quality album instead of something that's not that good just because I'm trying to rush it. At the end of the day, I'm proud of the decision that I made, but at first I was really nervous. After a while, I just got over it because I wanted to make good music.
YouKnowIGotSoul: Of course winning American Idol meant a lot of expectations were placed on you. What kind of expectations did you have going into your project?
Candice Glover: I didn't want people to expect me to put out something that other people did. I see a lot of comments on Twitter or Facebook and they think that the things I'm doing are things I'm assigned to do, but I didn't want to be the American Idol winner that just let people control whatever happened, which is another reason why I pushed the album back to where I pushed it to because I wanted to do everything that I wanted to do. I think people were expecting me to be the usual, but I don't know because before me, there were five guys that won, so my music couldn't have sounded like theirs. I wanted it to sound like the soulful girl that I grew up listening to and the girl that I wanted everybody to connect with like they connected with during American Idol. I didn't want to veer off from that, I wanted to stay true to that. I didn't want people to think that I would get off the show and make a Pop album because that wasn't me on the show, so I didn't want to turn and do something different.
YouKnowIGotSoul: One of the biggest challenges is making the people who were fans of you on American Idol and turning them into supporters of your music. How was that transition been like for you?
Candice Glover: It was a hard process at first. I had to go from an American Idol contestant to an American Idol winner and then I had to leave that to become a recording artist that people took seriously. I think a lot of people look at me as the girl who just won a competition, but I wanted people to take me more seriously as an actual artist because my music says a lot and it connects with a lot of people. I don't want to be the girl that just won American Idol because there's more to me than that, but I even had to go through a process where I had to stop considering myself as that. It took a while, but I think I'm getting there now.
YouKnowIGotSoul: What advice would you give people who want to pursue a music career through the TV route?
Candice Glover: I think it's the best platform if you want to get your voice out there. I'm from a really small town and there's no musical opportunities. It's a beautiful town, but there's no music there. Other people might have different ways, but TV is a good way to get your career started. I would say to just do your best and not try to be anybody else.
YouKnowIGotSoul: Talk about the growth in your voice and stage presence since American Idol.
Candice Glover: When I started American Idol, I never had any experience doing any type of choreography. I would just stand and sing in church or sing a slow ballad. American Idol taught me about stage presence and even my parents would tell me that half of the things that I had done with my voice in American Idol, I had never done that in church or anything. As time went on and I started singing different genres that I had never heard of before, I think all of that had something to do with my voice. It's really different now than when I started.
YouKnowIGotSoul: Now that your album is out, take me to the moment when you saw your album finally in stores.
Candice Glover: To this day, I still cry or get really emotional when I think about the process that I had to go through to make the album and the fact that I spent about 8 months in the studio listening to these songs, making sure the notes were good or if I didn't want a certain word there. Just to see that other people are listening to it and seeing it when I'm at Target or Best Buy and see it in there, I have to buy it. I can't leave it in there because it's like my baby. I made it and I am so proud of it. Even now, I really get emotional thinking about the process that I had to go through for it and now that people connect to it, it means a lot.
YouKnowIGotSoul: What's coming up for you?
Candice Glover: I just left Canada not too long ago. I'm going to be in a Christmas movie this coming December with Hallmark, it's called "The North Pole". I'll be doing a lot of traveling to different countries and hopefully we can get a tour started.
YouKnowIGotSoul: Anything you'd like to add?
Candice Glover: Thank everybody for supporting the album and I hope everyone enjoys it.