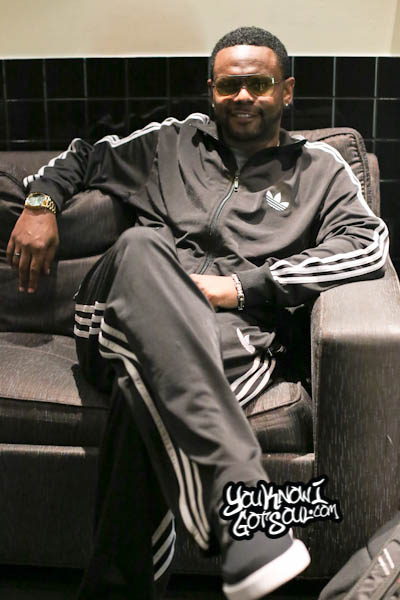 Carl Thomas has flown a bit under the radar over the past few years since his last album "Conquer" released in 2011, doing shows here in the U.S. and overseas. He's now over a decade deep in the music industry, and his story continues to be written as he gets ready to enter the next chapter in his musical career. YouKnowIGotSoul sat down with him after a recent show in NYC and discussed his plans for new music, exploring different sounds for future projects, his admiration for new artists, and more.
YouKnowIGotSoul: The last album "Conquer" came out a few years ago back in 2011. Talk about that album.
Carl Thomas: "Conquer" was just another chapter in what I'm trying to offer and give to my fans. I look at each album like it's just a counterpart of the others. I'm not the same person on every album. I want the material and subject matters to progress as I progress and get older. I like the music to progress along with me.
YouKnowIGotSoul: Tell us about new music you're currently working on.
Carl Thomas: Absoutely. I'm never not working on new music. The music that I'm recording right now is a little different because it's more relative to the music that I listen to on my off time. Some of the things may sound foreign to people, coming from me. I have faith that if it's good music, it's good music, and the fans will definitely get it.
YouKnowIGotSoul: What are the things that you listen to that people may not expect?
Carl Thomas: It's a little bit more groove oriented. I'm a big fan of grooves and things that I held dearly to when I was a kid. I just felt like, why not record in that direction?
YouKnowIGotSoul: You're four albums in, you've been at this for years through different labels. R&B is crazy right now for artists like yourself where you don't get the recognition you deserve.
Carl Thomas: It depends on how you're looking at it. I think domestic artists are having a tougher time as opposed to artists like myself who frequent the international circuit. Once you look at it from a world scope then it doesn't take on the same look that it does here in the states.
YouKnowIGotSoul: To pursue the next chapter of your career, would you look to go to another label or go independent?
Carl Thomas: I think I've ran my course with the independent thing and we're definitely jumping back into the majors but on our own terms. I'm just really excited for soul music. What a lot of people don't know is that I'm such a fan of the newer artists. I'm not mad at some of the creative choices that other people may be angry with because they don't have what it is that they're used to. I've learned to be more than just a product of my time period. You can't have longevity if you're nothing more than a product of an era. You can't progress. If you can't have the ability to see what's coming around the corner, then you're love for music is going to be very short lived.
YouKnowIGotSoul: Does the current r&b that's out now influence you at all?
Carl Thomas: I don't know if it influences me but it definitely encourages me to take chances.
YouKnowIGotSoul: Talk about the Bad Boy reunion tour with yourself, Faith Evans, 112 and Total.
Carl Thomas: I wouldn't necessarily call it a Bad Boy tour, just out of respect to Puff. That's a label that he worked really hard and a brand that he worked really hard to bring to the world. We're family and the tour is going to be called the Family Reunion Tour because we all came up in our own lanes and everybody was a success in their own right. Be looking out for us this fall.