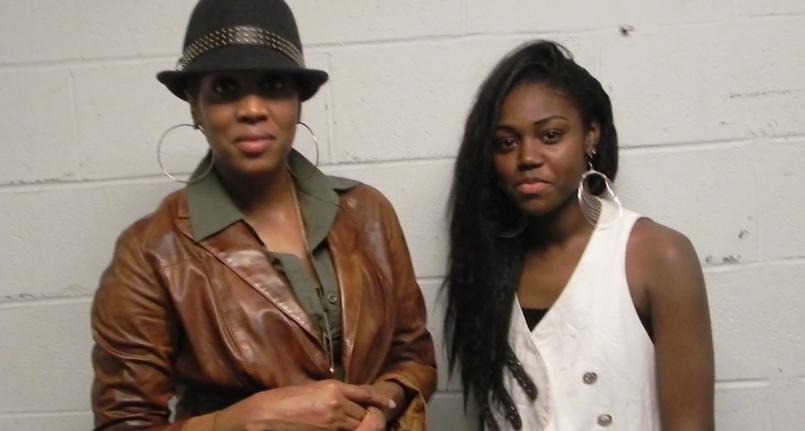 At a recent appearance for RnB Spotlight at BB King's in NYC, we had a chance to catch up with Cassandra of Changing Stages backstage. Since the group's last album released back in 2000, we used this as an opportunity to catch up with what she's been up to. We also talked about how the group was discovered, her work with R. Kelly, why their last album "Visit Me" wasn't as successful as their previous efforts, and she also introduced us to her artist Kimase.
YouKnowIGotSoul: Take us back to the beginning of your career with Changing Faces and tell us the story of how the group was discovered.
Changing Faces (Cassandra): That was way, way back. We were discovered by Kenny Smooth who was working on a record deal with Big Beat at Atlantic. It's a long, long story, but we ended up singing for the president of Big Beat, Craig Kallman, who is now the president of Atlantic. We did that on a street corner because we got there late and we had to jump off the train and into a cab. We went to school together, Clarisse and I.
YKIGS: On your debut album, R. Kelly wrote and produced your two first singles. What type of impact would you say he had on your career?
CF (Cassandra): A huge impact. He was at the start of his career pretty much. That's when he became R. Kelly after coming over from the group Public Announcement. It was kinda like we were all at that hungry stage. We heard him from Public Announcement and we loved what he was doing. We reached out to him and sent him our demo; the record label was like "You think he would work with you?" and we were like "Yes, we have faith." So we sent it out and he called and here we are today, we've been doing it ever since.
YKIGS: The group's final album "Visit Me" was released in 2000. It got good reviews from critics but unfortunately didn't do as well as your previous albums on the charts. Why do you feel that was the case?
CF (Cassandra): I think promotion. I think Atlantic at that time was growing and they had a full plate and sometimes music can get caught up in the shuffle and not get as promoted as the previous albums. That's basically what I think it was. I love the album, it's dear to my heart, I worked very hard on that album.
YKIGS: You had a song on that album "Come Over" which was eventually released by Aaliyah as well and she had success with the song. What's the story behind that?
CF (Cassandra): What happened with "Come Over" was the producer Bryan-Michael Cox did the song and we recorded it. Aaliyah had already demoed the song, but we bought the song, she didn't. So after her passing, God Bless, they went to find things in the archives and "Come Over" was one of the songs they found by Aaliyah. So they put that out there.
YKIGS: Oh I see. So you had no issues with them releasing her version?
CF (Cassandra): No, no problem at all.
YKIGS: So as I mentioned your last album was in 2000. What have you been up to since then?
CF (Cassandra): We're actually in the process of recording a new album for Changing Faces. We also have other projects like my artist Kimase coming out. We've been working on her album and we have 15 songs done, but it will be about 30 until we commit to a solid album. We're getting some great stuff out of her; she's young, fresh, and actually talented. That's what made me stop in my tracks and put other things on hold.
YKIGS: Was there ever a point where you thought you might give up on Changing Faces and do other things?
CF (Cassandra): It was never about giving up, we never thought about giving up. We just stopped for awhile just to live life. We have families, kids, the whole shebang. This way you don't let life pass you by, you take it in. With music you have to feel it, and now we're at that place where we feel it.
YKIGS: Since it's been so long since your last album, what difficulties do you see basically re-launching your career and getting out there again?
CF (Cassandra): The industry has totally changed. Some people may say independent is not the best, but we started off independently. Independent is like the best way to do what you want to do. That's where we are right now and we don't look at it as a bad thing, it's a good thing. We just have to get back in and play the game. *Laughs*
YKIGS: When can we expect new music from Changing Faces?
CF (Cassandra): Spring 2012.
YKIGS: Anything you'd like to add?
CF (Cassandra): Look out for Kimase and new music from Changing Faces is coming!