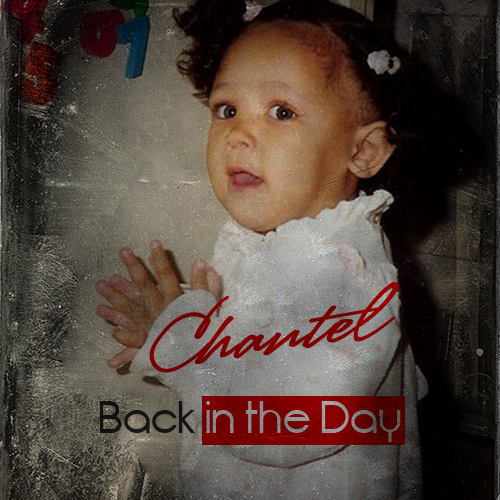 With so many up and coming artists trying to make it in the game, it's a struggle for one to stand out from everyone else. We've seen artists experiment with weird sounds and create odd sounding music, but sometimes the best thing is to go back to the basics and stick with what initially inspired them to make music in the first place. This is exactly what Chantel did with her new album "Back In The Day". With the aid of her mentor and producer Soundz, Chantel was able to craft an album reminiscent of the music a lot of R&B fans grew up listening to and loving. YouKnowIGotSoul had a chance to speak with Chantel about her album and her upcoming plans.
YouKnowIGotSoul: How did you originally link up with Soundz?
Chantel: We actually met at a party through a mutual friend. It wasn't until a couple months later that he found out I did music when he saw one of my videos of me singing and playing piano on YouTube. That's when he hit me up about working together.
YouKnowIGotSoul: You generated some buzz with your remake of "Sending My Love" by Zhane. What made you decide to remake that song in particular?
Chantel: Well since we were doing this whole 90s inspired album, it only made sense to pick a song from that era to remake. "Sending My Love" seemed like the perfect match for the direction we were going in and it fit my voice so well. I loved the song and connected with it as soon as I heard it!
YouKnowIGotSoul: Jean Baylor of Zhane gave you ultimate props for your version of the song. How big was that for you?
Chantel: That was awesome! It was definitely a great feeling to have one of the original singers of the song give me the "OK" and even show support by getting the word out to her fans. She was so sweet and genuine about it.
YouKnowIGotSoul: You recently released your new album "Back In The Day" which you have said is inspired by 90's music. What inspired you to do an album with a 90's vibe because I've noticed a lot of new artists tend to do the opposite and try to create futuristic music instead.
Chantel: Well realizing how hard it is to be a successful R&B artist these days, I had to do something to change it up a bit from what others were doing. It only seemed right to go back in time a little bit and revamp that 90s sound that people fell in love with.
YouKnowIGotSoul: A song that is getting a lot of great feedback is "Good Ones". Talk about that creation of that song.
Chantel: "Good Ones" really just started with how I was feeling at that moment. I was just going through a situation that made me feel just that "where are the good ones?!" When Soundz and I start writing a new record he usually asks me what I'm going through, and then we just go off that vibe. So that song really came from how I was feeling at that moment.
YouKnowIGotSoul: Others have tried to recapture that 90's vibe with their music but it often comes off as sounding dated. What was the key for you to make sure that the music was still going to be fresh?
Chantel: Soundz really knew what he was doing with this direction of music. It was really about taking that vibe, but making sure to use new and innovative sounds. And although a lot of the melodies had that old sound, we still made sure to find ways to keep everything current.
YouKnowIGotSoul: Is this the sound that you're going to be going for with your future music or was it only for this album?
Chantel: Well this was pretty much a concept album. We brought back the 90s with this one. The new music I've been working on is definitely taking things to the next level though. You'll still get that feel-good sound, but with a little umph! I can't give too much away, but you won't be disappointed.
YouKnowIGotSoul: What can we expect from you?
Chantel: Besides rehearsals and studio time, I've been getting ready to shoot another visual. But I'll definitely be performing soon, so be on the look out for dates and locations.
YouKnowIGotSoul: Anything you'd like to add?
Chantel: I would like to thank all the fans for the support on the "Back In The Day" album. Stay tuned for much more good music to come!
Follow Chantel on Twitter @OnlyChantel