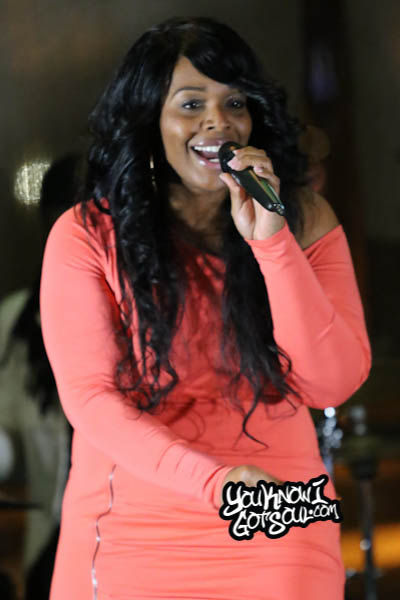 Singer/Songwriter Charlie Vox's resume reads like a Billboard music chart, having written hits for Rihanna ("Final Goodbye"), Melanie Fiona ("Monday Morning"), and worked with producers Stargate (Ne-Yo, Shakira), Fanatic (Beyonce, Deborah Cox) and Carl Sturken & Evan Rogers (Kelly Clarkson, Christina Aguilera). And yet, Charlie Vox, who has done all of the above and more, remains humble as she gears up for the release of her debut album "Things I Never Said". In this interview, we discuss where she got her first major placement as a writer, her journey as an artist after touring with Destiny's Child many years ago, her new single "Lie Instead", what to expect on her debut album, and much more.
YouKnowIGotSoul: I'd like to start with your writing. Tell me the story about how you got your break as a writer and how that led to your first placement.
Charlie Vox: Oh wow. I kinda fell into songwriting. I've always been singing, and then when I started taking my singing seriously, I started writing songs basically for myself. I kinda felt into because of the people that I was working with at the time were connected with Death Row. So I was recording a few songs, basically like a demo, and they actually took my demo to California with them. An artist by the name of Michel'le heard one of my songs and she just loved it. She wound up recording a song of mine called "Don't Cry" and it was on her "Hung Jury" album. So that was my first placement. It just kinda kept happening after that. *Laughs*
YKIGS: I was reading about one of your most successful placements to date which was "Monday Morning" for Melanie Fiona. I read that it didn't have a lot of success on the U.S. Charts, but over in Switzerland it was a #1 single. How did you react to that?
CV: I thought it was amazing! I think it's so funny that it's such a big world and we forget because we're here in the United States. Sometimes we forget how big this world really is. Music makes the world that much smaller, like "Oh my gosh, my song is big where? Switzerland? Spain? Wow!" Music just kinda transcends boundaries; state lines, wide open seas, it's crazy.
YKIGS: Do you have a favorite memory of working with another artist or a song you've written for another artist?
CV: I guess my favorite memory would be "Monday Morning". I was in a retail store and I was just walking around shopping and all of the sudden heard it playing in the background. I was like "Oh my gosh, that's my song!" I freaked out a little bit and people were looking at me and I had to calm down. *Laughs* Clearly they know I'm not singing the song. *Laughs* It was just exciting to know that my song was being played and millions of people were listening to it, it's crazy.
YKIGS: We've had the chance to speak to many writers and they all seem to have different styles of writing and putting a song together. What is your writing style and creative process?
CV: My creative process is very organic. I try to go into a session with whatever I'm feeling at the time. I was just having a conversation earlier about releasing and having your emotions pinned up inside of you, and I feel like music is my outlet and my relief. So whatever I'm feeling, maybe I watched a TV show that gave me a feeling, I just take those emotions and it just transcends my music.
YKIGS: Let's talk about you as an artist. You're preparing to release your debut album, and I read in your bio that you originally opened up for Destiny's Child on their "Writing's on the Wall" tour. That was many years ago, so what's the journey been like with all of this time trying to make it as an artist?
CV: Oh my gosh, it's been amazing. First of all, I don't take myself so seriously, so as an artist I just try to be well rounded. It's been such a crazy journey because it hasn't always been about music and I think that's what's helped me with my songwriting. I try to be well rounded like how I live; I went to college and did real stuff. I still performed in the interim which was always exciting. Just being able to perform and having that outlet as an artist has just been amazing. It's been frustrating at times, but I just decided that this is something that's for me. This is why I was born; my purpose is to be an artist. I just kept going, even when it got frustrating and times got tough, I never gave up on it, and I'm here now! *Laughs*
YKIGS: Yes! It definitely paid off and now you're preparing to release your debut album "Things I Never Said" so congratulations on that. Talk to us about the album and let us know what to expect on there.
CV: My single comes out today on iTunes and Amazon, "Lie Instead". Basically, this album is an amalgamation of emotions. It's really things I never said, either relationships whether it be platonic relationships or romantic relationships; just relationships with people in general. This was the opportunity for me to say everything that I never said. I'm very, very excited about all of these songs. I think some of the things that I say, basically are things everybody wants to say, but sometimes they never say them.
YKIGS: You mentioned the single "Lie Instead" which is on iTunes today. I was talking to someone about the song when I first heard it last week and was trying to describe the sound of the song. In your words, how do you describe the sound?
CV: It's different and I'm really excited that it's different because when people hear it they'll be able to say "Oh wow, that's Charlie Vox!" It's definitely progressive, a new sound of r&b but still contemporary. It gives you a feeling of old school r&b as well.
YKIGS: What's the feedback been like on the song from music fans?
CV: Yes! People are loving the song and that makes me so happy! I feel like it's been such a long time coming and now that we are finally in this space, people are really, really liking the music and that's what it's really all about for me.

YKIGS: How did that song come together?
CV: The song came together in a writing session with myself and Chauncey Jackson and Curtis Richardson. We came up with a theme talking about relationships and trying to come up with some type of direction where we were going to go and the song just kinda came together that way. We felt like what if you were in a relationship that might not be exactly what everybody else wants it to be but you feel happy there. It came together from there.
YKIGS: Talk more about the album including who you worked with and any collaborations.
CV: I didn't work with a lot of name producers. I love the fact that we're working with newer producers. I think that this album is going to just be a pinnacle for a lot of other artists and a lot of new producers. It's going to be really, really good because it's going to be sounds that nobody has ever heard before, so I'm very excited about that.
YKIGS: When can we expect the album?
CV: You can expect the album in the first quarter of next year, around January.
YKIGS: Anything you'd like to add?
CV: I feel like you covered everything. I'd just like to add my Twitter, @CharlieVoxMusic and my Facebook is Facebook.com/CharlieVoxMusic.