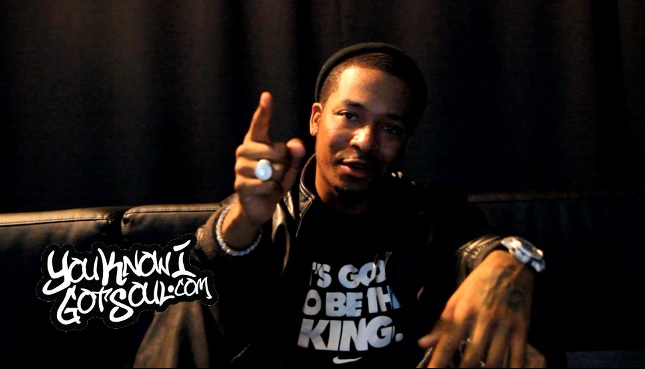 When you think of that mid 2000's era in Hip Hop, Chingy is a name that comes to mind. His fun singles "Right Thurr" and "Holidae In" shot straight to the top of the charts because they were catchy records that everyone could enjoy. Along with those records came his R&B collaborations which presented him with a separate fanbase. With R&B singles like "Pullin' Me Back" with Tyrese and "One Call Away" with J-Weav, Chingy was suddenly looked at as one of the go-to guys for lady anthems. That era in music is long gone, but Chingy believes he still has something to offer to the game. YouKnowIGotSoul talked to Chingy about his new independent label FullDekk, the inspiration behind his R&B collaborations and he also shares a memory he had recording with Janet Jackson.

YouKnowIGotSoul: Your last album "Success & Failure" came out in 2010, so bring us up to date with what you've been working on since then.
Chingy: Actually "Success & Failure" was not my last album. That was actually supposed to be a mixtape with all original music because I did a situation with a certain person for that. He told me he was going to advertise it as a mixtape. It was some music that I had around that I wasn't doing anything with and it was a six figure thing, so I decided to do it. They advertised it as an album, but it wasn't originally supposed to be an album. It was my songs on top of other people's beats at first, but they changed it around and they made it an album. I don't consider that a certified album from me. Even though I liked it and people liked it, it was promoted all wrong. Just to clear it up, it wasn't supposed to be an album. It was an original EP. But since then, I've been working and grinding. I'm pushing a single called "Doing The Most" and another single called "Damn Girl". I'm currently working on a lot of music. I'm also working on "FullDekk Fullosiphy 2" which is a compilation album with St. Louis artists as well as myself because I like to work with people that I surround myself with that are talented. I'm just staying on the road. I'm glad I can stay busy and I appreciate that. I appreciate the fans, the people that support me and have been down with me from the beginning. I really appreciate that from the heart. I'm just doing me. I'm more independent than anything right now. FullDekk is my record label, so I'm really pushing that and getting that off the ground. I'm working on new music and I'm just trying to recreate the Chingy brand.
YouKnowIGotSoul: What's that transition been like for you to go from a major label to running your own label?
Chingy: Without the big machine, it can be difficult because you're doing everything yourself. You're more involved in so many things now that when I was with a record label, I didn't have to worry about putting the video together and putting these events together. Now I have to worry about most of that stuff and it can be a little weight on your mind and everyday grind because it's a lot. You have to make decisions about everything. You have to pay attention to everything when it comes to the image and how you articulate yourself. It's difficult, but I'm up for the task and I can handle it because that's what I got in the business for. It was to become more of an entrepreneur and not just an artist. I mean I am creative, but I'm also a great thinker. I want to be more than an artist. Being independent is nice, but sometimes it can get a little hectic because the labels have the major resources that a lot of artists need. At some point, you do need a record label, but you can make it on your terms by being independent and making some noise.
YouKnowIGotSoul: We spoke to Bobby V not too long ago. He said one of the biggest challenges going independent is maintaining your fanbase after the major label situations. Have you found that your fans have followed you since you left Def Jam?
Chingy: I would agree with Bobby. Maintaining that fanbase can be difficult because you were seen in a light when you had a machine behind you and people were hearing you on the radio constantly. Let's keep in mind, I'm speaking of 2004-2007 when you had TRL and 106 & Park. Now everything is on the internet, so when you go from being heard on the radio all the time and videos on TV all the time on shows like David Letterman to doing things socially, you have some people that don't identify with the social world, but still listen to the radio and look at TV. They wonder "Where you at?" so it can be hard to maintain that fanbase, but you just have to keep grinding.
YouKnowIGotSoul: Your fun records do a lot of damage on the charts, but a lot of people have followed you because of your R&B collaborations.
Chingy: Yeah, I have a lot of fun records. I'm into making records that put you in an enjoyable mind state. My R&B records always reflect situations in my life that were real about dealing with women. When you hear those records, it's always a real situation. I think that's why those records come out so good because it's realistic and intimate because in my life when I'm dealing with women, that's how I am. I'm sensitive and intimate until they mess up. *Laughs*
YouKnowIGotSoul: Do you think the R&B collaborations still work in today's landscape? R&B isn't really on the radio anymore.
Chingy: Women love to be talked about. In relationships, women love for you to listen, so when you're an artist and you're making music and you're talking about women in a good way, that's when they want to listen. They love to be talked about. Those records are always going to work. I have some more records just like that and they're super hot. When you look at the business and you see the people who make those types of records, it could be a lot of R&B dudes that get away with those records. A lot of rap artists, some of them don't get those records across the best. There are some that can, but you have some that can't. I happen to get those records across pretty good. For me, I don't think they ever went anywhere.
YouKnowIGotSoul: How involved were you with the creative process for your R&B collaborations?
Chingy: Very much involved. The song I did with Janet Jackson called "Don't Worry", I wanted her on that record. She actually called the studio to talk to me which was one of the highlights of my career. Here I am in the studio working on some music and they hit like me "Chingy, pick up the phone!" I picked up the phone and I heard a soft voice saying "Chingy? It's Janet". I was super happy. She called me to tell me she loved the record. I loved that she loved the record and that was a process I created. Even the record with R. Kelly on my second album and even with Snoop Dogg and Ludacris being on "Holidae In", those were things I wanted to happen. That lets you know I know how to create a hit and to say this as well, even before all those records I had with people, "Right Thurr" was just me and that was a number one record in the country. That shows you I know how to create a hit and I don't need anybody.
YouKnowIGotSoul: Talk about your background in R&B because it has played a big part in your career.
Chingy: I grew up listening to the older music like The Temptations, Marvin Gaye, Isley Brothers, Wilson Pickett, James Brown, Funkadelic, Earth Wind & Fire, Anita Baker, Luther Vandross and the list goes on. Michael Jackson was actually the person that made me want to start entertaining. The reason I'm Chingy right now is because of Michael Jackson. Sometimes when you listen to my music, when I stress words like "Go" or "Oh", you think of Michael Jackson.
YouKnowIGotSoul: What do the fans want to hear from Chingy nowadays? Do they want to hear the fun records or the R&B collaborations?

Chingy: These days, I think what the fans want to hear from Chingy is Chingy being Chingy. I change with the time, but I don't let the time change me. What I mean by that is, I can take the sound today and make it mine. You have a lot of artists out here who follow trends. They're not original. They just follow trends. From the time I first came out, I was a trendsetter. I go all across the world and people will say "Right Thurr". That's just how I talk and they know me from that. They know me for my records. The era I came out in was not a fad era. That's why I was so successful because I was original. For the artists that like to follow behind people, I would tell them to be original because that's what takes you to the top and gets you success. Invent something instead of following something.
YouKnowIGotSoul: Anything you'd like to add?
Chingy: Hit me up on Twitter @ChingyJackpot.