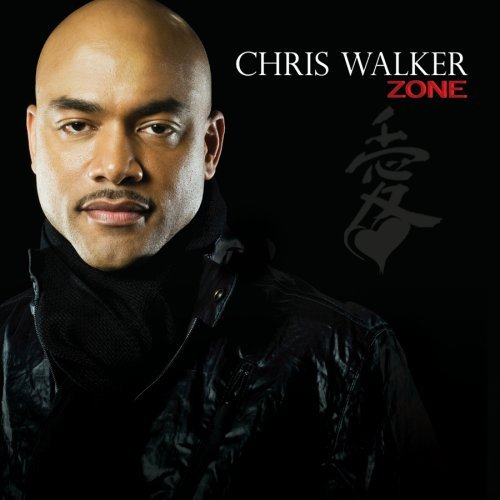 You may remember Chris Walker from the early 90's when he released his debut album "First Time" which spawned the hit singles "Giving You All My Love" and "Take Time." After releasing a slew of other albums over the years followed by a hiatus from recording where he served as musical director for many artists, he's ready to step back to the microphone and release his first album in six years entitled "Zone". In this interview, we talk about what to expect on the new album, how he can find success in this ever changing r&b climate, his experiences as a musical director, what's missing in the younger generation of r&b artists, if he always had plans to continue recording, and more.
YouKnowIGotSoul: What can we expect to hear on your new album "Zone" which will be releasing next month?

Chris Walker: My new album "Zone" is the culmination of a four year journey rediscovering Chris Walker. The album is focused around the many facets of love. I like to write and sing songs that touch the deepest emotions and get down to the core of a woman's heart. My first single, "I Got That Love", talks about men appreciating their lady and not taking them for granted or someone else will give them the love and attention they desire. You will also find a classic Luther remake, "If Only for One Night" along with an uptempo song, "Wish We Never Met" that deals with the painful side of relationships. Another gem I wrote for the album with Carole Bayer Sager is "How Do You Heal a Broken Heart", a subject that has brought many men and women to tears.
YKIGS: What approach did you take when putting together this album?
CW: I wanted to create a great body of work that appealed to my core audience and new listeners. Since I'm a musician/producer, it was challenging finding new ways to reinvent Chris Walker in today's sound and keep it musically interesting. Creating songs with lyrical depth and musical changes that take listeners on a journey was my approach. I enlisted the help of several talented upcoming writers/producers (Shawn George & Jamien Arvie) to keep me in touch with the youthful vibe on certain songs. I wanted to challenge myself as a singer and continue this journey of growth.
YKIGS: Why did you decide to call the album "Zone"?
CW: I decided to call the album "Zone" because it takes a lot of energy and mental discipline to create something from nothing. A song takes on many characteristics before it becomes a finished piece. "Zone" encompasses all the elements associated with reaching a higher level as a singer, songwriter, producer and musician.
YKIGS: With the current climate that exists in r&b, do you fee like you can have the same success that you had on your debut album "First Time"?
CW: Certainly the climate has changed since my first release, but I think the industry and buying public are longing for real talent. I've teamed up with Pendulum Records and Ruben Rodriguez again and feel confident we will be successful with "Zone". Also, remember success is measured in different forms…..we'll see.
YKIGS: Since you've been a music director for so long and not fully active as an artist, talk about the transition between both and what it's like being an artist again.
CW: As a musical director you have to be very organized and know your craft. If not, you probably won't last in that position. I've had the opportunity to serve as musical director for Al Jarreau, Regina Belle, Cassandra Wilson, Yolanda Adams, Boney James and many more. The transition back to being an artist has been a welcomed change. Being a musical director has taught me discipline and how to treat people. These characteristics have helped me become a better artist.
YKIGS: What has the experience been like being the musical director for Al Jarreau for so long?
CW: Working with Al Jarreau has been an incredible experience that I cannot express through words. I was a fan long before becoming his musical director and a lifelong dream to work with him. Al has helped me grow as a singer, performer, musician, arranger and more. He has challenged me in ways I never imagined and helped develop the person I am today. One of my biggest influences!
YKIGS: As a singer who is also a musician, do you feel that's something that's missing in today's younger generation of r&b music?
CW: One of the issues I have with today's younger generation of r&b singers/producers, they don't spend time perfecting their craft. With today's technology, you don't have to learn how to play an instrument to create a song. If you take away the drum machines and sequencing software and put today's generation of singers/producers in a room with real instruments, I'd be curious to hear what comes out. I think the quality of music would change. Nothing wrong with using technology, but learn how to create the idea without it first, then use it as a tool to enhance what you're creating.
YKIGS: It's been six years since your last release. Did you always have plans to continue recording music?
CW: I've always planned to continue recording under the right circumstances. While taking a break from the forefront, my partner (Ray Davis) & I created Walker Davis Entertainment and opened a state of the art recording facility (Canvas Studios) in Houston, TX. We formed a joint venture with Pendulum Records and released Regina Belle's first gospel CD, "Love Forever Shines". My new album "Zone" is the first of many to come. I won't wait another 6 years to release my next project.
YKIGS: Since you've been on an independent label since your debut, how do you feel your career would have been different if you had the opportunity to be on a major label?
CW: To be honest with you, I don't know if being on a major label would have been better. Certainly being on a major label has its advantages, but I'd rather be the main focus on an independent label. I've heard many horror stories from friends signed to major labels. One of the biggest complaints was being shelved and never released.
YKIGS: What's a message you can give for upcoming independent artists hoping to make it in the industry?
CW: Preparation meets opportunity. Attitude determines altitude….meaning the right attitude and a smile goes a long ways in this business. Always be humble and appreciative of the success you receive on any level.
YKIGS: Anything you'd like to add?
CW: Embrace every opportunity as if it were your last. The only person standing in your way… stopping you from achieving your goals and dreams is you!!!