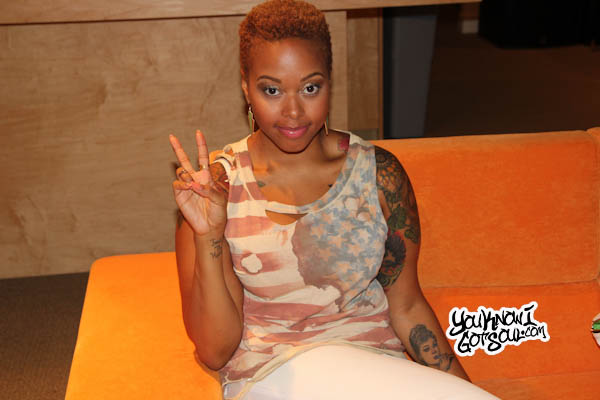 Since we were first introduced to her in 2007, Chrisette Michele has made a name for herself with songs detailing the struggles of relationships such as "Blame it On Me", "Epiphany" and "Goodbye Game". Despite the fact she's had so much success and elevated her name to one of the best in r&b/soul, she had built up a reputation for making sad songs. Well, that has all changed with her name album "Better". This is the happy Chrisette Michele, and on her fourth album, she might have just given us her best work yet. She's always been an artist who's open and honest, but more so than ever you can hear the feelings of happiness in her voice this time around. YouKnowIGotSoul sat down with her while she was doing promo for the new album in NYC and discussed her being in a better place musically and in life, Ne-Yo predicting that her 4th album would be her best, the difficulties of performing sad songs now, her journey of finding herself, and much more.
YouKnowIGotSoul: We really heard the ups and downs of love on your new album "Better". What made you go in that direction?
Chrisette Michele: I've got to be honest, I got to do some soul searching. I was just able to write about that, channel it and not be afraid to talk about it.
YouKnowIGotSoul: You've always been open as an artist, you've talked about being hurt. This time around though, you seem to be even more open than before. Is it hard for you to expose yourself like that as an artist?
Chrisette Michele: It's very easy to expose yourself when you're talking about sad things. I will say that when you're talking about sad things, it's okay for people to take it away from you. But when you're talking about happier things, it's a little bit scarier because you don't want anyone to take that away from you. So giving that away as music is a little more vulnerable than before.
YouKnowIGotSoul: This album is more love songs and happier songs than you've done before. What's the feeling like for you singing happier songs?
Chrisette Michele: Sometimes I can't even get through some of these songs when I'm singing them for people because it's like "Damn everything is going to be okay? Really?" Sometimes I have to take a step back and say "This is good." When you're upset, you can scream your way through it and you push it. But when things are great, it's like "Wow things are actually okay."
YouKnowIGotSoul: Is it tough for you to go back to perform some of your sadder songs now as you're in a better place now?
Chrisette Michele: Because I'm in a better place, I can't even perform some of my old music. I recently was in the middle of singing "Goodbye Game" and I had to stop the band. I was like "I can't sing this anymore. It sounds very bad and angry. I'm not there anymore." I Can't lie.
YouKnowIGotSoul: Ever since signing with Universal, it's been a 7 year journey of kind of finding yourself as an artist and as a person. Talk about that journey.
Chrisette Michele: I always joke with people that when they get jobs, they move up monthly, yearly or every other year and you get a raise. When you get signed, all of a sudden you have to know everything about everything. You don't get a chance to figure it out. I've been lucky enough to allow myself to figure it out. It feels great to have finally gotten my raise. I feel like "Better" is my raise.
YouKnowIGotSoul: We feel "Better" is your strongest album to date. It's rare for artists to make their strongest album this far in. What's your motivation at this point in your career to make such great music?
Chrisette Michele: I was working on my sophomore album with Ne-Yo and he told me "You have to give it a minute" because I kept wanting to try different things. He said "You have to wait until you figure it out. Don't put all of your eggs in one basket. Once you get to that fourth album, that is when people have heard enough of you and understand enough of you to accept who you really are. Your fourth album is really your album where you come out." I waited for that moment and Ne-Yo was right!
YouKnowIGotSoul: You included some of the songs from your "Audrey Hepburn" mixtape on this album. How important was it for you to include those?
Chrisette Michele: It was really important for me to keep those songs from the mixtape because a lot of those songs weren't about love. They weren't typical records, they were about lifestyle. I think that love and lifestyle should go hand in hand in music. Hip Hop gets to have more lifestyle pieces and references that R&B doesn't always get to have. I was honored to have "Rich Hipster" and "Can the Cool Be Loved" on this album.
YouKnowIGotSoul: You mentioned the next single is "Love Won't Leave Me Out". How did you end up choosing that one?
Chrisette Michele: I needed something uptempo. I get very bored singing all slow songs on the radio. They sound nice on the radio, but once they have to bring them to the stage it's like "Seriously? Another slow song?". I thought it was important to put something out faster about getting through this whole love journey.
YouKnowIGotSoul: You seem to be an artist that is in-touch with your fans. Do you feel this happier side is something that they've been wanting to hear from you?
Chrisette Michele: I'm so surprised with my fans. I was like "Why didn't you tell me earlier that I should be happy? You waited until I told you I was happy to say that you liked the happy me?" I think fans are a lot more intuitive than what we give them credit for. They understand more about you than you actually know. It's really an honor to have such beautiful people supporting my music.
YouKnowIGotSoul: Anything you'd like to add?
Chrisette Michele: I want to thank everyone for holding out for the last 2.5 years. I cannot wait for you to hear "Better" and see me on the road performing.