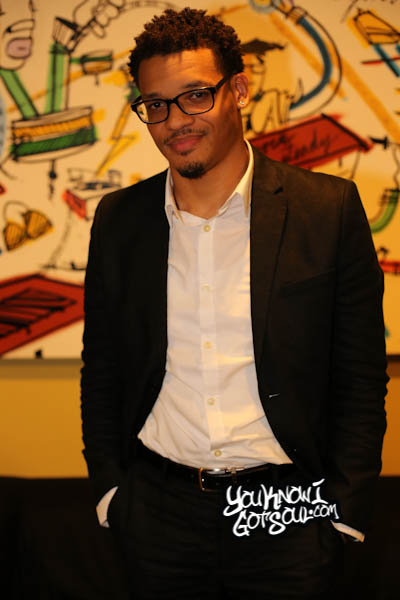 Christon Gray is a very unique talent. Coming up as a Christian music singer/rapper, his music has been rooted in Gospel for years now. Producing music of the highest quality and being unwilling to sacrifice his direction have allowed him to build up a loyal fan base independently. As a result, when he released the more secular "School of Roses" album earlier this year, it was those fans who helped boost it to Billboard on the strength of word of mouth. The lead single "Vanish" caught our attention, and now it's our pleasure to give shine to an artist who certainly deserves it. YouKnowIGotSoul sat down with Christon Gray prior to a recent performance in NYC and discussed his roots in Gospel, his new album "School of Roses", transitioning to secular music, and much more.


YouKnowIGotSoul: Your current single "Vanish" got a great response from our readers. Talk about what went into creating the song.
Christon Gray: Well the album breaks into different genres. I mean it's an R&B album, so we wanted that soul R&B sound, but we wanted to touch some different demographics. With "Vanish", it was intentionally electronic, old and kind of early 90's Hip Hop type vibe. We figured those two sounds had not been capitalized together so we just sat out and went through some old samples of old Beatles type stuff. We listened to some James Blake, he's a British artist who just has this electronic vibe. We listened to Coldplay. We were like, "We can't do it like that for this album because it won't fit, but how can we create a sound that will captivate people immediately and get that night time vibe". We just started creating and within 20 minutes, we had "Vanish". Actually it was the only song I wrote while it was being produced, so it was pretty cool because it just kind of happened.
YouKnowIGotSoul: You've currently got out the album "School of Roses", talk about the themes on the album.
Christon Gray: The album, not to be cliché, is about relationships, but it's mainly about growing up. It's a snapshot of me at 28 almost and the things that I'm learning, they have to be captured right now. If I talk about them in hindsight, I'll miss some of the emotions that may affect people that are experiencing the same things now. I kind of wanted to grab where I am now and some of things in my marriage, my friendships and my relationship with God. "School of Roses" is learning how to love. You get a little bit of that. You get summons about struggles in my marriage and my friendships. Also being viewed in a certain way by different people.
YouKnowIGotSoul: With the album, you had an impressive start on Billboard especially for an independent artist. It's really rare for an independent artist to accomplish that. What do you think went into it to make the project so successful?
Christon Gray: I didn't know what kind of fanbase I had, so it was refreshing to see from every tier. The top tier being your more prominent celebrity or iconic figures in the music industry from producers to other artists who actually helped support the album. Word of mouth really brought this album where it was on the charts. We didn't do much marketing, we didn't have music videos or a huge budget. To see it on Billboard the first week, I just thank God and secondly the fans did that. I certainly didn't go buy my album 8000 times. It made a statement for me because I was like, "wow that's a lot of love". I think we sat at number 3 for half a month before the album came out just off of pre-orders on iTunes. It's pretty cool.
YouKnowIGotSoul: You came up in Gospel music, so how has the transition been to more secular music?
Christon Gray: I've always written the same way. I think it's been the associations that I've made and the different umbrellas I've been under as far as where the music can live. Christian Hip Hop is a subgenre of the Hip Hop culture. It reaches a lot of people, but it can really reach your limit to the wide range Hip Hop audience. The Gospel genre is the same thing. It's called Gospel, so if you approach it from a musical or even a lyrical standpoint, it kind of limits you to your audience. I didn't want to compromise my beliefs, but I do think musically, the music doesn't sound like contemporary Christian music, Gospel music or even Christian Hip Hop. It has much more of a mainstream sound in my opinion. I just wanted to put it in its proper place. That musicality, sonically and lyrically, it puts it into an R&B category. I think that's where the project belongs.
YouKnowIGotSoul: In the past, we've seen artists who transitioned from Gospel to secular music. Have your fans joined you on that journey or have you lost some fans because of the switch?
Christon Gray: Some of them have. Some of them hate the album, but I used discretion when I wrote it. It was a hard album to write and I had to make a choice whether I was going to be honest with myself about things I was going through or if I was going to make something that was more acceptable or digestible for listeners who followed me often at the sacrifice of me really showcasing what I've been doing through. I think taking the sacrifice and being a martyr for showing what I'm really dealing with will be helpful in the future. It's an investment and I hope the fans that did not appreciate it will listen to it again and come around. I definitely understand it though.
YouKnowIGotSoul: Talk about your origins in your Gospel music and where it was rooted.
Christon Gray: My mother toured as much as she could have, but she just wanted to stay away from the music industry totally. Her voice is amazing. She toured a little bit in Europe with the group The Gold Gospel Singers. They sang for Queens and Castles. They took tour buses everywhere and it was amazing. Between that and her being the lead singer of our church of about 2000 members and my father was the choir director for about 25 years. With all those components and him having his own Gospel ensemble, about 17 voices who traveled the nation and did shows, I kind of grew up around it. I was very faithful to our church. It was a very personal relationship with an understanding of the Christian message. It's all I've known. Even when I started getting older and started experiencing life on my own, it's still the only thing I've known to be true. It's not just me regurgitating something that I was brought up under. It's real life for me. It's starting to come out in different way.
YouKnowIGotSoul: The group you were a part of was The Elevationists. How did that experience help you?
Christon Gray: I hate just limiting myself to Rap or just R&B. It was very similar to The Roots or The Fugees. I was the singer/rapper/producer/musician of the group and my brother was the Wyclef. Then we also had a band. We had a very refreshing sound for the time. We started in 1999, so you had DMX, Puffy and Mase, Master P and then you had us. We definitely weren't on that platform, but listeners who came across us were missing that musicality, lyricism and that realness. We brought it to them with a message that actually didn't just relate with them, but it challenged them spiritually. It was a fun ride. Then one day, we were approached by several different people to expand that sound to a mainstream audience, but it was at the expense of us changing our beliefs. We didn't want to do it and everything shut down. I was left by myself and that's how I made the first project. It definitely wasn't the typical boy band breakup story, but I think they just ran out of steam because we ran out of options. I chose to keep pushing forward because I can't help it.
YouKnowIGotSoul: You rap, sing, write and produce. Where did you develop your talents?
Christon Gray: I released a verse recently on my brother's upcoming album. I said "All I had was my pad, the writing came from my dad, the voice came from my mother, and the music came from Jazz". Jazz and Classical music were big inspirations. I learned how to play piano self-taught. My dad was a writer and my mother had an incredible voice, so I think I was just a hybrid of everything.