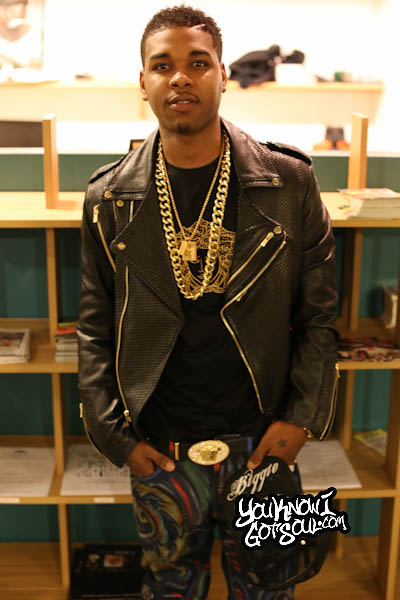 When you hear CJ Hilton describe his style of music, you'll hear him use the term "Young Soul"; a grown form of soul music but coming from a younger cat. After appearing on the Grammy nominated "Never Give You Up" with soul legends Raphael Saadiq and Stevie Wonder, it's obvious that the generations before him are ready to give their approval to his brand of music. Now CJ is preparing his debut album "Cold Summer" and will look to forge his own legacy just like those who came before him. YouKnowIGotSoul caught up with CJ for this interview and discussed with him what to expect on the debut album, working with producer Salaam Remi, how being a musician helps him create his music, difficulties he sees making it on radio as a soul singer, and much more.
YouKnowIGotSoul: Talk to me about the debut album you're working on called "Cold Summer". What's the progress of it and what can we expect to find on there?
CJ Hilton: Right now we're pretty much 95% done on the album. We're actually mixing and mastering right now. We have some great material on there, it's a really, really soulful album. I call it young soul. It's very soulful but I'm 23 years old so it's coming from a young person. We're on the second single right now entitled "Cold Summer". We're just promoting that record right now.
YouKnowIGotSoul: Talk about how the single "Cold Summer" was created.
CJ Hilton: It pretty much started out with Salaam Remi sending me a track. I listened to the track for a day or two, and at that time my daughter's mother had just left me. I'll never forget, it was the 3rd of July, right before the 4th she left. It was a really, really, really cold time for me, but it was summer, so I felt like the only way I could get through this is to write about it. So that's how we got "Cold Summer".
YouKnowIGotSoul: You mentioned Salaam Remi and I know you've worked with him a bunch. Talk about how you originally linked up with him.
CJ Hilton: Well when I came to RCA Records about a year and a half ago, Peter Edge which is the chairman of RCA thought it would be a great idea for me and Salaam to work together. It was one of the greatest ideas because Salaam is a really soulful dude as well but he has this real hip-hop flavor to his music. It was a great combination for me and Salaam to work together. Actually, he's a pretty good friend of mine now so it worked well.
YouKnowIGotSoul: You mentioned "soulful with a hip-hop flavor" and that's the feeling I get from the first single "So Fresh". Talk about that song as well.
CJ Hilton: We had a lot of fun making that record. We actually did that in L.A. Basically how that went down was Salaam found a sample and the sample as from a movie called "Doom" if I'm not mistaken. He played the sample, I loved the sample, so he looped it up and left the studio, he had to go to New York. When he left, I wrote the lyrics, put it together, played it for Salaam and he loved it. Salaam works really close with Nas, so he sent the record over to Nas and Nas loved it as well and jumped on it as well. At the time Nas was overseas, so we couldn't really work together, but he jumped on it and sent it back, and it's history from there.
YouKnowIGotSoul: Who else did you work with on this album?
CJ Hilton: Tyga from Young Money. Raphael Saadiq is on the album. I think for the album, that's pretty much it.
YouKnowIGotSoul: I know you're a writer, so did you handle all of the writing on the album?
CJ Hilton: I handled about 50%. I had some great guys come and write with me. A guy by the name of Claude Kelly who is a Grammy award winning writer. My uncle, Robert Waller, but you would know probably EST, he used to be in the group back in the day called Three Times Dope. He wrote a lot of records like for Beyonce for example. Also Rico Love, he worked with me on a song called "So Hard" that me and Tyga and Fat Joe were also on.
YouKnowIGotSoul: I know you're a musician that plays multiple instruments. Talk about how that helps you when you're creating your music.
CJ Hilton: Pretty much in all of my music you'll hear live instruments. I feel like the live instruments are what really makes my sound different. A lot of people use the MPC and the Logic, and I use a lot of that as well, but I start out my tracks always with the live instruments and then go and make the sound bigger with Logic and things like that. I always start most of my tracks live.
YouKnowIGotSoul: I know you've been signed to a couple of different labels in the past and bounced around a bit. I know that for a lot of upcoming artists their goal is to get signed by a major label and once they do, they feel like they made it. Talk about the work that has to be done once you're signed.
CJ Hilton: Once you get signed, the work just begins. You have to make the album, you have to find a great way to market yourself. You have to just really know your sound as well because working with so many different producers; you can start to lose your sound and sight of what you're trying to do if you're not 100% sure.
YouKnowIGotSoul: As a writer, where do you draw your inspiration from?
CJ Hilton: Everywhere, everyday life. All of the things that I go through, I write about. If I didn't go through them myself, one of my friends went through it. All of my songs are pretty much from everyday life experiences.
YouKnowIGotSoul: You're a Grammy nominated artist for the song you did with Raphael Saadiq and Stevie Wonder. I'm sure you've heard that they are cutting back on the r&b categories at the Grammy's. How do you feel about that?
CJ Hilton: I don't like it of course because I do r&b music. I wouldn't necessarily say my music is r&b, it's more soulful than anything. I feel like r&b is more just straight across. Soul music is more like you feel it. It is a little wack to me that they're taking a lot of the r&b categories out, but at the same time I feel like my music will still be relevant because I don't necessarily look at my music like r&b. It's more like soul and pop and everything at the same time.
YouKnowIGotSoul: Since it seem s like on radio they kinda push soul artists back a little bit, do you feel like it will be difficult succeeding on radio?
CJ Hilton: I think it's going to be pretty easy because I have a lot of good friends that are helping me out right now that are already on the radio. We've got J. Cole about to come on and help me out, we've got Fabolous, you got 2 Chainz, we're trying to get all of these people on the album because we understand that my music is very soulful so you need some of the help from my peers to come and help me try to put it on the radio. We got a plan.
YouKnowIGotSoul: As a younger artist who's into soul and has admired some of the great soul artists from the past, you already got a chance to work with Raphael Saadiq and Stevie Wonder, but would you like to collaborate with more of these types of artists in the future?
CJ Hilton: I would love to work with John Legend. The people that I would want to work with are not really soul artists honestly. I would love to work with Jay-Z or Kanye West or Frank Ocean. Me and Miguel already worked together, he was the co-writer on "Cold Summer". I would love to work with Lil' Wayne as well.
YouKnowIGotSoul: Anything you'd like to add?
CJ Hilton: Make sure to check out my mixtape coming out "The Package Part 1" coming out Tuesday. Follow me on Twitter @IAmCJOfficial. Also my Facebook is Facebook.com/CJHilton. Also, we have coming up a very, very special show. It's going to be specifically for the ladies. Ladies, you've got to come out to this, it's going to be a Valentine's Day show just for you, all ladies. It's going to be in L.A. for RnB live at the Roxy. I want all of the beautiful women to come out for that show.