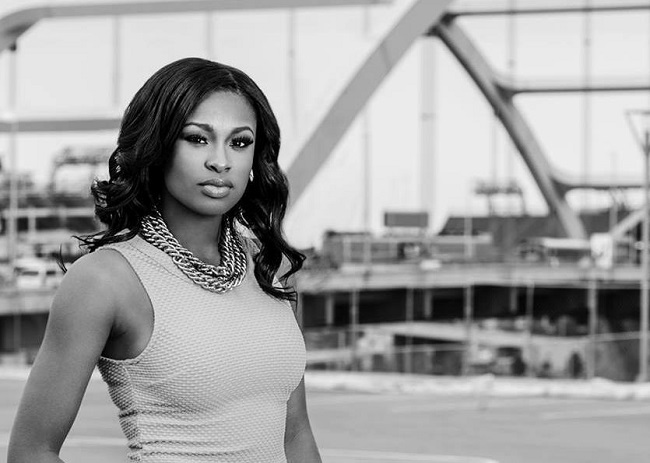 You may remember Coco Jones from her time with Disney where she starred in the movie "Let It Shine" and appeared in numerous TV shows on the TV station. The young singer's voice became a voice that is now adored by millions of teens around the world. This resulted in a singing career for Coco as she put out her EP "Made Of" while working with Disney. Now she's back with some new music and she's doing it all on her own. Coco was able to take experiences that she learned from her Disney situation and now she's ready to bring her fans on another journey. Backed by her new single "Let 'Em Know", you can expect some new vibes from her. YouKnowIGotSoul had a chance to talk to Coco about her time with Disney, her upcoming project and the new direction she's headed in musically.
YouKnowIGotSoul: Talk about how you originally got into singing.
Coco Jones: I started off in Nashville performing where I could. I did talent shows everywhere and I ended up meeting a producer and we worked on a really homemade, low production EP/album. It got me where I needed to go. I ended up meeting with Disney around 9 years old and I was like "I can act and sing!". They needed a contestant for this contest called "Next Big Thing" which was like an American Idol for Disney. They had my CD on file, so they listened to it. I did that and then after that, I started working with them. I did TV shows with them and "Let It Shine".
YouKnowIGotSoul: You gave Disney your demo CD. What do you think they saw in you?
Coco Jones: I think definitely my voice stood out. I'm not trying to toot my own horn, but that's how I got my attention. I would just sing and it would jut draw people to me. That was how I got people to pay attention to me at a young age. I think that was one thing that drew them to me. I was also really driven. I met them actually at a cattle call and I was there for hours. Actually when I was younger, I was really sporty so my mom would be like "Do you want to go the cattle call or do you want to go home?" I was like "I want to go this audition!" I went out there and made all the connections I could. I gave my all on the auditions and they saw that hunger in me to make me unforgettable.
YouKnowIGotSoul: You put out an EP during your time in Disney. Talk about the project "Made Of" and where you were creatively.
Coco Jones: "Made Of" was a really good stepping stone for me. I'm really grateful for the experience because I learned a lot about what I wanted to be and how I wanted to sound through that EP. It was just where I was at the moment. I wasn't really focused on any specific message. I just knew I liked to dance and I wanted fun music. That's where I was at the time, but it helped me grow. It was really good for me on a learning basis.
YouKnowIGotSoul: In terms of creative control, you were at such young age so what kind of creative control did you have for that project?
Coco Jones: I had a lot of control when it came to writing the songs. I was always co-writing and I wrote with a lot of people that were very seasoned in the area so I was able to learn a lot. I always had my hands in the song that way. When I was recording the songs, it was completely up to me the way I sang the song. My mom always said "Even if it's not a song that's 100% you, you make it 100% you in the studio". I was always as creative as I could be with everything they gave me. I was hands on a lot and I feel like I had a good say in what I could write.
YouKnowIGotSoul: Eventually you and Disney parted ways. What made you go in that direction to leave Disney and do it all on your own?
Coco Jones: Disney is a great machine. I just feel like we weren't as compatible together. Some things just don't work together. It's fine and it was a complete agreement. It wasn't negative or rude. I just wanted to go somewhere else with my voice. I felt like I wasn't being challenged enough and I had more to say. I was growing up and I was figuring out stuff like "I don't want to do this type of song". We just agreed to part ways, but now being independent, it gives me time to be who I want to be and sing what I want to sing. It's been a great learning process for me. Now debuting "Let 'Em Know", I feel like I'm going more on the path that I feel is right for me.
YouKnowIGotSoul: What kind of adjustments have you had to make now that you've gone independent?
Coco Jones: I don't feel like a lot has changed because I'm a very hard worker. My team works very hard as well which is why everything worked so well with Disney. We weren't just sitting around. Whenever they gave us something, we worked with that. I don't feel like a lot has changed. It's just given me more freedom. Everything we did, we had to check with them to make sure it was alright. Now on our own, we do whatever we want to do. We've made the opportunities even before Disney. I don't think anything has changed, it's just made more opportunities to make something out of it.
YouKnowIGotSoul: You have the new single "Let 'Em Know". Talk about the song a little bit.
Coco Jones: I really wanted to just give my fans something. They were always on my Instagram asking me for a new song or album. I just wanted to put something out and I know I've been doing songs and covers, but I wanted to do something really legit and for the summer. I wanted them to have an anthem they could rock with all summer. Something to hold them over because they've been anticipating forever. I went in with Thaddeus Dixon and he produced the song. We worked on it and it was cool. He kind of got my vibe and when I wanted to make changes, he already knew it. It was like he was in my mind and he brought out the second edit. I was like "We have to put this out" so it just worked out perfectly.
YouKnowIGotSoul: What's the plan for you moving forward?
Coco Jones: I'm definitely working on my album, but I want to make sure it's the best quality that it can be because I feel like I've had the experience where things have been rough and it doesn't work out at the end. Also the debut album is also one of the most important albums so I'm really not listening to anything that's not 100%. I'm constantly being creative and working with new people. I have a lot of songs under my belt right now, so it's about the best timing and the best songs to go with the theme of the album. It's definitely coming, but it just has to be perfect.
YouKnowIGotSoul: Is there anything going to change as far as the sound now that you're independent?
Coco Jones: I think the sound will be changing a lot. "Let 'Em Know" is a taste of where I'm going with my sound. I still want to do Pop and I want to make it fun, but I also want to bring in a taste of Urban because I don't want to lose that side of me. I really enjoy R&B music, so I want to put that in there. It's where I feel "Let Em Know" is heading. It's definitely a changing sound and I want to bring realistic topics into my music. I want to have some meaning in the lyrics and talk about some things that my audience goes through. It's a different sound with older vibes.
YouKnowIGotSoul: Talk about some of your influences growing up.
Coco Jones: My influences were everyone my mom played for me. She would tell me that if I could sing a song like Whitney Houston, Aretha Franklin, Christina Aguilera and Jennifer Hudson, then I can sing anything. I grew up challenging myself and what my mom would do is, she would let me hear the song once or twice and then she would give me the instrumental and tell me to make it my own. I think it was brilliantly of her to do because I got that experience trying to sound powerful and taking my influences from other people, but it was never me copying somebody. I was always making it my own and putting my own spin on it. Now as I get older, I still like those artists, but I love people like Ariana Grande, Selena Gomez and Tinashe.
YouKnowIGotSoul: A lot of people know you from your time in Disney. Are you still looking to build on what Disney helped you create or are you looking to create your own brand?
Coco Jones: I definitely feel like Disney was a huge skyrocket in my career and I will never say anything negative about it. They did things for me and brought me a fanbase that would have taken so much longer to achieve if I didn't have that opportunity. I'm never going to give that up. I feel like the people that watched me in "Let It Shine" have grown with me which I'm excited to see. I don't want to completely change myself because I don't think I've changed as much people think that you have to if your career progresses. I don't think I'm going to switch it up on anybody.
YouKnowIGotSoul: How have you been able to maintain your Disney fanbase and have they been craving new music from you?
Coco Jones: Definitely. People are always asking about the new music. They're more like family to me. I feel like the people who support me will always have an important place in my life. I just let them know that. I want to know what people want from me and I feel like they get that. It's a family type deal because these are people that support me.
YouKnowIGotSoul: Is acting still something that you want to pursue?
Coco Jones: Singing has been taking up a lot of my time, but I'm always down to make time for acting. I love acting. It's so scary, but fun. It's so uncomfortable, but I like it. It's never boring to me. Definitely I want to get into acting, but another thing that's been a road block is my school work. My mom is very adamant about my grades coming first and not pushing everything to the side for my career. At the end of the day ,you have to have your grades so I've been working on school. I'll be graduating this year, so I can finally get that out of my face. I'll have a lot more free time to do it.