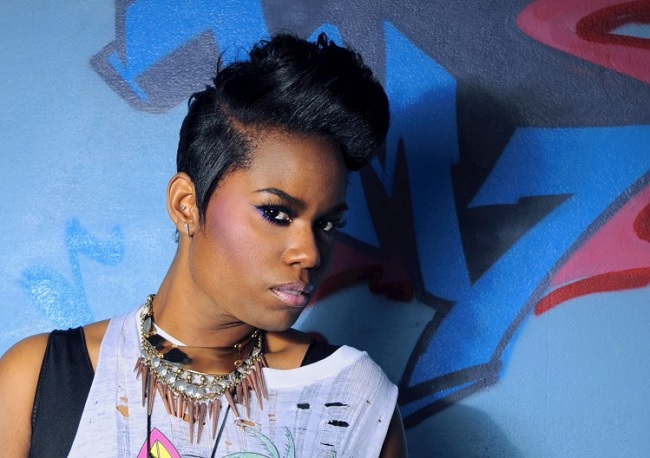 In Crystal's short time in the music industry, she has been able to accomplish more than a lot of musicians can say. Aside from winning a couple of Grammys, Crystal has written created massive hits such as "Love All Over Me" by Monica, "One Girl In The World" for Rihanna and "Touch My Body" by Mariah Carey. With her ability to write great melodies combined with her story telling skills, Crystal has developed into one of the top writers in R&B and Pop. Now, after writing hits for everyone else, Crystal is ready to take her music career to the next level and let people know who she is as an artist. YouKnowIGotSoul had a chance to speak with Crystal about her history in the music industry, being discovered by Jermaine Dupri and her upcoming music.
YouKnowIGotSoul: I know you originally started out with Jermaine Dupri. How did that whole connection come about?
Crystal Nicole: I was actually writing songs with different producers and getting my name out there. A guy who worked with Jermaine at the time, he actually told my manager that he wanted to introduce the two of us. I went over to Jermaine's studio and I remember he was playing pool one night and I just came in and he stopped playing for a second. After that he shook my hand and was like "Hey what's up?" and that was it. I was like "Okay that was quick." *Laughs* Maybe about a week or two later, he sent a track for me to write to, so I took that track and wrote it three or four different ways. I sent it back to him and from there, we just started that process of seeing what the chemistry was like and it ended up being great.
YouKnowIGotSoul: Through that connection, you started getting some placements as a writer for a handful of artists. Talk about the struggle as a writer as far as getting that very first placement.
Crystal Nicole: The biggest issue as a very unestablished writer is that everybody wants to be able to go and check your work. But when you haven't had anything out, there's nothing that you can kind of show them other than the work you have on your computer that you're working on. It's always about "What's going on? What artists have you worked with?" That was probably the most difficult part of the struggle early on. It was just trying to show people and get people to take a chance on something that they already liked. They already liked the music and they knew the talent was there, but no one else had taken that shot. No one wants to be the first one, so that was a struggle for me. Also just getting in with different producers and having to earn the respect of being a writer who can really handle the music. A lot of writers put their music out online and put them on their own projects. Producers are wary of bringing new writers because you don't know if someone is really writing a song for it to go somewhere else and get big or just to write a song so that they can play it at their family reunion. *Laughs*
YouKnowIGotSoul: Eventually after the struggle, how did you get your first placement with the Jennifer Lopez "Gotta Be There" record?
Crystal Nicole: There was a couple of semi-firsts before that song that didn't really come out. The first initial time I kind of had a record placed was for Brooke Valentine. That was a song to the track that Jermaine first sent me originally. That was kind of a placement. It never came out, but it was the closest thing to a placement at the time. That was before the Jennifer Lopez record. I worked with Jermaine for a year before I even signed with him. Right around the time of the Jennifer Lopez song, I also had a song with Keke Palmer ("Hood Anthem") that was getting ready to come out. Those hit at the same time and I was able to piggyback off of both of them. I was like "I may have something with Keke Palmer coming out and I may have something with Jennifer Lopez." I did the Jennifer Lopez record with The Platinum Brothers. They had a history of some records that they had done before so it just came about really out of the blue. I didn't think they would pick that record. They just loved the song and I just love that about that situation. It wasn't about how much I had done before. All they were concerned about was the song. A lot of artists are like that. They don't have to live off the success of writers and producers. Jennifer Lopez is Jennifer Lopez regardless of who produced it or who wrote it. Her focus is if she likes the song or not.
YouKnowIGotSoul: Take me through your process as a songwriter.
Crystal Nicole: My process is so weird because there is no set way that I do things. It changes depending on the weather and depending on the mood I'm in. I'm always writing. There's not a moment that I'm not writing. I'm writing when I'm at movies watching something. I'm writing when I'm at home cooking. I'm definitely writing when I'm at the grocery store. I'm always listening. My ear has become sensitive to songs and the opportunity of "Wow that sounds like it could be a song!" From that respect, I'm always writing. When I go to the studio, someone is either playing the music or I like to go from scratch. That's where the producer is sitting at the piano and we're just vibing out. There are no extra instruments or bells and whistles. It's just me and someone at the piano. With that I just kind of freestyle and see where the music leads me. I try to close that side of my mind that wants to do what it wants to do and open up the other side that says "If you open your mouth, let's see what comes out of it." I try to quiet the logical side of me and just be by myself and float almost like I'm swimming.
YouKnowIGotSoul: Talk to me about the song you did for Bridget Kelly which is "Special Delivery". That was one of our favorites from last year.
Crystal Nicole: I love "Special Delivery". It's one of my favorites too. I did that song with Eric Hudson who is amazing. We also did "25/8" for Mary J. Blige. We just have a great chemistry together. We were in LA and we were actually trying to write something for Melanie Fiona. That was what the session was for. He was playing this old and soulful sound and I was like "I want to do one of those records where you're telling a story. I want people to be able to see this. I want this to be literal and I want to walk you through a process." I didn't know what I was going to write about. I had no idea it was going to end up being "Special Delivery". I just started off by saying "I wrote him a goodbye letter today." It just really started to come to life and I got to the hook and I was like "Well I've written this letter and I've done this and all the tears on the paper. What is the big thing I'm trying to sing here?" I thought of the old school groups like The Supremes or those groups from back in the day. I just heard the song "Please Mr. Postman" and I thought about it and I was like "Wow what if I took that type of idea and brought it to modern day?" That's how I came up with those analogies. I just really liked the idea that she just wrote this letter and was just hoping that the mailman would do the dirty work for her because if he doesn't get it to this guy, she's going to get back with this guy he doesn't need to be with. I love that intensity in the record and it was still so smooth. It wasn't a male bashing record either. I don't like male bashing. A lot of my records are not so much male bashing, it was more like "I'm in a situation that I don't know how to get out of it" or "I'm in a situation that I'm learning how to get out of." It's not like I did anything wrong or if you did anything wrong. And Bridget Kelly is a phenomenal vocalist. We've done a few records together. Prior to that, we have some other records that she has for the project that are amazing. When they decided that they wanted to record that on Bridget Kelly, it was good with me.
YouKnowIGotSoul: You've had so much success as a songwriter. At what point did you decide that it was time to embark on a solo career. I know the industry is all about timing so when was that time for you?
Crystal Nicole: Well this pot has been on the stove cooking for years. *Laughs* I came into the world as a singer. I've been singing since 3 years old. My family sang and that's all I knew. I was the singer. Everywhere I went, I was the girl with the big voice. It was only God who decided like "I'm going to take you a different route. I don't want you to come out as a singer right now. You're not ready to drive that car. If I give you that car today, you're probably going to wreck it and some other cars in the process, so let me take you on another route." That's exactly what he did. I had no idea about writing songs. Actually I was trying to do everything but that. I was going against that grain with everything in me because I was focused on singing. That's all I wanted to do. I'm so thankful that God knows better than me and took me that route because as a songwriter, I learned to appreciate music in another way. As a singer, all I heard and cared about was vocals. When I started writing songs, I learned to look at music from another perspective and appreciate it in another way. It even enhanced my vocal ability when I became a songwriter. It made me more of a complete artist, so the singing thing has always been who I am. It just so happened that randomly the opportunity presented itself for me to share that with the world. I've always had songs of my own that had kind of been sitting on my computer like "Okay those are mine." I guess God was like "Alright, it's time." I'm just glad that I'm ready to take that next step.
YouKnowIGotSoul: Since you've been the transition to being a solo artist, have you found that fans of your songwriting have followed you?
Crystal Nicole: A few people that really like my songwriting are starting to really like my singing on my own songs. I guess it's because I have a certain style when I write songs. It's not just songwriting or a singer, it's a combination of them both. When I hear my songs, even on other people, you hear my sense of style in that. If you're a fan of the songs I've written for other people, you're kind already a built-in fan of my voice and how I approach music in that way. When you hear my stuff, it's like "Okay it all comes together now. I hear that. It doesn't sound so unfamiliar."
YouKnowIGotSoul: Talk to me about the name you're going with now because I know a lot of fans know you by the name Cri$tyle. Why did you decide to go with your real name Crystal Nicole?
Crystal Nicole: My mom is happy for that because she gets all the credit for that. *Laughs* But yeah, I was Cri$tyle for the longest. It took forever for me to get people to call me that and brand that in the industry on the songwriting tip. When I got signed as an artist, apparently somewhere in the world there's a rapper or a DJ whose name is Cri$tyle and it was trademarked. We couldn't get around that so we were like "Oh crap can we spell it differently?" I was talking with my manager and somehow the idea just came up like "Why don't you just go with Crystal Nicole?" I was like "You know what? That actually has a nice ring to it."
YouKnowIGotSoul: A few years ago, you were signed to Blackground Records. What made you decide to move away from that and go the independent route?
Crystal Nicole: Well first of all, I loved the history and the knowledge that came along with working with someone like Barry Hankerson over at Blackground. I love the fact that he was the first person at a label who looked at me. I didn't even come in as an artist. I went there as a songwriter working with another artist. He looked at me and said "There's something special about you." To have that experience with someone of that caliber is something that will always stick with me and I cherish that. The best part about it is that when we split, it wasn't like this person was mad or that person was mad. It wasn't a typical breakup. It was like "I want the best for you and vice versa. I think the best would be us parting ways at this time." I'm so excited that it wasn't a bad situation. A lot of times things happen in this industry and the world in general and it gets very ugly. But in this situation, it generally was very free. I had an amazing conversation with Mr. Hankerson and everything was really beautiful in the way that it all came about. I love that about the situation. What I think about independent, I think for me as a brand new artist and a songwriter who is already successful in the industry, my situation is so delicate because I'm two different entities. On one hand, I'm a successful songwriter and on the other hand, I'm a brand new artist. There's two different grinds there and because of that, my situation is delicate and has to be handled differently and I don't necessarily have all the answers for that and I need to spread my wings and understand what that really means for me. As an independent artist, I feel like I have a lot more control and a lot more room for mistakes that I will possibly make. That way I can't point my finger at someone like "It's your fault!" That way I can wake up in the morning and be like "Okay we don't want to do this anymore. Let's do this next time and keep it moving."
YouKnowIGotSoul: Of course you're finally free and on your own. You just put out the single "Sun Down". Talk about the creation of that song.
Crystal Nicole: I am absolutely a fan of this record. If I wasn't singing it or write it, I would still be a fan of this record. I did this record with Harmony who is an amazing producer. I was in LA last year and we worked together. When I first heard the track, what drew me to the track was that it was so weird. It starts out straight church and soulful. I felt like I was in church and then it goes straight 2 Chainz in the verse. I was like "Yo I've never heard that type of beat." I wanted to do music like that. I came up with that genre of music on my own and I've been trying to find that combination but I haven't found it yet. I've just written all these songs that don't have any music to it that have that certain sound. When I heard the track for "Sun Down", I was like "Wow somebody actually gets it!" Harmony is so multifaceted and he's such a musician. He got it and that's what drew me to the track. I knew no one would write to a track like that because you don't know where to come at. You don't know whether you're trying to rap or sing gospel. I like to be thrown off in those ways as a writer. When I started writing to it, I did exactly that. I came into it very poetic and big. I wanted to use big vocals and then in the verse, I wanted to go straight to the club. It was like Swagville USA. *Laughs* You would be like "What just happened here?" Then in the melody line in the hook, I decided to use the old melody from Jeffrey Osborne. That's a classic melody and I decided to not just use the melody, but also put beautiful words on it that would proclaim the unconditional love and wrap that up in a spiritual bag and say "This is Crystal Nicole. I am soul and I am swag. I have fun. I am poetic and I love God." That song is the perfect package. If I were a song, I would be sun down.
YouKnowIGotSoul: I noticed you also used that melody on "Amazing" by Monica.
Crystal Nicole: I love that song! Jermaine had this fixation on that melody. We were in the studio debating about where it came from. I was so happy to say that I knew where it came from and he didn't. I was like "Yeah you're like a legend and I knew where it came from. I had to tell you!" It was an amazing moment. Monica is such a cornerstone for someone like me especially because I'm from Atlanta. And being all that she is and me being able to work on her project, definitely love that song.
YouKnowIGotSoul: Talk about your project as far as the sound. You've written some hits that are very pop but you've also written some R&B based songs. Where does your music fit in?
Crystal Nicole: I can't even put a genre on it because it's really about where I am at the time when I'm writing. Sometimes I'm in a Pop mode because I want to jump up and down and have one of those moments. I'm not going to restrict myself on my album and say "I can't do that because I have an R&B song too." For me, it's absolutely what I have on my heart at the time. That's what I write about and the lyrics are consistent. My lyrics will always be the truth and real situations that I've gone through or someone else has gone through. You can relate to it. The music and the beats, that stuff changes depending on the mood of the song at the time. That's what changes, but as far as lyrical content and conceptual content, I'm always going to be somewhat of a narrator. I'm going to take life and tell a story the way it is. I don't want to talk about what I own at my house or driveway. I want to talk about what I've been through because I know people are going through things. That's where I am on my project and those are kind of the songs I'm going to sing. They may fall in a Country sound, a Pop sound or they'll fall in an R&B or Jazz or Hip Hop sound. I'm going to leave myself open to that.
YouKnowIGotSoul: As far as the songwriting aspect, are you still involved with that and have you been working with anyone lately?
Crystal Nicole: I am still heavily involved with songwriting. I love being able to write for other people. There are some things I don't want to sing and it's not because it's bad or anything, I feel a song chooses its artist. There are certain things that are meant for certain artists. I look at myself as an artist. It's the same way I look at Rihanna, Beyonce or Rihanna. That's how I view Crystal Nicole and every song I write isn't for her. I worked with Sean Paul recently about a month or two ago in LA on his newer stuff. That was the first time I ever worked with an artist like Sean Paul. That's why I love songwriting because as an artist, I may not have crossed path with Sean Paul, Monica or Brandy. But as a songwriter, I have a service to write for amazing talent and I love that about being a songwriter. That's why I'll definitely continue to write for other artists.
YouKnowIGotSoul: Anything you'd like to add?
Crystal Nicole: Follow me on twitter at @1CrystalNicole