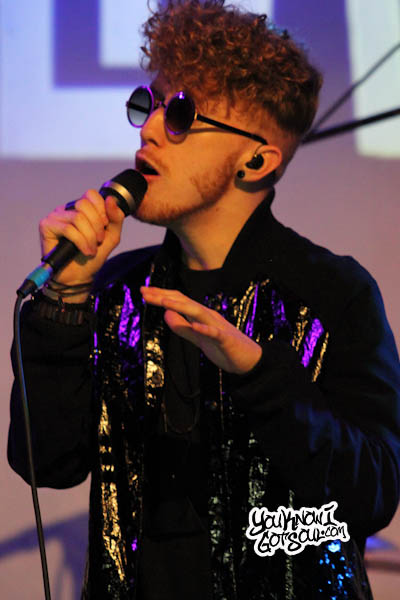 In the past when we've had the chance to speak with international artists (specifically Canadian), we've always heard from them that their career didn't really take off until they relocated to the US. Sure they were able to make a name for themselves in their home country, but they didn't get that global exposure until making a home in the states. Now, perhaps Daley will be the one to break that mold. Already a star in his home in the UK, his buzz as an artist here is building seemingly every day. Coming off of a highly regarded mixtape and an EP that featured superstars Marsha Ambrosius and Jessie J, he's found great success in the states and has no plans to relocate just yet; and maybe he won't need to. YouKnowIGotSoul caught up with him for a phone interview and discussed what led to his signing as an artist in the US, the success of his mixtape "Those Who Wait", collaborating with Jessie J, what to expect on his debut album and much more.
YouKnowIGotSoul: You had a couple of nominations at the Soul Train Awards this year. Talk about what you're feeling and how big it is for you.
Daley: It's amazing; I got two nominations which were strange for me because at the moment I'm based in London and from the UK. I'm back and forth from the states. I never see my video on TV or hear it on the radio in the states because I'm not there. I sometimes don't realize that people are actually listening to my music. Obviously I see people on Twitter, but it being nominated for those two awards at the Soul Train Awards really brought things into reality for me. I was just really excited and honored to be a part of it.
YouKnowIGotSoul: How did you get your break in the music industry? Take me through your journey and how you ended up signing with Universal Republic.
Daley: I've been signed in the UK and that kind of happened through me saving up some money and moving down to London from Manchester. I made a name for myself in London in the music scene as much as I could. I did lots and lots of live shows and performed everywhere that I could. The first thing that kinda happened with me was I worked on a collaboration with the Gorillaz which was my first release into the music industry really. It was a worldwide release and it was unexpected because it wasn't the same kind of music that I make myself. Even though I wrote the song, it was a very different sound. That's kinda what got me out there into the music industry and how people were seeing me and hearing me. After that happened, I kinda went back to the studio and really worked on my own material and I put together a bunch of songs that I just loved. I really enjoyed writing them and I just wanted the world to hear them because I was conscious that there was nothing out there apart from the Gorillaz song that kinda showed people who I am as an artist and the way I write songs and the sound I want to put across. I originally put these 10 songs out on a mixtape that came out in the end of 2011 and it was kinda like my hello to the world. I didn't really have any expectations for it, but it was really well received and the key song that really helped me getting signed in the states was a song I wrote with Marsha Ambrosius called "Alone Together" which is now the current single in the states. We never met before, we got into the studio and wrote the song and it just turned out so well. We shot a video and it just seems to be a song that really touched people. That's what caught the attention of my US label Universal Republic and it kinda went from there really. It's been an interesting journey.
YouKnowIGotSoul: You mentioned your mixtape "Those Who Wait" which a lot of people really loved last year and it was critically acclaimed. Did you ever expect the response it got?
Daley: I set myself a target of about 5,000 downloads within a year and I think we're now approaching 200,000. It's a lot more than I ever expected and you know I'm just really happy. It's amazing. It's so strange because I've had these songs, but it's not until you let people listen to them that you kinda understand what they are. It wasn't until that I started getting reactions back from people who had downloaded the mixtape that I started to realize how special some of the songs were to other people. To see how other people react to the music is always interesting to me. It was a lot more than I expected and it did a lot for me, it did exactly what I wanted it to do which was introduce people to my music and propel me to where I am now, finishing off the album and getting ready to release new material.
YouKnowIGotSoul: I know you do a lot of your own music. Take me through your writing process.
Daley: It's weird because I think some people have a specific process they use every time and I'm not just like that. It also depends on who I'm working with, if it's a producer or writing a song with someone else or completely by myself doing a song in the studio. It can really be any way but it's just combining the elements of the lyrics and the melody and the music, but they all come at different times for me. There's been times when I'll have a lyrical concept for a song and I'll write a section of it and then it's about playing the music to that. Or sometimes it will be the other way around and I won't even know what I want to write about but I'll just start feeling something musically with the melodies. The words just kinda fall out of the sky onto the melody. I guess I'd say the one thing that is consistent when I'm writing lyrics is I always try to come from a very honest place and sum up the song in one sentence or have one sentence that it comes from. I kinda plan it out from that regard.
YouKnowIGotSoul: I wanted to talk about your EP "Alone Together". Talk about this project since you had so much success with the mixtape, how did you decide on the material for this EP?
Daley: The mixtape was an unofficial thing I did at the end of 2011. The EP is kinda like now that I'm building up to my first album and I wanted the EP to bring together the two things. I wanted it to take some of the good bits from the mixtape and I wanted it to have three new songs which were album based. The people that have been following me for awhile will notice some things and hopefully be excited to hear the new songs and then you'll have people who haven't heard of me and they may have missed the mixtape; they'll get the new stuff and get a little history in there as well. It's kinda like a bringing together of the two things and the focus is the single "Alone Together" with Marsha Ambrosius. It's so strange because even though it's been given away for free on the mixtape in the past, I think it's a testament to how people feel about the song. It's still going and people are still enjoying it. It's also a bridge to give people while I finish the album which is almost done. It's just really the start of the next phase of the journey really.
YouKnowIGotSoul: One of the interesting collaborations you had was with Jessie J. How did you know she was the right fit to do a song with?
Daley: I've known Jessie for a couple of years, we both met originally in London when we were both completely unknown. We both had been doing all of these open mic nights and underground shows in London trying to get noticed. We did a couple of them together but we met each other at those shows. We kinda just stayed in touch. Obviously I loved her voice, and she was really feeling what I was doing, so we kept in touch and then she got signed and blew up all over the world. We always said we wanted to do something together; we just needed the right song. After I wrote "Remember Me", the part that Jessie sings is originally a sample from this really old song. I just felt like that was the song, it just fit her voice naturally. She's really the only person that could pull it off. I just got in touch with her and she loved it and she wanted to do it.
YouKnowIGotSoul: You've always described your sound as a "Future Throwback Soul". Tell me about how you would describe your sound for someone hearing it for the first time.
Daley: "Future Throwback Soul" is a term I came across a year or two ago and it fits perfect. I always get questions in interviews like "Describe your sound in three words" and I always find it really hard to do that on the spot. I came across this term and it fits perfect. I hate when people think of soul music and assume it sounds old or retro. I'm definitely a believer that soul music changes with the times. It's something that sounds like it's from the present or future but keeps all of the core values of what people love about soul music from the last 40 years. It just brings them together so you've got something that's the future, the past, and it comes together to make the present.
YouKnowIGotSoul: We've spoken to other international artists who basically said that they had to relocate from their home country to the US to find success. Do you agree with that and do you feel like you'll have to do the same at some point?
Daley: I can definitely see why people would say that. I'm still undecided because obviously I'm still based in the UK but I'm in the states a lot, I go back and forth. The most I've spent in the states was probably six weeks at a time which is still quite a lot of time. I think I will definitely move there for longer periods of time. I think I will always want to live in the UK because I don't like to feel disconnected from my home for too long. I think the states are such a huge place it's somewhere that I'm really excited about spending more time. Next year definitely I'm hoping to get out there for about five months and try to get around with touring and doing some more writing. Who knows, I might end up moving there by this time next year, you never know. At the moment, I'm quite happy back in the UK.
YouKnowIGotSoul: You were talking about the new album you're working on. What can we expect on that? Did you deviate a lot from the sound on the mixtape?
Daley: I kind of learned from the mixtape as well because before I did the mixtape, I was still working on an album and I had certain things I wanted for it. The mixtape also made me reassess what I wanted to do with the album because before that I was being too specific with the album and not very free with it. Everything was very detailed. I'm still going to do that because that's just what I do, but with the mixtape I kinda just threw ten songs that I loved together onto a mixtape. With this, I kinda want people to feel that the songs all come from a similar place and that they have a theme. I'm just making sure it's the best possible songs that I can write that can go on the album.
YouKnowIGotSoul: The news just came out that you'll be opening for Miguel on his tour in the UK. What does that opportunity mean to you?
Daley: It's great, I have a lot of respect for Miguel, I think he's making some amazing music at the moment. It's interesting because I've done a support tours over here in the UK. It's always interesting when you go on a support tour and you see the headline artist, you get to see how they've dealt with certain things and you can relate it to your own career. I'm sure it'll be great to hook up with Miguel and see how things are going for him. It seems like people are very happy about it, so we've definitely got a mutual fan base that will work really well together. I can't wait, I'm very excited.