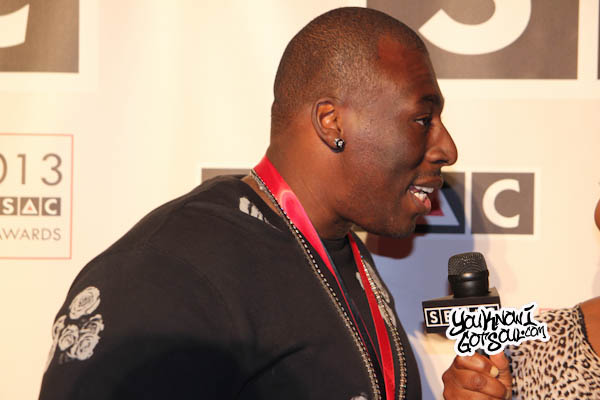 Back in 2005-2006, Danja entered the music scene and almostly effortlessly dominated the charts with his unique sound which consisted of synths that would eventually change the sound of R&B. By co-producing with Timbaland earlier in his career, he was able to craft some of the bigger albums in recent history including Justin Timberlake's "Futuresex/Lovesounds" and Nelly Furtado's "Loose". Now in 2012, Danja is back at it again with his label N.A.R.S. (New Age Rockstars) which includes Luke James and Kevin Cossom, both of whom have been labeled as some of the next stars. Danja sat with us to discuss his label, some of his most memorable collaborations and upcoming projects that he's been working on.
YouKnowIGotSoul: Talk about what you saw in your artists Kevin Cossom and Luke James and what made you decide to work with them.
Danja: I definitely saw individuality in both of them. I would like everyone on the record label to definitely have their own independent style. Kevin Cossom's pen, writing and his sincerity in his voice. I love how he tells his story. He can do a lot of different things like Hip Hop, R&B and Dance. He's very versatile. Luke James, his voice just speaks for itself. It's very strong and powerful. I don't really have to say too much. *Laughs* In one listen, it's like "Who is that guy?" And he also writes. They're both just extremely talented.
YouKnowIGotSoul: Talk about your origins as a producer. I know you linked up with Teddy Riley. How did you get your start?
Danja: Originally, I met Timbaland but it just didn't happen then. Around that same time, I knew Teddy. I was just a studio rat hanging out in the studio every now and then, but we never worked. He heard some music and recognized the talent, but it was nothing of a work relationship. A little bit later, I met Timbaland again and he brought me out to Miami. This was around 2004 and that's when we just bonded in the studio and created a different sound. Couple years later, we were working on Justin Timberlake's project and Nelly Furtado's in the same year. Next year those records came out and that was the beginning of it all. That was around 2006.
YouKnowIGotSoul: You and Timbaland came out with a crazy sound and changed R&B. Talk about that whole situation.
Danja: It's still a strong presence in my life. He's still a strong influence. It was life changing. It was just one of those life changing moments that whatever happens in life, I absorb at that time and I still carry it with me to this day. It was just an incredible time in my life.
YouKnowIGotSoul: A lot of producers put their name on tracks such as Rico Love with his "Turn The Lights On". You don't really do that. Is that a preference?
Danja: I just have to feel inspired. Unless the record isn't being done right at that moment and I need to contribute vocally to the record, then you probably wouldn't hear me on it. I just didn't believe in making the tags even though I've done it. I just didn't do the tags. I'd rather let you discover me with me just doing my thing. I'd rather be hidden than let you find me.
http://www.youtube.com/watch?v=STpZ2th5VPk
YouKnowIGotSoul: What do you remember about creating Timbaland & Keri Hilson's "Miscommunication"?
Danja: I remember doing the track, Tim added onto it. I don't know, the way it came together…it was just the core structure of it and sound of it. It was super weird. It felt like Prince a little bit. It was all over the place, but we made something out of it. During the "Shock Value" recording process, it was just all good fun and good vibe.
YouKnowIGotSoul: How about Justin Timberlake's "What Goes Around/Comes Around"?
Danja: I remember coming into the studio before anybody was in there and playing that guitar. Then Timbaland rushed in and Justin rushed in. That song just fell together in a matter of minutes. That was the kick off of the Futuresex/Lovesounds album. That record was the first one. It ended up being the third single, but it was the first record we did.
YouKnowIGotSoul: A current single you did is JoJo's "Sexy To Me". Talk to me about that song.
Danja: We got in the studio. It was myself, Jim Beanz, Kenna and JoJo. They were co-writing on the song and I did the track. I just wanted to do something different. Something she's never done and something I've never done. At the time I was experimenting with this sound I like to call the "Heavy Metal 808" where I put the 808 through a guitar and just get that crazy, gritty soul. I decided to do that style and they loved it. It was just good energy and vibe.
YouKnowIGotSoul: Are you working with Keri Hilson on her new project?
Danja: I'm sure we'll get back in. We haven't started yet, but we've basically been communicating on where we want to do it. We just want to really focus to get in and create something. That's as far as we've gotten at this point, just scheduling.
YouKnowIGotSoul: How about Ciara?
Danja: I haven't. We spoke and we're supposed to. A lot of these projects, it's just up in the air. I'm open to any of it, it's just whether we make the connection and make the time to get it done.
YouKnowIGotSoul: One thing I've noticed about your music is that some of the songs you've produced tend to be fan favorites on albums, but when they're released as singles they don't blow up maybe like you expected. Does that get frustrating at all and have you thought about dumbing it down because your sound is so crazy?
Danja: It does get frustrating, but I can't do that. It's about the top line and the timing. I think the labels may be a little bit afraid. More than anything, it's about the timing for the records that are released. Normally it's not us. It's not the record, it's not our creative process. It's the label getting behind it and doing what they're supposed to do. It's definitely been at times frustrating, but it just has to be released properly.
YouKnowIGotSoul: I know you worked with Whitney Houston on her last album. What do you remember about working with her?
Danja: First of all working with someone of that caliber is definitely a pinnacle in my career. It was just one of those special moments that you take in and it seems so surreal at the time. You just let it depend on your skill to get through that. Sometimes you get in such awe of superstars. It was a surreal moment.
YouKnowIGotSoul: Who are you currently working with?
Danja: I've been creating for a lot of different projects. I've been kind of left alone to be inside of my own head and vibe. I really feel like the music I'm making right now is on a whole 'nother level. I've been creating for Justin Bieber. I've been working Usher. We've been in and out of the studio a few times. We have a lot of music for his upcoming project. I created something for Chris Brown as well as T.I. There's a lot like Shakira. There's a lot of upcoming projects.
YouKnowIGotSoul: Anything you'd like to add?
Danja: Look out real soon for a lot of good music. Maybe even a project of my own. Just keep your ears open.