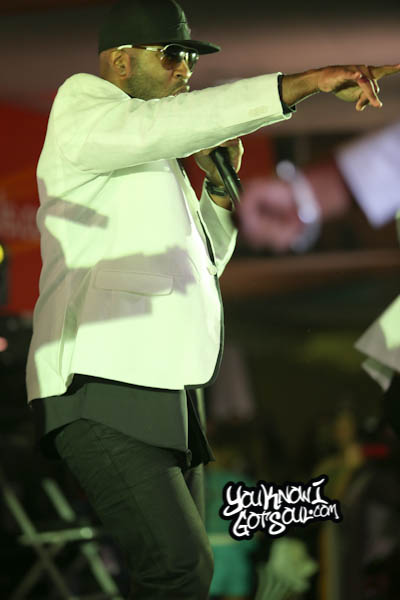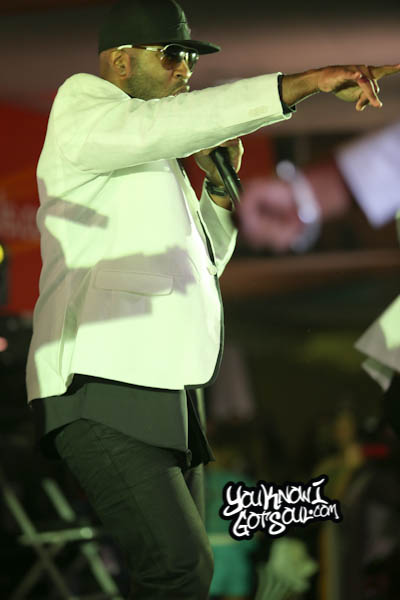 It seems that sometimes when an group splits and each of the members pursues solo careers, their individual sounds vary from that of the group based on their own influences. When we interviewed Mike of 112, he discussed how the tastes of the group members varied: "But as we got older and our tastes evolved into different ways, we wanted to implement those things into the 112 sound. The problem with that is, I like rock and roll music, Slim is into really hardcore hip hop, Q was listening to gospel, and who knows what Daron was listening to." Although he couldn't exactly define Daron's taste, if you listen to Daron's solo debut "Uncensored", you'll hear some sounds much different than anything you've heard on a 112 album. Now Daron is stepping up to the plate with his sophomore effort, and from the way he tells it, he's looking to appease the die hard 112 fans who have been yearning for some of the groups signature sound. YouKnowIGotSoul caught up with Daron Jones once again and this time discussed his new album "Reinvention", being independent, writing/producing versus performing, some classic 112 songs, and much more.
YouKnowIGotSoul:You're set to release your new album "Reinvention" later this month. What can people expect as far as the sound of the album?
Daron Jones: I'll start by saying "Reinvention" itself has a few definitions, but the definition I'm going with is the aspect of taking something familiar and making a new version of it. With this album, I'm really taking the 90s R&B sound that is familiar to me and my fans and that they've grown to love over the years and that they've been asking me for. I'm taking that sound and I'm reinventing it by doing a new and improved version of it, so that's really what the album is going to be like which is the 90s sound blended by the music that I'm inspired now.
YouKnowIGotSoul: One of the singles you've dropped so far is "Safe With Me". Talk to me about the creation of that song.
Daron Jones: "Safe With Me" is just a record based on being in love. It's about when a man is in love with a woman, he wants her to be safe. Me and my experiences in relationships, I've had a few. *Laughs* When you're in love with a woman, that's how you want her to feel. You want her to feel like she's safe and there's nothing to worry about. The creation of the single itself, I did it in my studio. I pretty much created the track and I laid the vocals. The song was inspired by my relationship experiences.
YouKnowIGotSoul:This isn't your first solo album. You released "Uncensored" a couple years back. Are there any major differences with the last one you put out and this one?
Daron Jones: I think the major difference is my vocals. On "Uncensored", the direction I went in wasn't necessarily just about vocals and great singing. It was more so a mixture of great singing and expressing the ideas and things I was going through. With this album, even though it express the things I'm going through, I really put a major focus on just crazy vocals like the rifts, runs, high notes and lush harmonies. Just the things I'm known for and loved for such as the romantic and love songs. Just life and relationships.
YouKnowIGotSoul: I've noticed your albums have a different sound than what we're used to hearing from 112. How has that been received by 112 fans?
Daron Jones: I think the fans really understand me and really understand that I'm evolving as an artist. They're happy to hear that with the new sound, I pulled a lot of what I'm known for which is the 90s music and I've put that back into the music.
YouKnowIGotSoul: You're on an independent label. Talk to me about the major differences you've seen so far.
Daron Jones: The major difference is that the money goes directly to you, it doesn't go through anybody else. You see every single dollar whereas when you're dealing with a major label, when it comes to the record sales it's just a little bit different.
YouKnowIGotSoul: Now that you're on an independent label, is the passion for music still the same? Is the passion to pursue superstardom still the same as when you were on a major?
Daron Jones: Well for me, it was never just about a passion of pursuing superstardom. It was always really making music that made people happy. That's really what I want to do. If superstardom comes along with it, that's fine too, but first and foremost, it's about making the music that people love and the music that enhances their lives and make them happy.
YouKnowIGotSoul: I wanted to ask you about the creation of a few songs from when you were with 112. The first is "Why Can't We Get Along"
Daron Jones: I remember that we were in the studio with Sean Garrett. Sean Garrett is one of the dopest writers in the business. He wrote a lot of stuff for Usher. I think "Yeah" was a song he wrote for Usher that kind of kicked off his writing career. I just remember that. It was a great studio experience. It gets to a point with this thing where it's just like clockwork. You go in the studio, you do your job and you hope the people receive it well. You hope that it does well. It's kind of like a sport. You go to the game, you do your best and you hope your team wins.
YouKnowIGotSoul: The next is "Smile" from the "Part III" album.
Daron Jones: That was with Tim & Bob. They are great producers as well. We were in the studio with them. I really like working with them because they just have a way of bringing out excitement. They keep everybody in the studio excited where it doesn't really feel like another studio session. They have a way of keeping the artists they work with entertained. That's what really stands out with "Smile" song.
YouKnowIGotSoul: Finally, "Your Letter".
Daron Jones: "Your Letter" was written by Diane Warren. It was actually at a time when we were part of the Arista Record system back in the day. It was a good look. It was at a time when Diane was getting placements on a lot of different artists. Total had a song by her at that time, Monica did as well with "For You I Will". It was kind of like the thing to do at the time. Diane is a very talented writer. It was an honor working with her.
YouKnowIGotSoul: Along with performing, you've been involved with some of the biggest records such as Keyshia Cole's "I Should Have Cheated". Do you feel more at home producing/writing or performing?
Daron Jones: I feel at home in both places. I don't really know what I like the best. I really love to perform though. I love performing more than anything. I love writing and producing too because it's just the process of getting the record done and just that hope that people will love it. That's a driving factor for me.
YouKnowIGotSoul: Speaking of "I Should Have Cheated", I read that it was originally by Nivea. Are we ever going to get a chance to hear Nivea's version of that song?
Daron Jones: A lot of people ask me about that and I don't know. *Laughs* I thought about leaking it a couple of times, but I looked into my archives and I couldn't find it at the times that I was thinking about leaking it. A particular engineer that works for me, I know he would know exactly where it is. I don't know, I thought about it. I don't want to make anybody mad by just leaking music out without people's permission. I might not be able to do that.
YouKnowIGotSoul: Take me back to 112's debut album and what you remember most about recording that album.
Daron Jones: What I remember most is just being at Daddy's House. That was Puffy's studio. I think that's what I remember the most, just being there at Daddy's House.
YouKnowIGotSoul: Anything you'd like to add?
Daron Jones: Nope, it's all good!