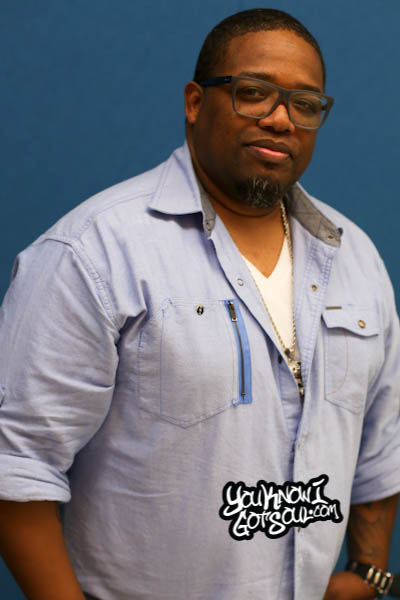 It's been a long time coming for Dave Hollister's return to recording r&b music again. He released "Real Talk" over a decade ago and went off to record Gospel music solo as well as with the United Tenors between stints of touring with Blackstreet. The awesome new single "Spend the Night" and selection of Warryn Campbell to produce the entire new album solidify the fact that he hasn't lost a step in this genre. Oh, did we mention his vocals are stronger than ever? The new album "Chicago Winds…The Saga Continues" will release next month and allow Dave Hollister to once again leave his mark on this r&b genre. YouKnowIGotSoul sat down with him during a recent promo run in NYC an discussed his decision to return to r&b again, what Warryn Campbell has helped him create sonically, how he keeps his voice in such good shape, and much more.
YouKnowIGotSoul: You've got the new album coming later this year. This is your first true r&b album in years. What can we expect this time around?
Dave Hollister: This time around is a mature Dave. Since I've been gone, I've been through a lot of changes. I've been through some finding of myself. So now the music is definitely mature but still me. Also my voice as well is a little more mature than it was back then. It's just a more mature project all the way around.
YouKnowIGotSoul: You've been doing Gospel for awhile solo as well as with the United Tenors in addition to touring with BS2. What brought you back to R&B?
Dave Hollister: I just felt like it was time, it was my time to come back. I took some time away to really find myself again and get myself together because I had lost myself. I had got lost in alcohol and drug use, specifically cocaine; I lost myself. I struggled with it based on my previous marriage that I myself single handedly messed up. In losing the one person that I thought was going to be with me forever, it kinda hurt me. That helped push me deeper into alcoholism and the start of drug use.
YouKnowIGotSoul: We were talking to Warryn Campbell recently and he talked about how excited he was to have executive produced this project. Sonically, what has he helped you create?
Dave Hollister: He's helped me find the real me. Warryn Campbell is the epitome of the student of music. He knows almost every record. He doesn't just work with anybody haphazardly, he works with people he wants to work with and he studies them. For me, it's been a long time coming because I've always wanted to work with Warryn on this side of the music. He's been on both of my Gospel projects but we've never done r&b together which is what we always wanted to do. Since we've done it this time, there will be no more records without Warryn Campbell. We're working on a partnership, me being down with My Block and the whole thing, so everything from here on out will be produced by Warryn Campbell. Even if people want to come and bring stuff to the project, it's got to come through Warryn. He's just one that I know that God brought us together like this. He started really only to do three songs, but we were like "Forget this, let's keep going!" From that moment, I was like "Forget this, we are going here forever!" When you think about all of the people with longevity and the classic albums, they all have one producer, and that's what I want to bring back. When you think of Luther [Vandross], it was Nat Adderly. When you think of Anita Baker, it was Michael Powell. When you think of Michael Jackson up until "Dangerous", it was Quincy Jones. So now when you think of Dave Hollister, you're going to know it's Warryn Campbell!
YouKnowIGotSoul: How do you plan to balance your solo career with being a part of the groups The United Tenors and BS2?
Dave Hollister: Dave Hollister is always going to be number one and the priority, period. United Tenors, we are done until it's time to do another record because we're all doing our own projects now. Brian Courtney Wilson did his in July, Fred Hammond is doing his now and about to go out on tour, and Eric Roberson just dropped his. We're all doing our separate projects right now. It might be another one in the future.
YouKnowIGotSoul: What are the creative differences in recording Gospel vs. R&B?
Dave Hollister: That's a cool question that nobody ever really asked. Because God allowed me to be me, period, I don't approach them differently at all. One thing I've always said that when I do a Gospel or inspirational record, is that God allowed me to be me. I'm a messenger, story teller and an artist. You can see what you hear when you listen to my stuff. I want to paint a picture so you can see it, not just hear it. He's allowed me to do that on both sides.
YouKnowIGotSoul: Do you think the same fans listen to both your Gospel and R&B music or is it different groups?
Dave Hollister: I don't think they are different, I think there are some that listen to the Gospel that won't admit they listen but they do. It's been evident with my records and with the United Tenors project that most of the people who they thought that I wasn't going to affect, it ended up affecting. The United Tenors went out on a four week tour and the response when Fred would call me out every night was incredible. Everybody thought they were just there to see Fred but it was amazing. I thank God that he's graced me to both successfully. When people start talking about the "Well you shouldn't be over here in Gospel"…a lot of them are just made because they can't do it!
YouKnowIGotSoul: Now the current single "Spend the Night" is making some noise at radio and people are loving it. What made this the right choice to lead with?
Dave Hollister: Basically because it's taking us back to the 90's sound. A lot of people talk about how that era was the best era when it comes to music. Me and Warryn said why not take them back there? Warryn being who Warryn is, he knew exactly how to go. We find that those are the concerts that are selling out, the 90's concerts are selling out all over the place. Every time one comes, it does big numbers. So I said "Ok, instead of me trying to go sound like everybody else, let me just do what I do and take them back to the 90's."
YouKnowIGotSoul: Vocally you're as strong as ever right now. You're known as a vocal beast, but you've been at this since the early 90's. How do you keep your vocals so powerful?
Dave Hollister: *Laughs* I've got to say the secret to that is basically God preserving my voice. I'm a very transparent person and I don't mind sharing my story with people. The amount of cocaine that I used to do, my voice should be gone. It was just God that preserved me. One of my friends in the industry, I'm not even going to be afraid to say his name, it's Jason Champion, he used to be a part of Men at Large, he called me when he heard the single and said "Man, it sounds like God just took your voice and put it in a time machine and just turned it off and waited until now to give it back!" He knows the struggles that I went through as far as that's concerned. Man, all I can do is attribute it to God because I don't do any warm-ups or vocal acrobatics. Uncle Charlie said "Man I don't know how to do all of that, I just wake up and sing. I grew up in church singing!" That's true and I wish I had that type of regimen but I don't. I wake up and if I feel horse I drink a Coca-Cola and let some acid hit it and go on about my day! *Laughs*
YouKnowIGotSoul: Tell me about some current artists you listen to. Do any catch your attention?
Dave Hollister: Um…..no. The only person whose voice I like, I don't particularly care for the music, is Chris Brown. His voice is amazing and he's an amazing talent. The boy can dance. He could be the next closest thing to Michael Jackson if he surrounds himself with the right people. Other than that, vocally nobody really I can think of right now that I really want to say.
YouKnowIGotSoul: Anything you'd like to add?
Dave Hollister: Just want to thank you for all of the years you've supported me and the people have supported me. I'm just grateful to be here. I do have friends in the industry that I listen to and talk to a lot and they are not new artists. I want to thank them for keeping me going. Tank, Musiq Soulchild, Lalah Hathaway, India Arie, Anthony Hamilton, Rahsaan Patterson, Jill Scott. Those who keep r&b moving. We're trying to keep this thing going. We don't want to shut down on who we are and what we do.