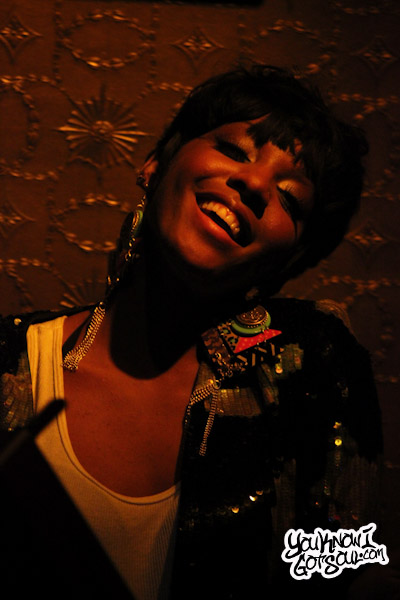 Many music fans know Dawn Richard from the group's she's been in over the past few years; first on Diddy's "Making the Band" and as a part of Danity Kane, then again with Diddy as part of Dirty Money. After parting with Dirty Money, she's embarking on a solo career that started with her first mixtape "A Tell Tale Heart" released last year. Known for being into art as well, "Armor On" on now continues the conceptual story of her alter ego NEON and is a prelude to her debut album "Goldheart" which will release next. YouKnowIGotSoul caught up with Dawn at the listening party for her EP in NYC and talked in depth about her new EP.
YouKnowIGotSoul: Your new EP "Armor On" is out now. Give us an introduction to the EP.
Dawn Richard: "Armor On" is on iTunes. I'm really excited about it. People were asking me why I said "Armor On" and they were like "Are you afraid?" I was like "No, contrary to that. I'm asking my heart to get ready for battle because we have arrived". I want them to feel like fighters. That's why this EP is aggressive, militant and tribal. I want them to feel like they can do anything. It's very danceable, but it still has a message. I really wanted to push R&B into a sound sonically.
YouKnowIGotSoul: Talk about the sound on the "EP". We're here at the listening party for the EP and we heard you definitely bringing a lot of different sounds to r&b. You also mentioned you "Chose to be me" on this EP. Discuss all of that.
Dawn Richard: Sonically, you can tell musically that R&B is the underlying heartbeat of the EP, but I think being from New Orleans, we have that sound that drives me. I wanted the percussion, kicks and snares to be the driving force of the EP. If you can listen and tell, it never stops moving. It just pushes you forward. People want to say it's techno and dance, but it's not. It's just soul. It makes you move your body in a different way. They want to call it techno because they can't stop moving and that's what trance music kind of does, but it's really more atmospheric. I think putting R&B with that sound, it makes people feel different. They don't know how to feel about it, but that's what we're supposed to as artists. We're supposed to push people without losing them, but making them feel something. I was talking to someone at the listening party and a guy was saying, "You make me emotional!" That's kind of what I wanted the EP to do sonically and I wanted to do in the message as well. I wanted people to feel something.
YouKnowIGotSoul: This EP is the prelude to your album "Goldenheart". Talk about that.
Dawn Richard: I pride myself on doing this EP, even the mixtape I did prior as a conceptual story. I always call it a musical graphic novel because I feel like I'm vividly trying to paint a picture with the sounds and words we're working with. Even when I did "A Tell Tale Heart", every song ran into each other. I wanted you to feel like you couldn't turn it off because every song told a story. The same thing happens with the EP. If you play it through, mentally it doesn't stop. You feel like you're in one big rain forest. You feel like you're really preparing. I think the EP, what I wanted to sound like was preparation. Just that you're preparing for something. If I could paint you a visual of a person putting on an armor, this would be the soundtrack of them training and getting ready to go into the world. So where "Armor On" ends, "Goldenheart" begins.
YouKnowIGotSoul: Anything you'd like to add?
Dawn Richard: Make sure you get the new EP on iTunes. Let's keep this a word of mouth. Let's put it all over the place. I know it makes you feel something and I love that people are comfortable about it. I think if you give the EP a shot, I think it'll be a classic because people will be loving this for years to come. It's something that is pushing you forward to another sound. I'm proud of what we've done.