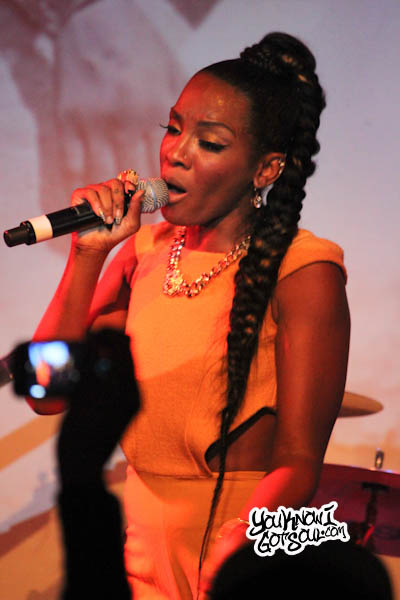 When Dawn Richard was forced to push back the release of her "Goldenheart" album until January, many of her fans who had been anxiously waiting since her "Armour On" EP were disappointed. However, the release date moving back wasn't a sign the album wasn't ready to release, it was due to the great news that Dawn had signed a distribution deal to have her album for sale in retail stores globally. This is a huge accomplishment for an independent artist who, since leaving Danity Kane and Dirty Money, has been handling her career completely on her own without label assistance. In fact, this is an opportunity that many of her independent artist peers would dream of. Now riding the wave of success that the "Armour On" EP created for her, she'll be able to reach new heights on her new album "Goldenheart". YouKnowIGotSoul caught up with Dawn following her performance after a recent show at SOBs here in NYC. We discussed with her how she secured the distribution deal, the progression of her sound, the need to constantly reintroduce and reinvent herself as an artist, and what she remembers about creating her debut album "Been Awhile".
YouKnowIGotSoul: You've been working on this "Goldenheart" project, it was actually supposed to release around now. But now you've got this distribution deal which caused you to move things back. What do you think lead to you getting the distribution deal?
Dawn Richard: I think getting this distribution deal had a lot to do with not only the EP going number one, but also the numbers of followers that we accumulated along the way. It went from 200,000 people to a million in a matter of seconds. I thought something was broken, I just couldn't believe it. It wasn't just Twitter, I'm talking about our videos, I'm talking about everything. For example, being at this show at SOBs, every song people were singing. They were there and with me and repeating those words and it means that the internet and what we've done with social media has really helped us. I think with those numbers, we became attractive to a lot of different people from labels to distribution. I'm just very picky. A lot of people tell us "no", a lot of people don't believe in us, whatever the case may be, they tend to not support. I just feel like this company not only supported, but they offered so much more. That's what I was looking for, someone to love it just as much as I did. We haven't even put out an album yet, so someone backing off of an EP is a bold move. That's more reminiscent of rappers. Like when you see Drake, he'll make a million off of a mixtape and then get a deal. Rarely in r&b do you see a female artist coming out of it and getting that much support with no background. Usually you have to present the product, put it like "This is a beautiful girl, this is the amount of money we're going to put into her outfits and wardrobe. We're going to give her the best writers and producers in the game, and that's how we're going to get a number one record." We didn't even have a record on radio when we went number one. We didn't even have a feature. We didn't have a co-sign. We're putting videos out on BET with no label! I think that's something that we're excited about and I think the distribution company was excited about that. We go into publisher's offices and they say "How are you doing this? We thought you were signed. We thought you had a deal. We thought you had a publishing deal." No, we don't!
YouKnowIGotSoul: That's definitely huge, congratulations on that.
Dawn Richard: Thank you so much.
YouKnowIGotSoul: The EP you put out, the sound was very progressive, it was like new age r&b. Do you think the sound of "Goldenheart" will be an extension of that?
Dawn Richard: Yea it is. I think you'll hear it more and more as you go. I think it's interesting even on stage on SOBs today, it's difficult for bands to follow because it changes four to five times on a record! I think that's something I'm excited about and I was upset because you always want it to be perfect and you want people to follow you. Now thinking about it, that makes me excited because we're pushing people, they can't catch it, you can't predict the next chord change. We're always trying to step our game up every time we deliver. You'll see with "Goldenheart" a continuation of "Armour On" but an evolution of it. If you check my track record, it's never been the same twice. From "Danity Kane" to "Welcome to the Dollhouse", huge transition. From "Welcome to the Dollhouse" to Dirty Money, extreme transition. From "Last Train to Paris" to "A Tell Tale Heart", totally different thing. It's never decreasing, it's always pushing you to the next level. That's me being bored. *Laughs* I don't ever want anybody to ever feel like they can mimic it, I want people to turn on the radio and say "Oh that's Dawn, I hear it, I know it, that's her sound".
YouKnowIGotSoul: You've got out the single "86" which definitely has that 80's vibe to it and that fresh type of sound you were mentioning. Talk about the creation of it.
Dawn Richard: It definitely wasn't my time, as a kid I wasn't growing up listening to Phil Collins. I had my family where my father is a musician and my brother is really educated in music. I just loved what Prince, Phil Collins, Peter Gabriel, it was so ridiculously disrespectful, it was so different. It was eerie. I felt like it was uncomfortable, it was spacey almost, it was a vibe. I wanted to create a record sonically that had that sound, but put a soulful vocal on it. When you think of Phil and Peter, they kind of lay in the record, never too much, it's always just beautifully put. I kinda wanted to push people by doing more vocals on a record that was more 80's influenced. What came out was something really beautiful and I wanted it to be naked. People had heard me and always complained about auto-tune and I wasn't really a vocalist. [On this] there is no auto-tune, no nothing, just raw vocals and lyrics.
YouKnowIGotSoul: Coming out of two groups, Danity Kane and Dirty Money, did you feel there was a need to reintroduce yourself and do you feel like you were able to do that with the EP?
Dawn Richard: I feel like I'm reintroducing myself every time I go out there! *Laughs*It's hard to persuade people these days and it seems like the more you do your best and the more you put out and you try to show people something new, they want to reject it. I really don't understand it but I think I love the challenge. I'm consistent reinventing myself and reintroducing myself to people every day. That's fine, I like it, I love you to doubt me and hate on me because it just proves that my work isn't done yet.
YouKnowIGotSoul: You had your debut album back in 2005 "Been Awhile". What do you remember most about creating the album?
Dawn Richard: Wow! *Laughs* That it was that long ago! That was a different thing. People are always like "That was your first solo album!" What people don't even know is I was on a label when that record came out so I wasn't even independent. That was me and my dad. People love that record and I don't even know why, it was the worst ever! *Laughs* I think the writing was a joke and I think that's when I felt like records like "Drowning" and "Jezebel", I was writing in the third person. I was like 16 writing those records. It was a different vibe but let's not ever bring that up again! *Laughs* Oh my God, what were we thinking!
YouKnowIGotSoul: It's always cool to here the history of where an artist comes from.
Dawn Richard: Yes, it was with my dad, he had a keyboard and even his beats came off of that. The Motif.
YouKnowIGotSoul: Anything you'd like to add?
Dawn Richard: The album comes out January 15, 2013. Go to DawnRichard.Tumblr.com. Every video, everything we have is there. We've got some great things coming for you guys, the CD will be in stores, we're going to be doing an in store signing in every city. We're going to be globally distributed. So make sure you look at the blog, DawnRichardblog.com. "86" is on iTunes, so support and just get it, it's magical and the B-side of the first single is "Riot" and that's coming next. Get excited, I think people will be pleasantly surprised if you let me into your world.