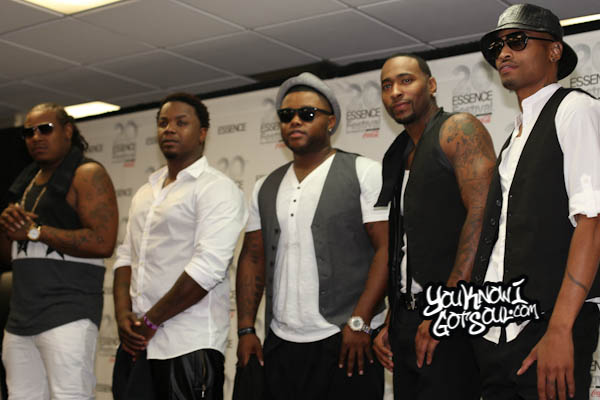 The return is official for Day26. The group has been through a lot of drama in recent years, but they're putting all of that behind them to focus on keeping their fans happy. The group's last album "Forever In A Day" came out nearly five years ago, so they're wasting no time with new music and a big tour. YouKnowIGotSoul spoke with Que, Brian, Willie, Robert and Mike about their reunion, the plans for the group and their plans to reconnect with their fans via their upcoming tour.
YouKnowIGotSoul: You guys just released the new EP "The Return". Talk about the project a little bit.
Willie: The EP is out right now. It's eight strong tracks including the single "B.S." and includes a remake of the classic Silk song "Lose Control". We did the whole thing ourselves and it's free. It's a book and an EP.
Brian: Everybody loves free stuff, so there's no excuse!
YouKnowIGotSoul: You mentioned that you guys did a cover of Silk's "Lose Control". What's the significance of that song?
Robert: The fans, man. Everything we're doing right now like the EP is for the fans. They have definitely kept us alive. We had a couple of songs that we made our own and put them up and that was the one the fans requested.
Mike: We make the women lose control. That's what we do.
YouKnowIGotSoul: I noticed you guys did a lot of the writing for this project. Why was it important for you guys to do that for this EP?
Brian: Actually with this EP, we did a lot more than just writing. We did producing, writing, engineering, graphic designs and Willie wrote the book. It was special for us because it's the first time we've been back together and also, we wanted to prove to everyone that Day26 isn't a fly by night R&B group, we're here to stay. We pretty much took this project into our own hands and I'm extremely happy with it.
Robert: It was really important because there are a lot of haters out there. We've definitely got to break those barriers. Coming from where we come from, it's not easy to go where we're trying to go. We had to kick the door down and that's why it was really important.
YouKnowIGotSoul: There were talks about a tour happening, but you guys decided to put out the EP first. Why did you guys decide to go that route?
Willie: We just wanted to give the fans new music. We can go out and sing the jams all day long, but at the end of the day, we wanted to give them something new. There's a new single and some more music for people to rock to and something to ride to right now. We've been off for five years, so we were like "Let's give them a new bounce!"
YouKnowIGotSoul: Moving forward, are you guys going to be working on a new LP?
Brian: As of right now, we're just collecting music from different writers and producers. We haven't actually sat back and really concentrated on whether or not we're going to have this album as a continuation of the EP or if we're going to start fresh. But right now, our main focus and concentration is still "The Return" which is available right now.
YouKnowIGotSoul: When can we expect you guys to go on tour?
Willie: As soon as possible.
Robert: The first thing you can expect are these videos. From that, we're going to be on tour.
Brian: In a city near you!
YouKnowIGotSoul: Anything you'd like to add?
Brian: Thank you to the fans for the support. After five years of us being hiatus, the love is still here. That's amazing. Follow the official Twitters @Day26Official and @Day26.