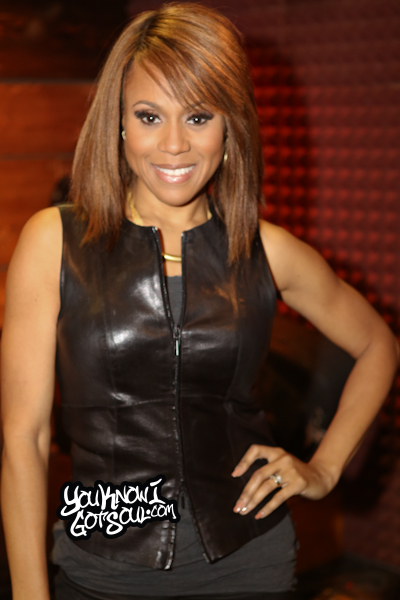 Many had been longing for new music from Deborah Cox since her last album, 2008's "The Promise". Things only intensified after her stunning performance in lending her vocals to the Whitney Houston biopic recently. As one of the under appreciated vocalists of her generation, the news that she's working on a new album for release this Summer should be celebrated by r&b lovers. After finding success acting in various Broadway productions over the past few years, Deborah Cox has returned with the new single "Kinda Miss You" and will release her album "Work of Art" in the coming months. YouKnowIGotSoul sat down with her while she was doing promo in NYC and discussed the creation of the new single and album, lending her vocals to the Whitney Houston biopic, being underrated as an artist, balancing her acting and singing careers, and much more.
YouKnowIGotSoul: You've just released your brand new single "Kinda Miss You". Talk about the creation and the impact you were looking to make.
Deborah Cox: The song was written and produced by Jessica Ashley and the Rascals. They're great, great writers. I loved the song the moment I heard it. I think it's a song that is a love song, but not such a sad love song. It's a song that talks about really missing that person that you've had a real connection with. I know we've all been through that moment in our lives at one point or another. I was really just sort of intrigued by how the song was put together. I love the way it started out slow and moved into this cool danceable beat. It's just feel good. I wanted a feel good record so that's why I decided to release this first.
YouKnowIGotSoul: You spoke about how "Kinda Miss You" is a feel good, fun, dance record. What are some of the other elements that we can look forward to on your new project?
Deborah Cox: This album is going to sort of tap into all of the different musical sides of me. You're going to have the classic Deborah, the anthem ballads that require the big voice. Then you're going to have those intimate moments with just voice and piano which I love. Then you'll have some songs that are talking about positivity and self love. Not too much of a message, but enough that you can connect to and find inspiration. I consider myself a story teller so I tell all types of stories of relationships and things that happen in them that I may not have gone through but others have. I find inspiration through that. You'll find all of that on this album "Work of Art".
YouKnowIGotSoul: Who have you had a chance to work with on this album?
Deborah Cox: I can't tell you all of that just yet! As we get closer to that, I'm still working it out, I have to put a few on the chopping block.
YouKnowIGotSoul: The last album "The Promise" was back in 2008. Do you think the success you've had in acting with Broadway has made you more patient to get back to putting out music? Was this the plan all along?
Deborah Cox: It was the plan. For me it's all about doing different projects and having different platforms to perform on. Artistically I love different types of art. I love musical theater, I love Broadway, I love recording, I love dance music, I love it all. I do what moves me. I do things that I'm passionate about. I do things that I love and have fun with. I'm finally having fun again. This has been a great process being able to write and collaborate and hearing great songs from other writers. I've just put it all into this new record and I'm very excited about people hearing it and sharing it and spreading the word.
YouKnowIGotSoul: You've formed this new partnership with Primary Wave, who have done some great things with R&B in recent years. What will it mean for your career?
Deborah Cox: The Primary Wave team has been great. We really have the same vision and for me it's always been about that. It's always been about reconnecting and having a team of people that get the vision. My vision is vast and big. In order to accomplish those things you need a really great team to do it. This is just the beginning so, I'm really excited to have a good team.
YouKnowIGotSoul: You recently provided the vocals to the Whitney Houston biopic and people have been raving about the job you did with that. What did it mean for you to be a part of that?
Deborah Cox: The movie really was a moment for me to pay homage to Whitney. It was an opportunity to really just remind people of the essence of her voice and the legacy of her music. We all miss her, her music, her physically, seeing her perform. It's wonderful to celebrate the music that she did leave us with.
YouKnowIGotSoul: Looking to the future of your career, how do you plan to balance acting vs singing?
Deborah Cox: I always say it's a juggling act. It's tough to say a balancing act only because there are always so many things going on at the same time. You literally have to just try to prioritize from day to day, not get too consumed over overwhelmed with it, but manage it the best you can. For me, it's just going to be about doing the projects that I'm passionate about. With both music and acting, I'm passionate about both of them. If there's a film or television show that requires that kind of focus and time, then that's what it's going to be. Music will always have center stage.
YouKnowIGotSoul: When talking to many r&b fans, especially many of our readers, underrated is always a term that comes up. You're a powerhouse vocalist who never seems to get the credit you deserve. When looking back at the release of your albums, there have been some gaps. Do you feel that contributes to it at all or is it something else?
Deborah Cox: I feel like for me, I do things that I'm really passionate about and that I connect with. Sometimes those projects don't come along all at once. Great things take a lot of great time and for me that's kind of what it's been. I never wanted to compromise and just do anything. It wouldn't serve my audience and it wouldn't serve me. I wouldn't feel good about it. I've always just done things that really resonate with me and if it means it's a project and then a couple of years, then that's how it works out.
YouKnowIGotSoul: A question from one of our readers, looking back at your career, is there a song or songs you've had that you felt should have been released as singles?
Deborah Cox: Yes! That's a great question. I've always felt like on my first album, "The Sound of my Tears" should have absolutely been the single. On the "One Wish" album, probably "Play Your Part" should have had a single. The duet I had with Whitney, I wish we did a video for that, "Same Script Different Cast". On "The Morning After" there were so many songs! "Starting With You" should have been, "Hurt so Much" should have been. But that's the beauty about today with social media. We get a chance to connect with our fans and audience and we can hear directly from them what they feel they want to hear. We can make it happen in an instant. It's a great time to be an artist.
YouKnowIGotSoul: Another from one of our readers, what were you listening to in your CD player growing up that inspired you?
Deborah Cox: I listened to everything. I listened to a lot of Whitney Houston, a lot of Gladys Knight, Aretha Franklin, a lot of pop music, Sting, the Eurythmics. A lot of jazz, Billie Holliday, Sarah Vaughn. Even Gospel, Cece Winans, Yolanda Adams. I've always resonated with artists that had big full voices. Some of you young'ns might have to Google a few of the names! *Laughs* It's always been a wide diverse range of music.
YouKnowIGotSoul: Do you have any plans to tour to promote the album?
Deborah Cox: Yea, a lot of people don't know but touring is actually my favorite part of the whole puzzle. The studio part is probably the most tedious. It's tough for me because there is no one to really feed off of. It's a very isolated experience. The live performance is where I have the most fun because I get the chance to exchange with the audience and see the people. I can really connect with them. I'll be announcing the dates when the album releases this summer. I'm looking forward to seeing you all in a city near you.
YouKnowIGotSoul: The music industry has changed so music, even since your last album, especially in r&b. How do you feel it will be like reintroducing yourself in this current landscape?
Deborah Cox: Wow it's changed a lot. Like I said, with change you kind of have to embrace it and use it in ways that are going to benefit you. For me, the social media part of it has really changed the game. It's been great in the sense that I've been able to really stay in touch more with my audience and I can give them what they want. If y'all want more music, I will absolutely give you more music. If you want more films, I will work on that too! *Laughs*
YouKnowIGotSoul: Anything you'd like to add?
Deborah Cox: I'd just like to say to everybody, thank you for the support. The support you've given me already, I thank you, I can't thank you enough. Look forward to releasing and sharing with you "Work of Art" this Summer.