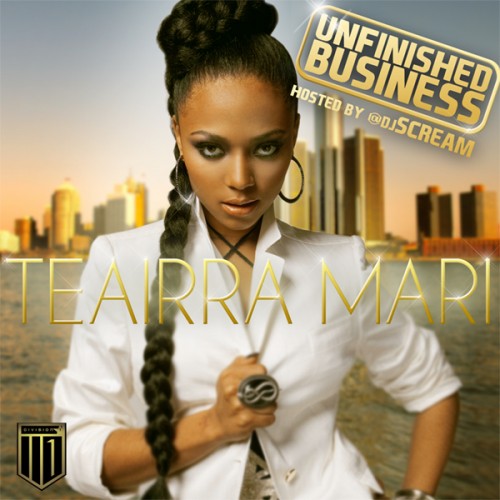 As crazy as it may sound, Teairra Mari's last official album came out in 2005. Despite that however, she has been able to develop a strong following through mixtapes and EPs. Now, as the newest member of Rico Love's Division One label, Teairra is ready to take the world by storm with her new music. YouKnowIGotSoul had a chance to speak with the songstress about her first single "U Did Dat", her upcoming album and also her experience on VH1's "Love & Hip Hop".
YouKnowIGotSoul: You've been on VH1's TV show "Love & Hip Hop". What's that experience been like so far and how do you balance that with recording music?
Teairra Mar: It's not really a balancing act. "Love & Hip Hop" isn't a job. I've been having fun with it. When me and the ladies get together, we just have a blast. That's that. We just have fun.
YouKnowIGotSoul: Recently you signed to Rico Love's Division 1 Label. What was the decision process like for you? It seemed like you and Warner had a pretty good relationship.
TM: Well, the relationship with me and Warner wasn't that great. I didn't feel like they believed in me and what I was trying to do. I asked to be released from Warner and when I got my release, Rico called and was like, "Why don't you sign to my label?" and I was like "Heck yeah". Me and Rico have a history of doing music and every song that we've ever created together, I've loved so that was a no brainer. I know we're going to create new music.
YouKnowIGotSoul: You recently released a new single entitled "U Did That". Talk to me about how that song came about.
TM: We were just in the studio having a good time. Like I said, the chemistry is just amazing between us. I knew that I wanted something that was a little Jodeci, New Jack Swing feeling. That's how it came about. I know that's the direction that I want the album to go in. It'll be like that kind of bedroom, sexy music but still with a touch of edge.
YouKnowIGotSoul: You've been labeled as "underrated" by many people. Whenever I hear your name, the first word that comes to my mind is underrated. Do you feel like this new situation for you is your time to shine?
TM: Yeah, I mean I hope and pray that it is. I've been working my butt off for years now. I actually like underrated almost because it lets you know people realize your talent and they want to see you win.
YouKnowIGotSoul: How far are you into your new album right now?
TM: We're about five songs in. I'm going to go to Miami in January and we're going to finish it up before February.
YouKnowIGotSoul: Do you have a rough guess as to when the album might come out?
TM: Rough guess I'm going to say Spring!
YouKnowIGotSoul: Are you going to be working with anyone or is Rico Love producing the entire album?
TM: Yeah, Rico is going to do the whole album which is amazing to me. It's kind of like a Jimmy Jam & Terry Lewis and Janet Jackson type of thing.
YouKnowIGotSoul: Another song you released earlier this year was "That's All Me". What was the purpose of that song?
TM: Well that was just the song when I first signed to Rico, he decided to throw it out there and shoot a video to it. Actually, Tony Neal, who is a Core DJ, put the song on his album. He's releasing an album. It was the first single off of his album. I might put it on my album as a bonus track because I really love the song.
YouKnowIGotSoul: Me too, that was one of my favorites of the year.
TM: Thank you!
YouKnowIGotSoul: Take me back to your first album and what you remember about it.
TM: I remember being so young and taking hours to record one song, taking all day to record. I just remember just being young and green when I was recording that album, but I had fun. I just remember being in the big city and big lights. I was from the Detroit, so it was all so glamorous. I was a small town girl and everything was just glamorous. I remember writing the Thank You's to the album and feeling like, "I'm on, I'm on!"
YouKnowIGotSoul: You've been recording for a while now and you've been through a lot in your career already with the whole Def Jam situation to the controversy over the "Sponsor" music video. What keeps you going?
TM: Yeah, when I come out of the studio with a great song that I'm in love with, it just brings a whole new energy to my grind and I'm like, "Okay I'm ready, let's do it!" It's like gas to my car! *Laughs*
YouKnowIGotSoul: Despite only having one official album released, you've been able to maintain a very strong fan base. How does that feel?
TM: Amazing and I know it's only because of the hard work that I've been putting in. I'm proud to say that. As long as I keep producing good music, I think it will continue to grow.
YouKnowIGotSoul: What do you think has been the key keeping that following?
TM: Probably the songs and just whether the mainstream is paying attention or not, I just keep putting out music whether it's mixtapes or just dropping a song that I did in the studio. Whatever it is, I keep putting out songs consistently, and I think that's what the key to success is all about and that's being consistent.
YouKnowIGotSoul: In the past, you've always put out a lot of mixtapes, EPs and music videos. Do you see yourself doing that next year or are you just going to focus on your album?
TM: I'm going to really focus on the album for next year. I can't say that I won't be do little mini teaser videos, but I'm definitely going to up everything. Next year will be on another level. Before, it was just grind time like "Let's just do this video and put it out". Now I'm going to put more thought into everything I do and try to create all epic things.
YouKnowIGotSoul: Anything you'd like to add?
TM: Just thank you for your time and God bless you. Thanks to all my supporters who have been supporting me. I appreciate it!
Follow Teairra Mari on Twitter @Teairra_Mari