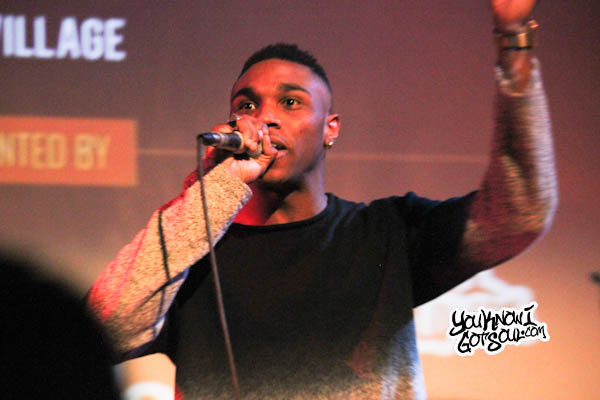 In a world where R&B is either hi-tempo dance music with no message or low-tempo blues that can put you to sleep, newcomer R&B star Dez, sets out to prove, that in this day and age, R&B can have meaning and not be boring. In fact, he brings a certain realness to his music that 90's r&b fans have been craving from new artists for years now. With the release of his debut mixtape "Real Talk", not only is he garnering plenty of buzz, but he's certainly solidified himself as the next potential superstar in r&b. The fact that he's able to effortlessly croon about subjects of real relationships and real struggles are sure to make him resonate well with r&b fans young and old. YouKnowIGotSoul sat down with the budding star and discussed the origins of his publishing deal, what he hopes listeners will get from his music, his influences, and much more.
YouKnowIGotSoul: Talk about how your deal with Universal Publishing came about originally.
Dez: It really came about when The Movement helped set it up. It just made sense for that to happen.
YouKnowIGotSoul: You released your "Real Talk" project last year. What were your major influences on the project?
Dez: Definitely 90's r&b. Definitely what's going on now, just that fusion of different genres. All of the things that we go through; the genuine and non-genuine decisions we make for love. That's kinda what "Real Talk" is.
YouKnowIGotSoul: You've got Mase on a track, how'd that come together?
Dez: That was crazy. Mase came to the studio, he heard the song and he loved it and was like "Yo, I want to get on this young boy". It was really that simple. *Laughs*
YouKnowIGotSoul: You've got a song on the project "Reality Check", that one stands out to me. Talk about it.
Dez: "Reality Check" is actually one of my favorite songs on the mixtape because it's so real. It came about when I was in a dark time and it's about how people are and even myself. I had to touch on it and I feel good about it.
YouKnowIGotSoul: Talk about your musical journey. When did you first realize you wanted to sing for a career and how has that taken you to where you are now?
Dez: I would say about 9th grade when I was like "I really want to sing". It wasn't until I got out to L.A. and a year and a half later is when it started becoming serious. That's when I linked up with The Movement and it became real serious for me.
YouKnowIGotSoul: "Real Talk" has been out a few months now. What are you looking towards next?
Dez: I'm really just working on becoming a better performing, becoming more creative, and putting out more great music. "Real Talk" has done really good so far, it's still in the beginning stages.
YouKnowIGotSoul: I've seen you on Instagram talking about your love for a dog named Billie Jean. I'm assuming you were influenced by Michael Jackson. Who else influenced you musically?
Dez: *Laughs* Usher, Marvin Gaye, New Edition, Jodeci. All of the stuff that I grew up listening to, all of 90's r&b. Even some stuff now, Kendrick Lamar.
YouKnowIGotSoul: What feeling do you want people to get when they listen to your music?
Dez: I want them to feel good, whatever feeling that is. I want them to feel whatever the record is. If it's "Reality Check" I want them to feel like "Dang", if it's "Lost One" I want them to feel sad, if it's "The Sound" for when you make love, "Can't Get Enough" to make you dance. I just want people to go through all of those different emotions.
YouKnowIGotSoul: Anything you'd like to add?
Dez: Check me out at MoveDez.com. MoveDez is my Twitter, my Instagram and my Facebook. Real Talk.