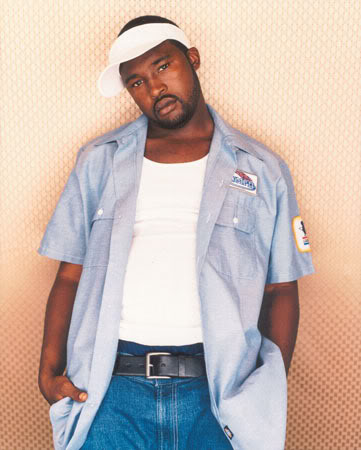 We had a chance to catch up with Digital Black of Playa to find out about the work he did with the Aaliyah project and also caught up with him to find out what he's currently working on.

YKIGS: How did you get involved with the Aaliyah project?
DB: At the time, we were being managed by her uncle Barry Hankerson and her cousin Jomo and we were also signed to their publishing company, so the relationship was already made. We hung out, so music naturally happened, just being in the studio. Also, we were always in the studio back in the day. Nowadays, you'll go in for a specific time, but back then we were locking out studios for months at a time, so the hangout spot would be the studio.
YKIGS: You wrote two songs on the project, "U Got Nerve" and "Messed Up". Can you give me background on each?
DB: Just knowing her and her character, I guess I wrote that song in a big brother prespective. You got to watch out for your little sister.
YKIGS:What was her spirit like?
DB: She was fun. Me and Static were blessed to go to prom with her, Playa went to her prom. She was family, she was our little sister. In the studio, she was like a sponge. Whatever we had to do, it was never "I don't like that" and I'm sure there were times she felt like that, but she chose to at least try it. It was just like working with a family member.
YKIGS: Can you give us the background on the song Erica Kane because I know that was a Playa song and then Aaliyah also recorded it.
DB: It was a song that, coming from the inner city, we dealt with a lot of different family members on the streets and staying out and drugs disrupting the family, so that was the concept of the song. Def Jam didn't really get it, Aaliyah knew how she felt about that song and she loved the concept of the song, so she recorded it because she felt it needed to be heard. At the time and still today, our community still goes through what drugs can do to a family. After Def Jam didn't like it, she was like "Let me have it, I'll record it."
YKIGS: Couple of other songs I want to ask you about are the ones Static worked on, were you around Static when he made "We Need a Resolution" and "More Than a Woman"?
DB: Me and Static were in the studio together 95% of the time. Maybe the last two years when I stepped away from music to work on my family, that's when I was missing in action. We were blessed to be able to tailor make songs for people and basically just knowing the person and being around the person. We know what they're thinking and what they like. "We Need a Resolution" was about relationships, a lot of songs with her about her becoming a woman and coming of age. A lot of records dealt with stuff that people actually had to go through.
YKIGS: There was another song we found called "Dancin'" with ET Selfish?
DB: That's the hook I wrote. That was a group signed to Keybeats and again, this is how Aaliyah was. If she messed with you, she messed with you. She didn't really mess with anybody else out of the circle, so if you were part of the circle, she didn't only want to see herself blow up. She was trying to do as much as she could for everyone in the camp. That's how "I Don't Think They Know" came about.
YKIGS: Let us know what you're up to.
DB: I'll keep you posted. I have some stuff going right now. I have my gospel project right now which is doing really well. We just did Bobby Jones gospel last weekend, so we got some stuff moving. I'm in the process of maybe working on a new Digital Black album. It's basically going to be a ballad album, I'm not so sure if I'm going to do it, but if I do it, it's going to be a relationship album.