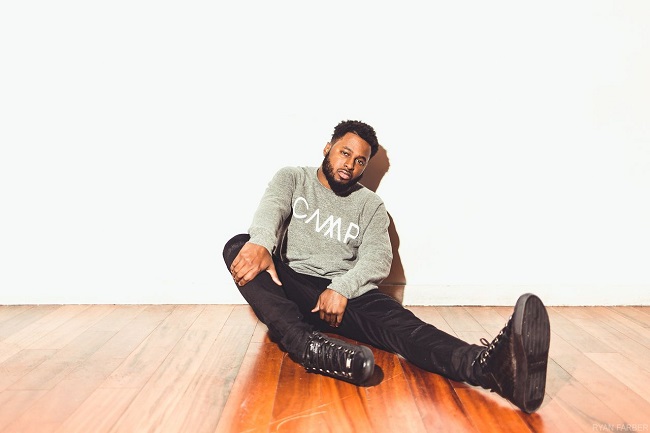 DJ Camper has been making a huge impact on R&B for the last few years. Aside from the massive Tamar Braxton single "Love & War" which ended up being nominated at the Grammy's, his music can be found on most of the bigger R&B albums that have come out recently for artists like Keyshia Cole, John Legend and Chrisette Michele. His tag "Hey DJ" is now one of the most recognized and ironically enough, he is the one saying "Hey" and making listeners pay attention to his music. YouKnowIGotSoul had a chance to speak with the super producer about his journey in the music industry, his Grammy nominations, his creative process and his upcoming work with Ne-Yo and Mariah Carey.
YouKnowIGotSoul: You were nominated for 6 categories at the Grammy's. How big was that for you especially since it's so early in your career?
DJ Camper: It was truly a blessing. Obviously I'm not done yet and I have other things to do, but at this point in my career where I'm 23, a lot of people aren't fortunate to be there at 40 or even their life. I recognize that and all the credit goes to God for that. It's truly a blessing. I know that I still have a lot of work to do, so I'm excited but I don't get too excited because I still have to stay focused on the path of where I need to be and where I'm heading.
YouKnowIGotSoul: Take me back to your beginnings and how you got into producing.
DJ Camper: I began to play the piano at 6. I hated it at first, but I grew to love it at 13. I started taking producing seriously around 15 and I got my first placement on Bow Wow and Omarion's "Face Off" album. The song was called "Hood Star". Growing up, I was still green to the whole industry, so my partner was doing everything at that time. Then I got a manager and I started to network with other people. One thing led to another and I started branching out on my own. One thing led to another and here I am now. It's a great journey.
YouKnowIGotSoul: You've quickly transitioned from the guy who had some album cuts to the guy having singles. Talk about how you were able to transition so quickly into that.
DJ Camper: I don't know. I guess it was the plan. Evidently, I know what I'm worth and I know what I have to offer. As soon as I had the opportunity to shine, I made sure I did that to the highest point. Like having album cuts was cool and it was great. I got a couple of checks, so that was perfect. At the same time, I know I have more to offer. I know I can change these artists' lives and I have music that can live on. I know I can make an impact on an album. I know my songs can be the title of the whole album. I knew I had more in store for myself and having that goal like "As soon as I get that opportunity and that door cracks, I'm going to kick it open and walk in. I'm going to own the house." As soon as I got that opportunity, I made sure that plan was fulfilled.
YouKnowIGotSoul: Who are some people who believed in your talent from your early beginnings? I know the hardest part about producing is getting that first placement.
DJ Camper: My hero and my biggest fan known to man was my father. When I would get discouraged, depressed or sad because I didn't get on an album or whatever, he always made sure I pushed. He always made sure to let me know that he's not going anywhere and he's my biggest fan. That kind of encouraged me to keep going on and someday, I would breakthrough. I could name a producer, artist or a songwriter that helped, but none of them compared to how my father was for me as far as encouragement, support and all of that stuff. He passed away a couple of years ago. Now it's okay, but at the end of the day, it's still something you still miss. My father was somebody that would never go away, so definitely there's a hole there. At the end of the day, he was the person out of all people that was there for me and I just know that if he would see me now, he would be so proud of me. I know that everything I do for him now will be for him.
YouKnowIGotSoul: Take us through your creative process. You seem to incorporate a lot of live instruments in your music.
DJ Camper: I'm a drummer. I love the drums and I love the bass to be heartfelt. Synths and stuff like that are cool and all that electronical stuff, but I really want to get to your heart. Yeah, I can make you dance or twerk, but at the same time, I ultimately want you to feel or think about a good time with your family. I want you think about love or something that's worth thinking about. Incorporating real sounds, live instrumentation and organic sounds, that's what I love to incorporate the most. I just go through my browser of sounds and I just pick something that is abnormally beautiful. Even if there is a vocal, I will just work my way around that and I'll add some drums to it or be at the piano and start there. I'll put some chords down and put some drums to it. I just want to put something that other people wouldn't expect to put in a record and even if it doesn't make sense, it'll make sense to me and it'll then make sense to whoever I'm working with. I guess that makes me stand out. The fact that I can actually play an instrument instead of just knowing how to play a beat that loops for 4 minutes straight with no changes, I feel like I have the upper hand on some people who just do that versus playing with chords and bridges.
YouKnowIGotSoul: I know when "Love & War" and "Trust & Believe" came out, there was a lot of criticism from people who thought that they sounded alike. We always tell people to check out your whole body of work though. Do you think you have a signature sound or are you happy being versatile and having different sounds?
DJ Camper: I love being versatile and I love having that versatility that distinguishes me from just the guy made "Love & War" or the guy that made "Fire" for Big Sean. I can turn around and do "Somewhere in America" for Jay-Z and doing "Shattered" by Backstreet Boys. When "Trust & Believe" came out, Tamar's people kind of wanted a record like that with that same feel. "Trust & Believe" was my first single on my own. I did some other records like "Refill" by Elle Varner which were co-productions, which means it wasn't by myself. "Trust & Believe" was my first and really counted for me because it was only me. I was like "Okay, that's great. Now I have people that are requesting something like that, so let me give them something like that but switch it up a little bit." I wanted to keep it in that lane because it could be my sound for myself. A lot of people would remember me for that. That's how "Love & War" came about. Unfortunately, it did better than the Keyshia Cole record. Sometimes that happens and Tamar was pleased. That song was nominated for 4 Grammy's this year. Great things came out of that and I'm definitely proud of that record. I'm proud of "Trust & Believe" and I'm proud of everything I've done in my career. It's definitely great. Now I feel like I do have a sound now and I do feel like people are learning my brand and my music and understanding what I have to offer now. Great things are coming and I'm just truly excited for that.
YouKnowIGotSoul: One of the new songs that you just did is "New Love" by Ne-Yo. How did that song come about?
DJ Camper: Ne-Yo and I are like the best of friends. We're like peas and carrots. He's a dear friend to me. We were in the studio working and funny story is that right after he wrapped up his last album, he was quickly working on a new one right after that. I know he's a real R&B guy, so when I first met him, I played him some songs and I was like "What should I play him?" I met him for the first time and playing him songs and he's going crazy. He was like "Where were you when I did my last album?!" I was laughing, but it was crazy that he gravitated to my music so quickly. It showed me that I was doing what I supposed to do and that I was on the right path. I wish I was there for his latest album, but we've been working since then on the next album. The "New Love" song was supposed to be for the album, but he called me and was like "It's Valentine's Day. I feel like we should put this out and give my fans something. I haven't put anything out in a while, so I want to do this. Is it cool for me to do it?" I was like "Yeah, it's cool. I trust you." That was supposed to be for the new album. However, we have a lot of songs coming out on the new album. We've done a lot together, so I'm excited for that. For him to put that out on Valentine's day doesn't really hurt me because it's just a sneak peek of what's going to happen on his upcoming album.
YouKnowIGotSoul: I also read that you did a song on Mariah Carey's upcoming album?
DJ Camper: Yep, me and Mariah definitely did something really special. I did that song with Hit-Boy too and Nas is featured on it. It's going to be crazy. The song is called "Dedication". I definitely had an overwhelming excitement putting piece together for her. I didn't know it was going to be for her, but I got the call that said "Yeah, Mariah Carey picked it. She wants it." I was like "Okay, she's a legend and I love her. Let's do it!" I'm very excited for everyone to hear that. That album is coming soon, so stay tuned for that.
YouKnowIGotSoul: You've mentioned co-producing with other producers. How important is that for you? I know a lot of producers don't like working with other producers.
DJ Camper: When it makes sense, it makes sense. But because you are your own person and if you want to be your own person in the industry, you would try to stay away from that. If you want to fit in, roll with the punches and you don't have lot going on for yourself individually, it's like "Okay, I'll just live as a co-producer." That's not my testimony though. When I was coming up, people weren't respecting me like "Oh he's a key player" rather than "he's a keyboard player or piano player". I didn't want to be that. Every time I would hear that, I would cringe because I know that I have more to offer and I know that's just not me. I know how to produce a song, make a beat and on top of that, I know how to play the piano. A lot of people can't do that. I'm not saying I'm better than anybody, but I know what I'm capable of. I'm going to give you all that I've got and you can't deny it. You'll be crazy if you would deny it. To each its own though. I have producer friends and sometimes they will say "Let's just work." I'll just be like "Cool" but I don't make a habit of it. Most of the times, I do it off the strength of friendship like Tommy Brown. I come from New Jersey, so every time I go to LA, I'm seeing Tommy Brown. We'll go to the studio and talk about whatever and then I'll just chill at the piano for a little bit. Next thing you know, we're making beats. But it's not like "Yeah we're going to team up on this for James Brown". I mean if that ever happens, I'm going to go home and do it myself unless it made sense. But it's always for me and if it makes sense for me to co-produce with somebody else, then I'll do it. I'm cool with Tommy Brown and also Hit-Boy. Again though, I'm not going to make a habit out of people that I collaborate with because I don't want that label. At the same time, all my friends respect me as a producer too and they'll see what I'm doing. They hear my work everywhere and they have to respect it. Outside of my friends, if a random producer calls me and asks if I want to collaborate with them on a Whitney Houston project, I'll be like "No because I don't know you and if you're working on Whitney Houston, I'm going to hang up the phone and I'm going to get to work and get on that project. I'm going to give them "Love & War". I'm not going to bank on somebody else knowing that I have the repertoire and the stature. I can do it.
YouKnowIGotSoul: Now that you're getting more placements and a lot of labels are calling on you, have you found yourself to be more selective as far as who you want to work with?
DJ Camper: Absolutely. When you first start out, it's like "I need to work" and it's all about placements and singles. It's like you're working around the clock and you almost can't take a break until you get to where you need to get. It's like there's no time for sleep. There were times when I was in Atlanta where I would go to sleep at 6 AM. I would go to the studio at 12 noon and I wouldn't leave until 5 or 6 in the morning, but at the end of the day, just because you're working that hard does not mean it's smart. That was a question I was dealing with. At start, it was like back to back sessions. When I first started out, people didn't know who I was. I made myself known, but I wasn't getting a million dollar publishing deal. Now, because of where I am now, it's like a lot of work there to be done, but you're working smarter versus working harder. I'm not going around chasing every project. I'm letting my work maneuver itself where it needs to be. I have a song on Chris Brown's album coming out in May. I was on Ledisi's project and I got the title of her album. I've been locked in with Ne-Yo for a while now. I'd rather have 4 or 5 songs on a Ne-Yo album than to have a song on an indie project that's going to be sitting or a new artist that's never coming out. I have had that too and I feel like that was wasting my time. I'm just locking in with people that are guaranteed to come out and just building relationships too. If you build a relationship with a John Legend, Ne-Yo, Chris Brown or Big Sean, then it's more than the music. When it's more than the music, people will call you and check how you're doing as a person. Then when it's time to make the music, they're calling you because they trust you and they make you feel a friendship with them outside of the music, so when it's time to make music, it's not like "I have to make sure I don't say the wrong thing with them in the studio". You have a bond with them now which makes the music come easier and you're more comfortable with whoever you're in the room with. It's just better way that way and there's a greater chance you're on that album. I'd rather have a relationship with somebody like Ne-Yo because we're friends. Let's say he loves about 6 songs that I've done and they all make the album and I'm the one that did it by myself rather than co-producing those songs and being everywhere, I just feel like it's a bunch of foolishness going on if you're everywhere instead of being in one spot. I feel like that's working harder than working smarter. I'm all about strategy and being strategic when it comes to my career. At this point, it's nothing but power moves now. I'm not chasing checks anymore. I don't need to do that anymore. What it is now, is setting yourself up to make the biggest investment of your life or to make the biggest play in your life. Once you make that play, you can double what you made in that play until a different play instead of you just being everywhere. I don't want to do that anymore. I think that's maturity and growth. Without that, I would still be DJ Camper trying to get a placement and working with this one and that one.
YouKnowIGotSoul: You're working with Ne-Yo on his new project. Sonically speaking, will it be similar to "New Love"?
DJ Camper: I haven't been so excited in a while, but this album is going to be very special. We've been doing some amazing stuff. The fact that I sat and I listened to Ne-Yo's albums before, I was like "If I ever get a chance to meet Ne-Yo, I'm going to give him what he needs". The fact that the opportunity came and presented itself, it's beautiful because I knew what I could give him and I'm giving him exactly what I knew I could and he's accepting it better than I thought he would. It's going to be great music. He's going to win a lot of Grammy's and a lot of people are going to be walking in the park and holding hands listening to this music. I would be cliché to say "Yeah babies are going to be made" but it's going to be a whole bunch of roundtable dinners with the family. You can put "New Love" at Thanksgiving and it's a lot of that. It's a lot of love. That's all he talks about and that's my music to express. I want my music to be accepted and I just feel like this is going Ne-Yo's "Confessions" album. This is going to be the album of albums for Ne-Yo. I plan to stick around for a very long time and if he puts out another album after he puts out this one, I expect to do that one too. If we ever talk again, I'm going to tell you the same thing again. He'll probably put about 12 or 13 songs on this album, but we can turn around and do this all day long. It's more than 13 songs. We could do 100 songs like this and it's just fun. When it fits, it fits. It just works. It's just like hanging out with a girl you like and then you're like "I had a great time with you tonight" and she's like "Let's do it again". That's what Ne-Yo and I have. We have this chemistry that's easy. I'm glad we met. It's just great music coming your way.
YouKnowIGotSoul: You've worked with so many great artists. How do you kind of separate what you give one artist versus another?
DJ Camper: Sometimes organically where it's thought out like "Ne-Yo doesn't have an up-tempo record? I'm going to give him that". I always try to go in there prepared and play them a whole bunch of things before we even get started. When you're in the studio, people love to start from scratch and then they'll create like that. But I try to be so prepared that all I have to do is play songs. I always set my sessions like this: I'll play a few things and if they don't like them, we'll go from scratch and work like that. For whatever reason, when I start playing some stuff, it's like they want that and I don't have to work. Because I'm prepared, I'll just play from my laptop and they'll be like "Let's load it up and go". I can just sit there and just watch Ne-Yo write something incredible or watch Big Sean give you the craziest verse ever. I can watch Tamar Braxton be a diva and watch her crack me up the whole session. It's just fun. Has every time been like that? No. I mean sometimes I have to create from scratch. Nine times out of ten, I don't have to do that. If I did have to do that, that's cool too because I love doing that too. It's just great. I love the session and I love to be in the room with these artists. They're a bunch of fun and they make me laugh. It just reminds me of how great of a job that I'm doing and it's encouraging me to keep going knowing how they accept me. It's love and I greatly appreciate every artist that I've worked with or that I'm working with. It's a blessing at the end of that day.