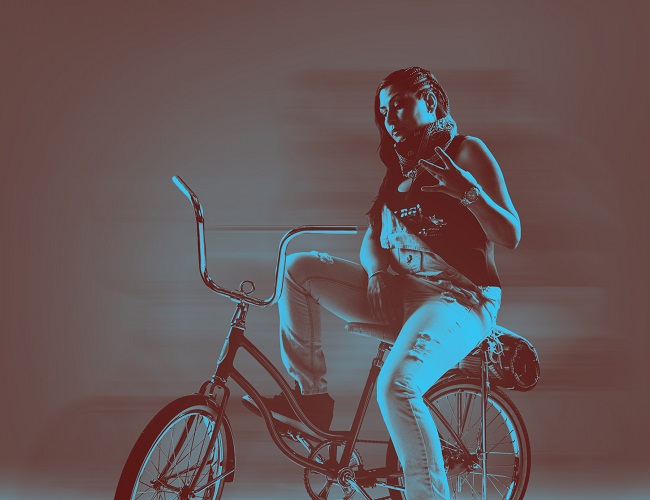 As one of the leaders of the Young California movement, DJ Carisma has been able to bring provide a platform for the next generation of artists from the West Coast. This has proven to be effective as the likes of DJ Mustard, Ty Dolla Sign and YG have been dominating Urban radio stations all over the US with their sound recently. Carisma has also provided an opportunity for R&B artists to get spins on the radio during a downtime for the genre via her Cookie Jar radio show. Now she's putting all the pieces to the puzzle together as she prepares for the release of her upcoming album. YouKnowIGotSoul had a chance to talk to DJ Carisma about her upcoming album, her thoughts on R&B right now and the future for West Coast music.
YouKnowIGotSoul: Talk about the single you just put "Anyway" and how it came about.
DJ Carisma: "Anyway" is my first official single featuring Tory Lanez, Sage the Gemini, Eric Bellinger and Mishon. The song was produced by League of Starz. It all started about a year ago when I decided I was going to make an album. I got with some West Coast producers and League of Starz was one of them. The beat he gave me was crazy, so I was like "This is the one right here!". I wanted to keep it more on the R&B tip instead of going too Hip Hop, so I sought out Tory and Eric and we put it together.
YouKnowIGotSoul: This will lead up to your album, so introduce us to the project.
DJ Carisma: This is the first of fourteen tracks that I've got. They're all compilation songs. It's coming out in the fall and it's going to be called "DJ Carisma Presents" and I have a lot of people on here like Sage, Ty Dolla Sign, Wiz, YG and Mustard. I have a lot of newcomers too like Sha Sha Jones, Rayven Justice and Tory Lanez. It's a real feel good project, there's a lot of Hip Hop and R&B.
YouKnowIGotSoul: What kind of expectations do you have for this project?
DJ Carisma: I don't know what my expectation is because it's my first time doing it, but so far the response to the single has been amazing. The love I'm getting from fellow DJs and artists supporting me, it's just crazy. I have a feeling it's going to do really well.
YouKnowIGotSoul: You're part of the whole Young California movement that's going on. Talk about that concept.
DJ Carisma: Basically me and DJ Amen came together. We were both recognized for breaking our local artists, so we just teamed up and we wanted to create Young California to show unity between our artists, DJs and we wanted to give a platform to all of our younger newcomers to get some exposure. We ended up adding on other DJs and they ended up being other radio DJs for almost every single market all the way down California.
YouKnowIGotSoul: How important is that unity as far as artists and DJs? I think we see it a lot in the South, but not so much on the West Coast until recently.
DJ Carisma: I think we were that missing link. I remember five years ago, people were telling me "This West Coast sound isn't going to go anywhere", but now you listen to radio stations and you hear nothing but West Coast records. I think we made our statement for sure.
YouKnowIGotSoul: One of the people that you brought up is DJ Mustard and now we hear his beats everywhere. How did you know that sound was going to work on radio?
DJ Carisma: I didn't know, I was just a fan of it. I just fought for music that I was a fan of and I ended up being right. *Laughs*
YouKnowIGotSoul: What's the process for you, as a DJ, to be in tune with everything that's going on?
DJ Carisma: The most important thing is to stay in tune with the youth like the kids and the high school kids. They are the trendsetters and they will always be the trendsetters. That's something I figured out from working the street team. I was always connected to the colleges and high schools and they were the ones who helped me see all this music. I just took what they were listening to and took it to radio. It wasn't easy, but once the higher powers saw the street movements that were going on and that these kids were getting millions of hits on YouTube and stuff, we added support. I'm glad we support now because it's everywhere now.
YouKnowIGotSoul: What's the importance of radio nowadays since there are so many different outlets such as YouTube and Soundcloud now?
DJ Carisma: I still think radio is very important. We're free and we get to touch everyone when you're in the car. The average person doesn't yet have satellite in their car, so they still listen to the radio. We have the power to really help break these artists, so we're very key. Once we start supporting our own, you see what happens.
YouKnowIGotSoul: You have the power to introduce people to music. As a DJ, are you telling people what to listen to or are the listeners telling you what to play? What's the balance like?
DJ Carisma: I think it's a little bit of both. There are songs that people put me up on and I try not to be a stubborn DJ like "If this many people are asking me for the song, let's play it". At the same time, I'm very on my music game. I'm online every morning looking at the blogs and seeing what the trends are. I do introduce a lot of music to people and some songs they like, some they don't. I think it's 50/50.
YouKnowIGotSoul: You also have the Cookie Jar radio show right now where you play strictly R&B. What's the importance of R&B to you?
DJ Carisma: I'm a big R&B fan. I feel like for awhile, R&B as a genre was really lacking. It became too Pop and it really lost that good old' 90's R&B head bob where R&B was really tying into Hip Hop. I really wanted to highlight those songs because being in LA, there's no real station that plays any of these artists. I just wanted to give these artists an outlet and give you a full hour of artists you've probably never heard of before, but they're really doing things. And it's all R&B music.
YouKnowIGotSoul: It seems to be a struggle for R&B songs to get spins on the radio. Do you think it's just the sign of the times or is the material lacking quality?
DJ Carisma: I think the artists that were the new ones and that really captured the new feel weren't getting enough shine, but now they are. Look at Ty Dolla Sign, Tinashe, TeeFlii and August Alsina. These guys were making real good R&B and now it's getting played on the radio. They're starting to get it and they got the formula. Then you have people like me who can give them that platform to show their formula. I think it's working and I think there's a whole bunch of artists like that that are about to come out and blow the world away.
YouKnowIGotSoul: A lot of people have claimed that this new music isn't real R&B because it doesn't follow the same format as the traditional R&B sound.
DJ Carisma: How could you say it's not R&B? It trips me out. Rhythm and Blues is singing over good ass instrumentals. It's still R&B. They talk about the same thing, but music always changes. You've got to spice it up, but it's still true to the R&B roots. If you go back and listen to old stuff, they're talking about the same stuff these guys talk about, but maybe they're just a little more vulgar with it. As far as the music of it, it's still the same.
YouKnowIGotSoul: What kind of music influenced you growing up?
DJ Carisma: Erykah Badu, Aaliyah, 2Pac, A Tribe Called Quest, Nas, Snoop Dogg, En Vogue, SWV, Xscape and Total. That's the music that influenced me.
YouKnowIGotSoul: Will we hear that influence on your album?
DJ Carisma: I feel that I captured that 90's sound. It's real confident and I'm bringing back those bad girls like Total. I feel like my album represents that. It makes you feel like you're bad and you're ready to take over the world.
YouKnowIGotSoul: Anything you'd like to add?
DJ Carisma: Shout out to Young California, Power 106, RPM Music and Abby De La Rosa who is the host of the Cookie Jar show.