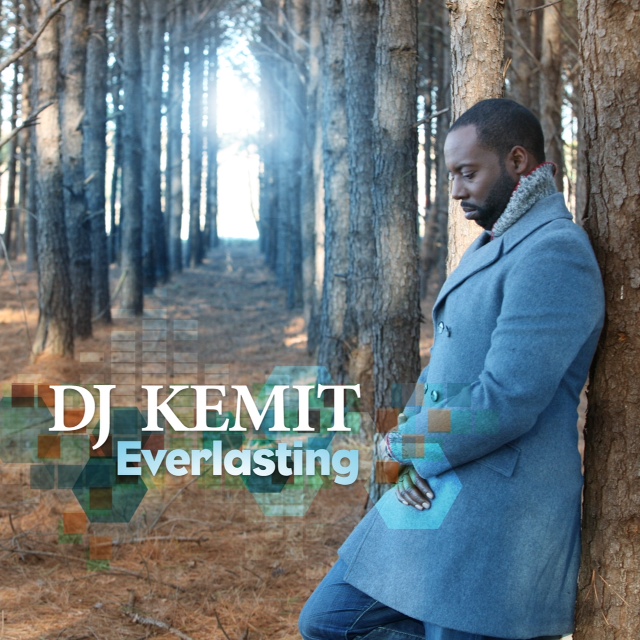 When he broke into the industry in the early 90's, DJ Kemit became an important part of the success of well known hip hop group Arrested Development. After leaving the group, he continued DJing as a guest for household names such as Prince, Janet Jackson, Steve Harvey, Jane Fonda, Jermaine Dupri and Bryan Michael Cox. But all of that is just one half of the story. As a producer, Kemit finds a way to draw even more emotion from already heart-touching songs, or bump just enough bounce into surprising dancefloor steppers. His most recent hit was as producer and co-writer on "4Evermore," Anthony David's single that landed at No. 1 on the Billboard Urban Adult Contemporary charts. In all, he represents the collaborative, creative and conscious soul of music. And to him, if it's good, it's all soul music. YouKnowIGotSoul caught up with him and discussed what to expect on his new album "Everlasting", being the CEO of Kemit Muzik, his word as a DJ over the past 2 decades, what he learned in Arrested Development, and much more.
YouKnowIGotSoul: Talk about your new album "Everlasting" and what we can expect on there.
DJ Kemit: 'Everlasting' is 14 soulful songs made with the help of my friends and favorite vocalist in the business right now. You can expect to enjoy music from cross genres. Be it soul, funk, rock, hip hop, deep soulful house with a touch of jazz. This album is the true representation of DJ Kemit. This is the music that moves me and keeps me excited about living. I has only fair for me to share it with the world.
YouKnowIGotSoul: Talk about some of the collaborations you have on the project.
DJ Kemit: Let's begin with Carl McIntosh of Loose Ends. Carl appears on the song "Digital Love". I have Jean Baylor from Zhane who does an amazing job on the song "Never Go Away". House sensation Osunlade blessed me with his vocals on he song entitled "Transform". Along with Lady Alma Horton from Philadelphia who blew the roof of the club with her song 'You Don't Know". The Seattle soul siren Choklate appears on the song "Releasing" and these are just some of the goodies you will find on my latest album 'Everlasting".
YouKnowIGotSoul: After all of your achievements to date, what do you hope to accomplish with this album?
DJ Kemit: With my latest album 'Everlasting' I hope to bring true soul music (in all it's forms) back to the attention of record industry. Show the top level decision makers that soul music as a respected art form that can generate as much if not more money than the other genres of music we see being mass marketed to the consumer. I want my album to help launch a movement that helps real soulful music reach the top of the charts again in a manner that the artist are/can be respected and looked up to as role models for future artist that aspire to have a career in music. Oh, it is also very important that my album 'Everlasting' makes people dance and puts an everlasting smile on their face.
YouKnowIGotSoul: What are your responsibilities in being CEO of Kemit Muzik?
DJ Kemit: The responsibilities include the overseeing and execution of all administrative duties for the label. Delegation of duties to my team which consist of my attorney, my accountant, photographers, graphic artists and videographers. My manager keeps me on top of all my tasks and books all my gigs and handles my calendar. I oversee all aspects of production, recording, mix down, engineering, marketing, promotion and publicity of the project(s). I am in constant contact with the distribution company. And these are just preliminary tasks that I deal with on a weekly basis. At times it looks overwhelming, but I revel in the fact that I own my masters.
YouKnowIGotSoul: Talk about the journey to becoming one of Atlanta's best DJs over the past 20 years.
DJ Kemit: The journey began in 1981 with the purchase of my 1st 12 inch record which was 'Planet Rock' on the Tommy Boy Label. Jump forward 11 years and you will find me on the road with Arrested Development as their production manager and I would open up their shows by DJing before they hit the stage. This is how I honed my skill for playing for crowds overseas. I then became a member of the group Arrested Developmnet and toured the world a second time and played to audiences in South Africa, Australia, Japan and Europe. After my departure from Arrested Development I locked into the soul, hip hop and house scene in the Atlanta. I then started the group Kemetic just along with Justin Chapman aka Just-One which increased my profile as a producer of soulful house music overseas as well as here in the states. As well as producing remixes and original composition for various hip hop, soul and house artist maintained my influence and presence in the city. I was also voted top DJ in the city of Atlanta by the Creative Loafing newspaper 2001 and 2010. In 2011 I co-wrote and produced the Anthony David song "4evermore" which reached No.1 on the Billboard Urban Alternative Charts. Now with the release of my album 'Everlasting' I hope this again energizes my battery. I have been blessed by being able to play for virtually every type of crown and this is how is have been able to recreate myself and stay fresh in the city.
YouKnowIGotSoul: What do you remember most about being part of Arrested Development?
DJ Kemit: I remember all the duties I had as the production manager. All that I learned while on the road and the wealth of knowledge from veteran tour bus drivers and road managers for mega rock bands of what the business was really made up of and so on. What I remember the most was meeting Nelson Mandela in South Africa during the Soweto Day Celebration just months after his release from prison. That is forever ingrained in my memory.
YouKnowIGotSoul: What would you say you learned most about being a part of the group that would help you later on in your career?
DJ Kemit: I learned to look out for myself and make sure I have all my business taken care of. In the business of music many people make their success from others who are less informed. So I learned to always take care of business first and have fun afterwards.
YouKnowIGotSoul: Talk about the creation of Anthony David's "4Evermore".
DJ Kemit: The song "4evermore" was created by myself for a project Anthony David & Eric Roberson were working on. It was a hip hop project where they were rapping. The next thing I knew Anthony had written the tune with the help of Algebra Blessett and Phonte of The Foreign Exchange. That was in 2010 a year later Anthony landed his deal with Purpose Records. All I remember was within a few months, Michael Baisden, Tom Joyner and Steve Harvey were playing the song and that's all she wrote.
YouKnowIGotSoul: What artists would you like to work with that you haven't got a chance to?
DJ Kemit: I want to work with Herbie Hancock, Stevie Wonder, Diane Reeves, Chaka Khan, Ramsey Lewis, Roy Ayers. This is the short list, but you get the idea. I would love to work with those individuals who are still living that inspired me the most.
YouKnowIGotSoul: It is fascinating that you collaborated with Osunlade, another talented dj/producer. How did that come about?
DJ Kemit: Osunlade and I have been friends since the mid 90's. I have had the pleasure of watching him grow into the force that he is now. Over the years we have always been in touch and it was only natural for me to ask him to be a part of my album "Everlasting'.
YouKnowIGotSoul: How did you meet Jean Baylor and Carl McIntosh?
DJ Kemit: I met Jean Baylor back in 1995/1996.At a concert that I believe was in North Carolina at one of the Universities. Zhane was opening for Arrested Development It was a brief encounter, but I do remember Jean being very cordial and sweet. We reconnected again in Atlanta at my house. A mutual friend put us together and Jean and her husband Marcus came over to the house and we chilled and talked for hours. It was that day that we all knew we would be working together in some capacity in the near future.
Carl McIntosh and I have known one another since 1998. We 1st met in London through a mutual acquaintance. Carl then came to the states for a month in 1999 and we recorded a slew of songs with a live ensemble and we did a handful of programmed songs too. That experience taught me a lot about song composition. And Carl showed me that when it comes to production that less is more. I learned from Carl how to construct songs that are soulful and funky yet leave space for the vocalist to do his/her thing. Carl is a really good dude and has more talent than he can work with. Carl is one of those dudes that can do anything he sets his mind to. Sometimes a perfectionist, but always a master at his craft.