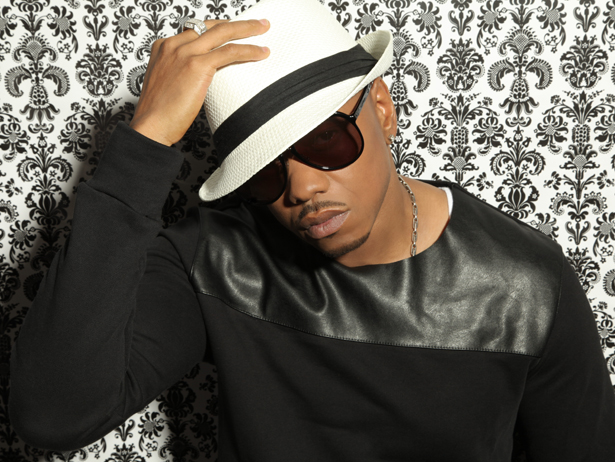 If you took a survey of male r&b fans and asked them for their favorite singer over the years, there's a good chance many would respond with Donell Jones; and there's good reason for that. You see, few artists have been able to bring us real life situations from a man's perspective and tell it in such a way that we can relate to full albums. That's what the essence of r&b is all about, something you can feel, and Donell has brought us that consistently on each albums since the mid 90's. He brings just that once again on his new album "Forever", his 7th album since his debut in 1996. YouKnowIGotSoul sat down with him after a recent performance in NYC and discussed the new album, his writing and creative process, making his music so relatable, changes in the music industry over the years, and much more.
YouKnowIGotSoul: The new album "Forever" is out now. Give us an introduction to it.
Donell Jones: The new album is one of those albums you can put on and let play from beginning to end. Going into creating this album, I just wanted to make songs that mean something. My previous album was more about cheating and that aspect of love, so I just wanted to do a love album, something that lovers of the world can play and make love to. Just one of those feel good albums.
YouKnowIGotSoul: I noticed on the album you've got the classic Donell sound mixed with some experimenting into new sounds. Was that what you were going for?
Donell Jones: It was definitely what I was going for. I wanted to try to incorporate what's going on today but also keep the same elements of what I've done in the past. I feel like I accomplished that.
YouKnowIGotSoul: You still do the writing for yourself. What inspires you as a writer at this point in your career?
Donell Jones: Just everyday life. My personal experiences, things I've been through in the life. This album "Forever" is truly what I'm doing right now in my life. I'm in a relationship, I love the woman that I'm with, so that's where I'm at.
YouKnowIGotSoul: You write, you produce, you've got your own studio. So what's the creative process like for you when you go into your studio and create?
Donell Jones: You know what, it's funny you ask that because I really can't say I have a creative process. I just go in the studio, and whatever happens, happens. I'm amazed at what comes out. I really can't say I have a process; sometimes I'll be in the car and an idea will just pop in my head. Sometimes I'm in the studio, sometimes I'm in an airplane, ideas just come. I always say it comes from upstairs.
YouKnowIGotSoul: Over the past few albums I've noticed you haven't been doing many collaborations like we've seen from you in the past. Is that by design or just how it's worked out?
Donell Jones: It's by design. Sometimes I feel like when you have a lot of artists on your album, it tends to sound like a compilation album instead of your album. On the remixes, I'm all for bringing everybody in and putting it down, but on my album I like to keep it just myself.
YouKnowIGotSoul: So this album once again was released through Candyman Music and eOne Music. Is this a good spot for you as opposed to being on a major label?
Donell Jones: Honestly, I it is because I have a say in my career. I get a chance to pick what songs I want to come out and not only that, as a business man, I feel like I write the songs, sing them, produce them, so why shouldn't I have ownership of them? So it was a natural progression for me to move forward in my career this way.
YouKnowIGotSoul: Mainstream radio and TV aren't supporting artists like yourself like they once were. What's it like trying to get exposure like you deserve?
Donell Jones: I wouldn't say it's extremely hard, it's really about just work. It's like grinding and getting back out there, shaking hands and kissing babies. Just letting the fans know that I'm still around and I appreciate what they do for you. Even doing free shows like this, it's about connecting with the fans. If you build the brand, they'll support it.
YouKnowIGotSoul: Through the years I've always encountered male fans of r&b who are drawn to your music because it's so relatable to them, you touch their emotions in a certain way. Is that something as a male r&b singer you can take pride in?
Donell Jones: I appreciate that because most males don't listen to guys! *Laughs* The way I write my song is from a guys perspective so that a woman listening can know how we feel. When guys listen, they feel like "Yo, I could play this for my girl and she could know". It's some real emotional shit that we go through and sometimes we don't how to get it out and say it. So that's what I do.
YouKnowIGotSoul: You've been at this over 15 years now. Since your debut album "My Heart" came out, what major changes have you seen in the music industry?
Donell Jones: The industry. *Laughs* It's not even close to being the same. Back when I got in, fans had to send fan mail in, and now we can connect directly with the fans through social media. I would say in some ways it's a hell of a lot better, and then in some ways it's got dumbed down a little bit with technology. Technology is a great thing, but it's made it where everybody wants to be a producer. You can buy a set up for a couple of thousand dollars and you're a producer. There's so much music out there that it's about quantity over quality. That's what I feel like has changed.
YouKnowIGotSoul: What do you remember about creating your classic "Where I Wanna Be Album"?
Donell Jones: What I remember most about that is just like this "Forever" album, I lived that album. Everything about that album is what I was going through in my life at the time, even the song "Where I Wanna Be". Every song was true to where my life was. I think that's why it resonates with so many people because a lot of people were going through the same thing at the same time. That was just one of those albums that you could put on and just play it and feel some sense of freedom. When people go back now and listen, it's a memory to them, they can go back to that time they were having. That's what I hope they get out of "Forever".
YouKnowIGotSoul: Anything you'd like to add?
Donell Jones: I want to thank all of the fans for supporting me through the years. Big up to eOne for allowing me to create my own label and to bring music to you guys. Be sure you support the album, it's in stores now. Hit me up at Twitter.com/DonellJones96, Facebook.com/DonellJones96 and my Instagram DonellJonesForever.